Today we're announcing our CloudBlades™ platform, a revolutionary approach for the delivery of best-of-breed branch infrastructure from the cloud. With this new approach for delivering IT infrastructure to the branch, businesses can enable cloud-delivered infrastructure for network (SD-WAN), security, collaboration, multi-cloud access and operational tools, without additional hardware or software.
Best-of-breed Branch Infrastructure as a Cloud Service
We continually hear from our customers that they desire a different approach from the traditional where enterprises deploy "hardware-blades" in a multi-function router or multiple appliances to the remote office. They express that they want to move away from expensive hardware refresh cycles and vendor lock-in that compromises their infrastructure with products that invariably suffer from poor quality and limited features. Our CloudBlades approach enables one-click, high-performance delivery of infrastructure services from the cloud, using best-of-breed providers in each category.
The days of the multi-function hardware router are officially at an end. We are delivering for our customers today the agility and freedom to choose best-of-breed, and they also get to take advantage of cloud-scale economics. This new model for the delivery of infrastructure services lets them reimagine what's possible for branch infrastructure.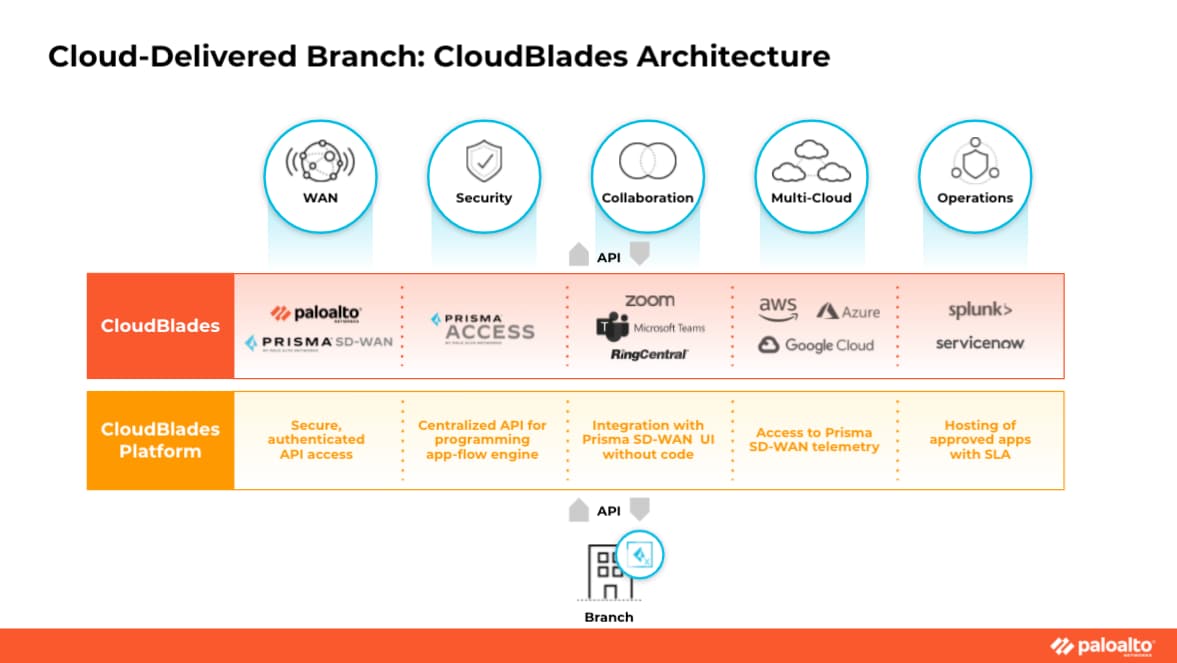 A Look Under the Hood | The CloudBlades Platform
Prisma SD-WAN (formerly CloudGenix) has developed a comprehensive set of more than 20 CloudBlades across various infrastructure services, including with Palo Alto Networks. Customers and Partners who would have the freedom to build their own custom CloudBlades through the company's CloudBlade Developer Program.
At the heart of CloudBlades is the branch CPE software which is a L3-L7 Network through Application system. Being able to program this powerful Application-flow system from the cloud unleashes the model for Policy in the cloud with enforcement in the branch. The CloudBlades Platform enables API based integration of the branch CPE directly with various cloud infrastructure services. The Platform provides secure, authenticated API access to Prisma SD-WAN CPE and systems; a centralized API for programming the app-flow engine at the CPE; integration with the Prisma SD-WAN UI without any code; access to Prisma SD-WAN telemetry; and the hosting of approved CloudBlades.
Individual CloudBlades provide pre-integrated delivery of various best-of-breed cloud services to the branch CPE, eliminating the need for complex integration by customers. Individual CloudBlades are created by Prisma SD-WAN as well as by partners, customers and other developers.
The Prisma SD-WAN Instant-On-Network (ION) is Intel x86-based, lightweight CPE at the branch, this serves as the branch enforcement point for CloudBlades, and can simultaneously host Prisma SD-WAN's award winning SD-WAN products.
The Network
CloudBlades gives enterprises the freedom to use any WAN. When customers choose Prisma SD-WAN, their WAN is unconstrained and highly reliable. Prisma SD-WAN uses global intelligence to deliver performance and security SLAs for all applications over any WAN-type. By providing app-policies aligned to business intent, direct access to multi-cloud and dev-ops frameworks, Prisma SD-WAN delivers unparalleled productivity gains and cost savings compared to gen-1 SD-WAN alternatives.
Security
To enable the delivery of Cloud-based security solutions, CloudBlades extends the branch perimeter to the closest Cloud Security node with high performance.
Voice and Video
Enterprises can confidently migrate from on-prem voice to Cloud-delivered voice and video knowing that CloudBlades provides the best SLA. 
Multi-Cloud
To enable multi-cloud access, CloudBlades connects the branch to nearby high-speed multi-cloud backbones delivering the best performance. 
IT Operations
To enable proactive IT, Prisma SD-WAN not only provides deep application and network visibility, but also provides diagnostics integrated with other analytics systems. 
We are excited to be making the delivery of branch office infrastructure cost effective and simpler. Customers no longer have to compromise. CloudBlades enables the cloud-delivered branch.
Click here for more information on CloudBlades and how Prisma SD-WAN enables the cloud-delivered branch.