New AV-Comparatives report tests 3 products – Palo Alto Networks Prisma Access, Zscaler and Cisco – and examines 8 sub-tests to determine the best security for your hybrid workforce.
The Hybrid Workforce's Impact on Cybersecurity
With hybrid work here to stay, enterprises everywhere need security as flexible as their workforce, one that will minimize downtime and deliver exceptional user experiences everywhere. This is why businesses are rapidly adopting SASE, secure access service edge. Palo Alto Networks has the industry's most complete SASE solution with a common policy and data framework, all managed from a single cloud management console for both security and networking.
Hybrid Work Increases Cybersecurity Risks
It is important to realize that the hybrid workforce significantly increases the attack surfaces for all enterprises. Cloud services and apps, personal devices, and remote access tools essentially eliminate an organization's security perimeters, resulting in more cyberattacks. IT managers often have to compromise as they struggle to manage these new technologies. In fact, Forrester claims that 80% of security and business leaders say their organizations are more exposed to risk as a result of remote work.
As such, remote security solutions' security efficacy was paramount. However, there were no in-depth test results available, as no one in the cybersecurity industry had performed an analysis of the common security services deployed by customers.
Testing the Industry's "Top" SASE Security Solutions
Here at Palo Alto Networks we identified this missing link and discussed it with a leading testing company involved in independent testing, AV-Comparatives Gmbh. The objective was to come out with the industry's first and most in-depth test focused on the security efficacy of SASE solutions. We wanted to go beyond just traditional testing of exploits and evasions that by themselves do not represent the security efficacy that a customer will experience. The test scenarios focused on a wide range of security services, like URL filtering, DNS security, Malware protection, and more, and were designed to be more realistic, focusing on real-world issues that customers often face.
AV-Comparatives SASE Report
The AV-Comparatives SASE report confirms that only Prisma Access provides best-in-class security with the highest security efficacy that customers can trust. Top-level results include:
Highest scores in URL filtering protection.
The only product to include credential-theft prevention.
100% score in DNS security.
100% score in vulnerability + evasion protection.
The test compared Prisma Access with two other solutions: Zscaler (ZIA and ZPA) and Cisco Umbrella.
While Palo Alto Networks sponsored this test, testing was performed by AV-Comparatives independently and no samples were shared with Palo Alto Networks beforehand. The test result shows dramatic differences in security efficacy between Prisma Access and the competing products.
The overall test procedure included 8 different sub-tests, each covering a major aspect of the respective product's capabilities in a specific real-world scenario. The Web URL Filtering Protection, DNS Security, and Malware Protection sub-tests were broken down into further individual categories, as shown below:
1. Web URL Filtering Protection (CnC Block Rate, Malware Block Rate, Phishing Block Rate,
Average Benign URL Categorization)
2. DNS Security (DNS Tunnelling Prevention, DGA Protection Rate)
3. Malware Protection (Sandbox Analysis Time, Protection Against Modified Malware, Malware
Protection via Email Protocol, Artifact Extraction, File Transfer)
4. Public SaaS Application Security
5. Private SaaS Application Security
6. Vulnerability Protection
7. Evasion Protection
8. Credential-Theft Prevention
Below are some of the notable outcomes from the test: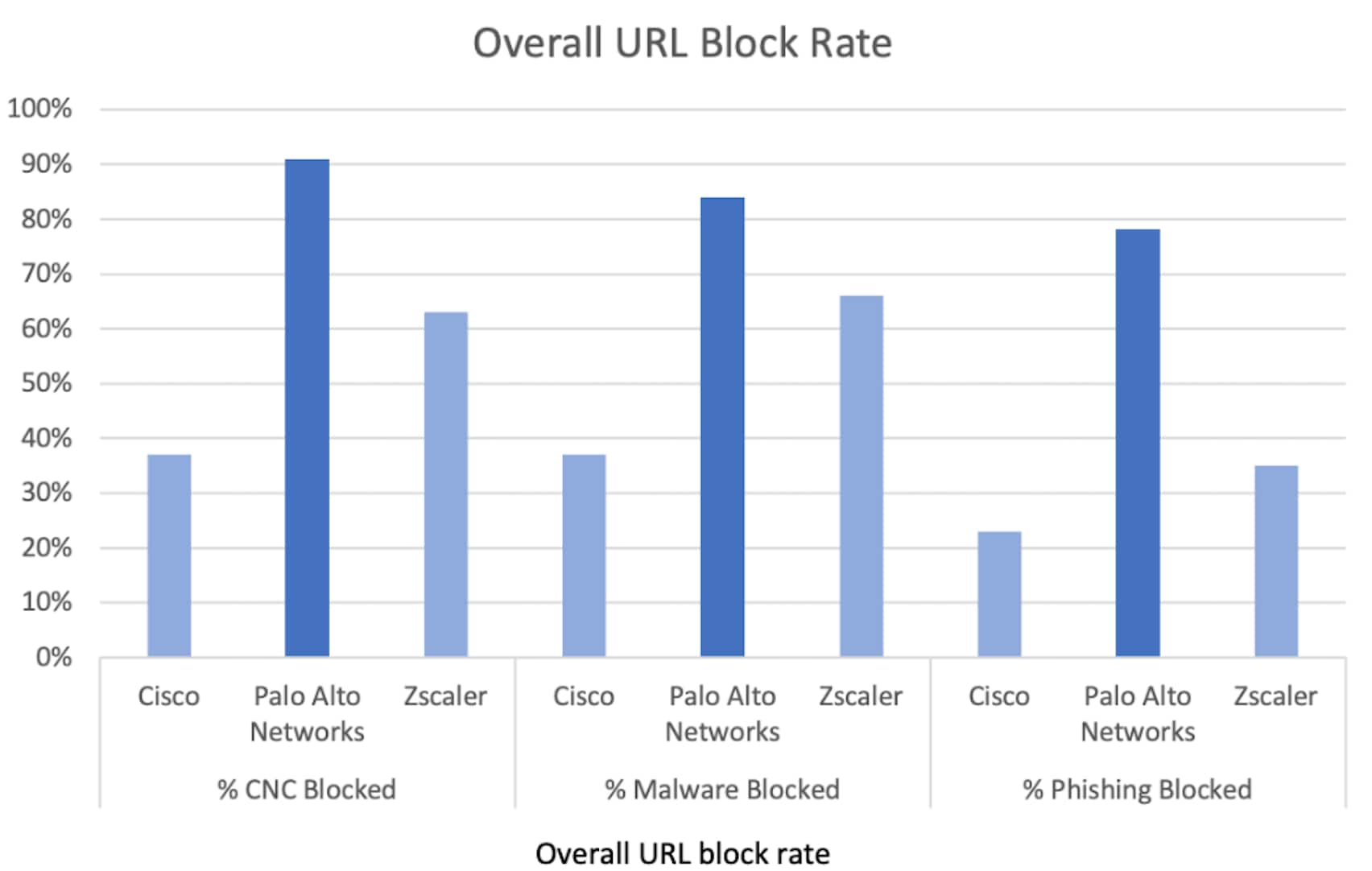 Effectively Securing Hybrid Work Requires the Best
Palo Alto Networks takes pride in being the leader in the cybersecurity industry with over 15 years of innovative products that customers around the world use and trust to protect their networks. This report demonstrates that along with the rapid deployment and scale that Prisma Access provides, customers can be assured that they are also secured with Palo Alto Networks' world-class security.
Read the full results of the AV-Comparatives SASE Comparative Report here.