Protect Cloud Workloads from Zero-Day Threats
Cloud applications are constantly consuming multiple software components and services from various sources – including open-source communities. As new vulnerabilities are exposed, it is challenging to patch your apps instantly and ensure you are protected from advanced threats.

Traps™ advanced endpoint protection provides real-time protection against exploits and other threats to ensure the integrity of your operating systems and applications running in the cloud are not compromised.
Securing cloud workloads in real time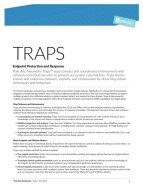 Unique in the breadth and depth of its workload protections, Traps:
Prevents exploit by behavior and technique without signatures.
Protects un-patchable and immutable workloads.
Reduces attack opportunities through application restrictions and controls.
Is deployed as a lightweight, non-disruptive agent, minimizing workload resources.
Integrates with the Palo Alto Networks® Security Operating Platform.
Easy, efficient management
An integral part of comprehensive public cloud security
Traps is a critical element of the Security Operating Platform from Palo Alto Networks because it enables us to deliver the industry's most complete offering for public cloud security. Our other cloud products enable you to: