Your mobile and branch users deserve the same rock-solid security, no matter where they are. Give it to them – without compromising on scale or simplicity.
Industry-leading security from the cloud with simplicity and efficiency
You need to secure all users equally. But mobile, branch and cloud expansion move applications and users beyond the perimeter, which makes traditional network security inefficient.

GlobalProtect™ cloud service provides the full security capabilities of the Palo Alto Networks® Next-Generation Firewall, delivered as a service. Now you can protect users across your organization and prevent successful cyberattacks with scale, simplicity and without compromise.
Use automation to simplify and scale security
GlobalProtect cloud service automates the orchestration and rollout of security services, reducing deployment time. You can deploy new features, increase coverage and scale globally with cloud infrastructure, giving you a new level of flexibility.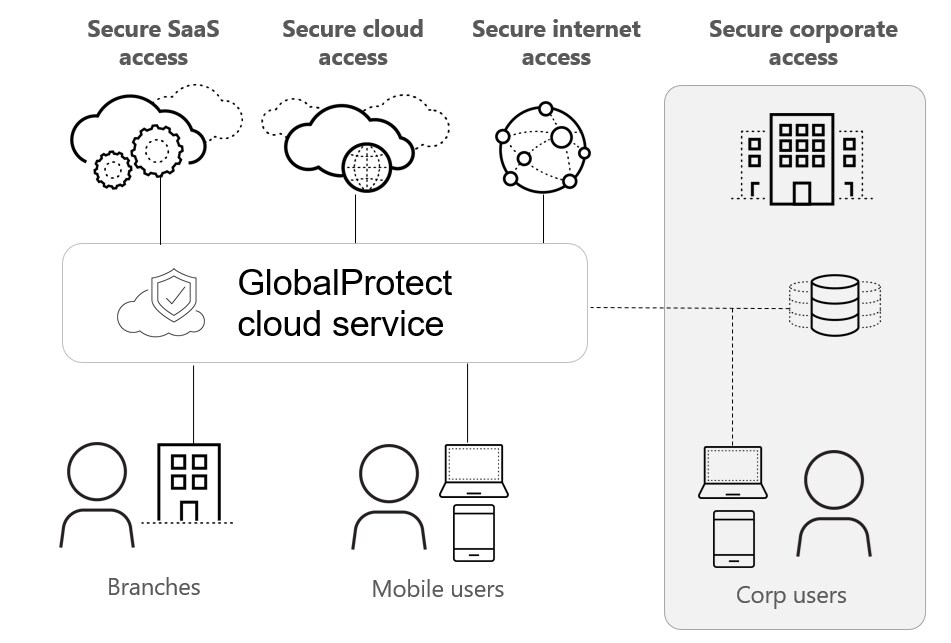 Now you can globally protect branch offices, SD-WAN deployments and mobile users easily, with the full security capabilities of the Palo Alto Networks Next-Generation Firewall, delivered as a cloud security service.
Bring security closer to users
Security is most effective when it is delivered in close proximity to those who need protection. Since more users are mobile and more applications are in the cloud today, it makes sense to push security boundaries as close to them as possible. GlobalProtect cloud service harnesses the industry's best next-generation firewall, delivered as a security service, where cloud applications and data reside.
Your security strategy should be consistent across everything you need to protect. How do you ensure that you're making the right move?
Your cybersecurity strategy must do more than filter websites. Don't settle for a proxy when you need true protection.
Control access to applications as well as secure all of your offices and mobile users.
Integrates seamlessly with your SD-WAN deployments.
Avoid multi-vendor management and security headaches by securing your branch, users and applications with centralized administration and logging.