Next-generation security, everywhere
Intelligence, automation and high performance to stop attacks in their tracks
Our next-generation firewalls secure your business with a prevention-focused architecture and integrated innovations that are easy to deploy and use. Now, you can accelerate growth and eliminate risks at the same time.
Our next-generation firewalls are available as physical appliances, virtualized appliances and cloud-delivered service, all managed consistently with Panorama.
Harness shared intelligence to prevent successful attacks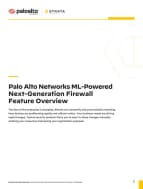 Palo Alto Networks next-generation firewalls detect known and unknown threats, including in encrypted traffic, using intelligence generated across many thousands of customer deployments. That means they reduce risks and prevent a broad range of attacks. For example, they enable users to access data and applications based on business requirements as well as stop credential theft and an attacker's ability to use stolen credentials.
Automate to save time and focus on what matters most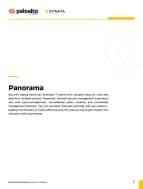 With our next-generation firewalls, you can quickly create security rules that mirror business policy, are easy to maintain and adapt to your dynamic environment. They reduce response times with automated policy-based actions, and you can automate workflows via integration with administrative tools, such as ticketing services, or any system with a RESTful API.
Leverage innovations that help you adapt

Our next-generation firewalls give you access to the latest innovations of Palo Alto Networks Security Operating Platform.
For example, the all-new Application Framework delivers superior security through cloud-based apps developed by Palo Alto Networks and today's most innovative security providers, large and small. It empowers you to consume the newest cloud-delivered security services capable of automating a nearly endless number of security use cases – leveraging the proven sensors, data store and prevention infrastructure you already have in place across the network.
Request your Security Lifecycle Review (SLR)
The SLR examines your network traffic and generates a comprehensive report unique to your organization to help you discover the applications and threats exposing vulnerabilities in your security posture. Request now
Are you ready to take the
Ultimate Test Drive?
If you're ready to take the test drive, pick the best time for you below!
All times are displayed in Pacific Standard Time