Make your move to advanced protection, quickly and safely
The open-source Expedition tool speeds your migration to next-generation firewall technologies and more efficient processes, enabling you to keep pace with emerging security threats and industry best practices.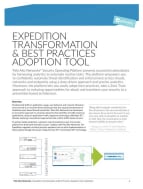 Automate and accelerate transformation
Expedition takes firewall migration and best practice adoption to a whole new level of speed and efficiency. Now you can accelerate your move from legacy third-party products to the advanced capabilities of Palo Alto Networks® next-generation firewalls – with total confidence.

Expedition automatically upgrades your existing policies. It uses analytics to generate and implement new policy and configuration recommendations, enhancing the effectiveness of your security controls while optimizing your security processes.
Better protection through simplified policy migration

The Expedition tool makes it easy to transform Layer 3/4 security policies from third-party firewalls to Layer 7 policies, enhancing your protection. Expedition can aid in the implementation of these policies through App-ID™, User-ID™ and Content-ID™ technology from Palo Alto Networks.