Expand protection, reduce risks in IT/OT operations
Manufacturers around the world trust Palo Alto Networks® to protect the entire manufacturing enterprise, across the plant floor, manufacturing execution systems, corporate IT, IoT and the industrial cloud.
Enable high uptime and safety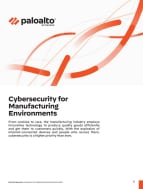 "Industry 4.0" is driving operational efficiencies and profitability in manufacturing, but increased connectivity introduces new vulnerabilities. Attackers have new pathways to exploit, increasing the risk of plant downtime, destruction of equipment and unsafe conditions as well as risks to intellectual property.

Palo Alto Networks prevents successful cyberattacks that can lead to disruption of plant processes and theft of IP. Tight integration within the platform streamlines routine security tasks.
Enable secure digital transformation in OT environments
Reference architecture for OT and IoT device security in ICS
Rapid growth in the number of IP-connected devices in ICS has made cybersecurity a high priority. This reference architecture details the various ways organizations can use machine learning and a prevention architecture to automatically discover, classify, secure and manage the inventory of IoT devices in OT networks.
Security Reference Blueprint for ICS
Using this blueprint will enable manufacturers to maintain or improve facility operations while maintaining the availability of the plant network and protecting plant processes.