Yesterday, I had the opportunity to attend our inaugural 'lunch and learn' technical seminar co-hosted with our strategic partner Citrix in the beautiful, but cloudy, Portland, Oregon.  This seminar in Portland (along with a concurrent seminar that occurred in Salt Lake City) kicks off an entire series of seminars ("Ensure Performance and Security With an App-Enabled Cloud Network") all across North America and Latin America.  The recent 'union' between Palo Alto Networks and Citrix didn't just result in a lunch at a great steak restaurant (Morton's here in Portland), but we've been working on a joint solution to help you build a fast, secure, and reliable application-delivery cloud network, with no compromises, and we're excited to share our joint solution in a city near you.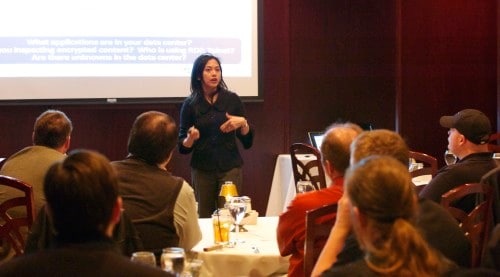 One common question at this event was folks trying to understand the benefits of the joint partnership between Citrix and Palo Alto Networks.  I think the video clip in Chad Kinzelberg's blog entry offers the best response to that natural question.  Customers win when they take the best-in-class application delivery controller (ADC) - NetScaler from Citrix - and architect that technology with our best-in-class next-generation firewall to deliver a cloud network for their applications and users.
Starting in Santa Ana, CA next week, world-renowned hacker and security consultant, Kevin Mitnick, is an additional guest speaker during the seminar roadshow for 10 chosen U.S. cities.  He's going to effectively demonstrate why we should all shut down our Facebook accounts tonight.  But in all seriousness, he'll discuss how a hacker could easily utilize social media content and Internet-accessible personal information to craft socially engineered attacks against individuals or targeted members of an organization.
I'll be presenting for Palo Alto Networks in the following cities.  I look forward to meeting with you and discussing how we can help secure your data center:
Feb. 19 - Santa Ana, CA
Feb. 20 - Santa Clara, CA
Feb. 21 - Seattle, WA
March 12 - New York City, NY
I encourage you to register today and attend one of our seminars.  If you're lucky enough to live in a town where Kevin is speaking, I'd jump at the chance!  Just go to this site HERE to register.