Here's one more reason to make sure you're with us at Ignite 2014 next week: a selfie contest with a fabulous prize!

During Ignite, we ask all attendees to post, via Twitter, creative/funny/weird selfies. Share a selfie of you enjoying one the various Ignite sessions, meeting new people during the networking hours, trying out a product demo, or – why not? – a late night out on the Strip.
Whatever happens in Vegas doesn't stay in Vegas, but does stay on Twitter, so post accordingly!
How does this work?
However you want to do your selfie is fine by us. You must post it to Twitter using the hashtag #igniteselfie. No Tweets without #igniteselfie will be considered.
When does this start?
The contest opens at 8:00am Pacific on Monday, March 31 and closes at 4:00 p.m. Pacific on Tuesday, April 2. No entries submitted outside of March 31-April 2 will be considered.
Am I eligible?
To participate, you must be attending Ignite 2014 in Las Vegas, and must be following both @PaloAltoNtwks and @Ignite_Conf on Twitter. No exceptions.
What do I win?
The Selfie contest prize winner will be selected from all #igniteselfie submissions at 4:00 p.m. on Tuesday, April 2. The winning submission will be notified via direct message from the @PaloAltoNtwks handle at this time, and provided with details on how to reclaim the prize. We will also share the winning submission on @PaloAltoNtwks, @Ignite_Conf and other Palo Alto Networks social media.
Oh yes…the prize! One (1) winner will receive a CityScape Wireless Bluetooth Speaker, which turns any phone, tablet or mobile device into a sound system. It's a special-edition version of the speaker to commemorate your time with us at Ignite 2014.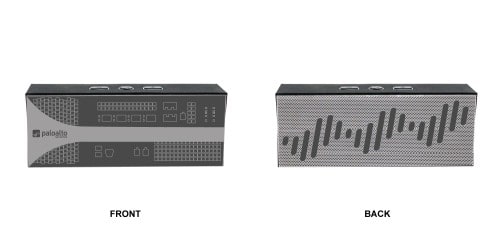 Official terms and conditions apply. See below for full details.
Good luck and get creative! Show us your geek love!
Palo Alto Networks
Ignite 2014 "Selfie" Contest
CONTEST OFFICIAL RULES
This promotion is sponsored by Palo Alto Networks with its headquarters at 4401 Great America Parkway, Santa Clara, CA 95054.

NO ENTRY FEE.  NO PURCHASE NECESSARY TO ENTER OR WIN.  The Contest begins on Monday, March 31, 2014 at 8 a.m. Pacific time and ends on Wednesday, April 2, 2014 at 4 p.m. Pacific time.

Contest Overview

Post a creative "selfie" photo of yourself on Twitter during Ignite 2014 using #igniteselfie. The most creative selfies will be prioritized. One winner will be chosen from all of the entries that include the proper hashtag on Twitter at 4 p.m. PT on Wednesday, April 2, 2014. The winner will be announced publicly by the @PaloAltoNtwks and @Ignite_Conf Twitter accounts and will also be notified via Direct Message on Twitter to claim their prize.

Contest Rules

1. Eligibility. The Ignite 2014 Selfie Contest (the "Contest") is open to Ignite attendees who are eighteen (18) years or older as of the date of entry and who have a Twitter account and follow Palo Alto Networks at https://www.twitter.com/PaloAltoNtwks.

Employees of Palo Alto Networks and its affiliates, immediate family members of such employees and persons living in their same household, are not eligible to enter in the Contest. Participation in the Contest constitutes entrant's full and unconditional agreement to and acceptance of these Official Rules & Regulations ("Official Rules"). VOID WHERE PROHIBITED.

2. Entry. Entrants must have a Twitter account and be a follower of Palo Alto Networks, located at https://www.twitter.com/PaloAltoNtwks. Both new followers and existing followers of Palo Alto Networks are eligible for this contest. If you do not have a Twitter account, you can follow the directions at www.twitter.com to sign up for an account.

Any photos sent in by Wednesday, April 2 no later than 4 p.m. Pacific time will be entered into the contest. No mechanically reproduced mail-in entries are allowed and any use of robotic, automatic, programmed or the like entry methods will void all such entries by such methods. Only one entry per person, household and/or e-mail address is permitted. Entrants submitting multiple entries or violating any of these Official Rules may be disqualified.

3. Prize Drawing.  A panel of marketing team members from Palo Alto Networks and other marketing experts will be responsible for judging entries.  The entries will be judged on the originality, creativity and appropriateness to the subject matter of the Contest.  The decisions of the judges will be final.   If any ties must be broken to determine the winner, the judges will choose the tied submission that best reflects the concept of the best selfie.  The selfie must be original and of the Entrant's own creation. The selfie must not have been entered in any other competition, including other competitions conducted by Palo Alto Networks. The selfie may not violate the intellectual property or proprietary rights of other parties. The selfie may not be offensive or defamatory nor contain vulgar or profane gestures or images, as determined by the judges and Palo Alto Networks.

Submission constitutes Entrant's certification that the entry is their own original work and does not infringe the intellectual property or proprietary rights of any third party, including, without limitation, any third party patents, copyrights or trademarks. Entrant hereby agrees not to instigate, support, maintain or authorize any action, claim or lawsuit against Palo Alto Networks, or any other person, on the grounds that any use of the entry as provided herein, infringes any of entrant's rights as creator of the entry, including, without limitation, trademark rights, copyrights and moral rights or "droit moral."  Entrant hereby assigns and transfers to Palo Alto Networks all right, title, and interest to the phrase contained in the selfie. Palo Alto Networks shall have all rights to copy, edit, publicly display, publicly perform, broadcast, publish and use, in whole or in part, any the relevant phrase contained in the selfie, and any other intellectual property protected or protectable materials submitted by entrant, in any manner without further compensation during and after the Contest, except where prohibited by law. Nothing herein shall constitute an employment, joint venture, or partnership relationship between Entrant and Palo Alto Networks.

Each winner will be notified by public announcement by the @PaloAltoNtwks Twitter account and they will also be notified via Direct Message on Twitter to claim their prize.

4. Prizes and Odds.  A Bluetooth speaker with a retail value of approximately $300 will be awarded. In the event that the prize becomes unavailable, Palo Alto Networks reserves the right to award a substitute prize of equal or greater value. No alternative prize, cash equivalent, or other substitution is permitted except by Palo Alto Networks in the event of prize unavailability. Prizes are non-transferable. All federal, state and/or local taxes are the responsibility of the winner. Winner is also responsible for internet access fees and service charges.  The odds of winning a prize depend on the total number of eligible entries received. Palo Alto Networks will not replace any lost or stolen prizes. Winners will be mailed their prize with shipping costs covered by Palo Alto Networks. If a Winner's signature is required on any releases or tax documentation, their prize will be mailed after receipt of such documentation by Palo Alto Networks.

5. Notification of Winners: Winners will be notified by a public tweet from Palo Alto Networks and a Direct Message on Twitter from Palo Alto Networks, at which time the winner will be directed to a url for a fulfillment page requesting the winner's full name, employer, shipping address, phone number and email address, all required for fulfillment of the prize.  Winners may be required to sign and return an affidavit of eligibility and publicity/liability release within fifteen (15) days of notification.   Winners will have fifteen (15) days from notification to accept the prize by completing the fulfillment page. If a selected winner cannot be contacted, is ineligible, fails to claim a prize and/or where applicable an affidavit of eligibility and publicity/liability release is not timely received, is incomplete or modified, the prize may be forfeited and an alternate winner will be selected from remaining valid, eligible entries timely submitted. From that point, the winners will receive their prize via mail within 60 days of completion of the fulfillment page. Palo Alto Networks is not responsible for late, lost, misdirected, or unsuccessful efforts to notify the winner. All taxes on prizes, including income taxes, and any incidental expenses associated with collection of a prize are the responsibility of the winners.

6. Publicity release.  Acceptance of a prize constitutes the winner's agreement that Palo Alto Networks may use the Twitter account name and prize information of each entrant for promotional purposes in any and all media, without further payment or consideration of any kind. This includes posting the winner's Twitter account name on the Twitter website.

7. General Rules.  By entering the Contest, you agree to be bound by these Official Rules. The Contest is offered by Palo Alto Networks, which is not responsible for (i) late, lost, delayed, or undeliverable entries, responses, or other correspondence, whether by e-mail or postal mail or otherwise; or (ii) phone, electrical, network, computer, hardware, software program or transmission malfunctions, failures or difficulties.

You further agree to release, indemnify, defend and hold Palo Alto Networks and their affiliates, subsidiaries, directors, officers, employees, sponsors and agents, including advertising and promotion agencies, and assigns, and any other organizations related to the Contest, harmless, from any and all claims, injuries, damages, expenses or losses to person or property and/or liabilities of any nature that in any way arise from participation in this Contest or acceptance or use of a prize or parts thereof, including without limitation (i) any condition caused by events beyond Palo Alto Networks' control that may cause the Contest to be disrupted or corrupted; (ii) any injuries, losses, or damages (compensatory, direct, incidental, consequential or otherwise) of any kind arising in connection with or as a result of the prize, or acceptance, possession, or use of the prize, or from participation in the Contest; and (iii) any printing or typographical errors in any materials associated with the Contest. Winners agree to be bound by these Official Rules, and the decisions of the judges are final.

In no event will Palo Alto Networks be liable to you for any direct, special, incidental, exemplary, punitive or consequential damages (including loss of use, data, business or profits) arising out of or in connection with your participation in the Contest, whether such liability arises from any claim based upon contract, warranty, tort (including negligence), strict liability or otherwise, and whether or not Palo Alto Networks HAVE been advised of the possibility of such loss or damage. Some jurisdictions do not allow the limitation or exclusion of liability for incidental or consequential damages, so the above limitation or exclusion may not apply to you.

8. Additional Conditions: Except where prohibited, by participating in the Contest, entrant consents to the use of his/her name, photo and/or likeness, biographical information, entry and statements attributed to entrant (if true) for advertising and promotional purposes, including without limitation, inclusion in Palo Alto Networks' newsletters, the Contest website and Palo Alto Networks' homepages, without additional compensation.  All entries, as applicable, become property of Palo Alto Networks and none will be acknowledged or returned. Allow (8) weeks for delivery of prizes.

Palo Alto Networks reserve the right, in their sole discretion, to cancel, modify or suspend the Contest in whole or in part, in the event of fraud, technical or other difficulties or if the integrity of the Contest is compromised, without liability to the entrant. Palo Alto Networks reserve the right to disqualify any entrant or winner, as determined by Palo Alto Networks, in their sole discretion. Contest is subject to these Official Rules and all applicable federal, state, provincial and local laws and regulations apply. As stated above, the Contest is void where prohibited or restricted by law. By participating in this Contest, you acknowledge that you have read these official Rules and agree to abide by them and by the decisions of Palo Alto Networks, which are final and binding on all matters pertaining to the Contest. These Official Rules are governed by the law of the State of California, without reference to rules governing choice of laws. Any action, suit or case arising out of, or in connection with, this Contest or these Official Rules must be brought in either the federal courts located in the Northern district of California or the state courts located in Santa Clara County, California.

9. Personal Information. Palo Alto Networks may collect personal data about entrants online, in accordance with its privacy policy and as may be more specifically set forth in these Official Rules. Please review these Official Rules and Palo Alto Networks's privacy policy at www.paloaltonetworks.com. By participating in the Contest, entrants hereby agree to Palo Alto Networks's collection and use of their personal information and acknowledge that they have read and accepted these Official Rules and Palo Alto Networks's privacy policy.
The Promotion is not sponsored or endorsed by, or affiliated with Twitter.