With the increasing frequency of high profile security breaches, it's clear that legacy security solutions are no longer capable of sufficiently protecting your business from aggressive cyber attacks. So if you've been considering modernizing your firewall infrastructure, there's never been a better time. Palo Alto Networks on March 31 will release Palo Alto Networks Migration Tool 3.0.
The Migration tool is a new release that helps automate and accelerate the migration from third-party firewall vendors to Palo Alto Networks Next-Generation Firewalls, allowing you to take advantage of the advanced protection of App-ID and User-ID.  Palo Alto Networks is making this tool available though our Community Portal at no charge to assist you with your migration.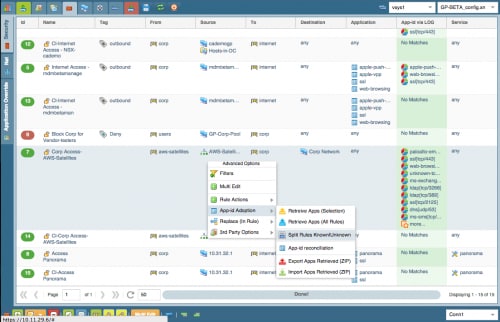 The Migration Tool enables you to analyze your existing environment, convert existing security policies to Palo Alto Networks next-generation firewalls, and assist with the transition from proof-of-concept to production.  A few key functions of the new 3.0 tool include:
Third-party Migrations to a Palo Alto Networks firewall
Adoption of App-ID and User-ID
Policy optimization to clean and improve policies and objects
Consolidation of third-party firewalls into multiple virtual systems
Centralized management with Panorama
If you're planning to attend Palo Alto Networks Ignite 2015, March 30 -- April 1, you'll be able to speak to our experts directly and get a personalized demonstration of the 3.0 tool.  We can answer all of your questions regarding the migration process and why you should consider migrating now.
There's still time to register, click the image below to claim your spot:
Need Help Migrating?
Firewall-policy migration can be a challenging task, and is most effectively accomplished with professional services assistance from Palo Alto Networks and a network of solution partners, who can guide you though the process using a combination of automated tools and best practices.
Palo Alto Networks Consulting Services are available to ensure a smooth transition and enable you to get the maximum value from your Next-Generation Firewall from Palo Alto Networks. Take advantage of the Palo Alto Networks Firewall Migration Services to get your Next-Generation Firewall project off to a great start.
Please let me know in the comments if you have any questions, or contact me via Twitter anytime at @CicconeScott.
I hope to see you at Ignite!