This is the second post in a three-part series highlighting the results from a Palo Alto Networks survey of 233 Ignite 2015 attendees at the end of March. The survey uncovered the cybersecurity pain points they face, what keeps them up at night, and what specific concerns they have for their organizations. (Part one)
Cybersecurity is a big deal, and the high-profile data breaches that seem to occur on a weekly basis are elevating the conversation around protection and prevention to new levels. Dialogue about how to address these new and constantly changing threats are now echoing through boardrooms across the globe.
Those in the network security trenches are witnessing the impact of this, and they're seeing firsthand how cyber threats have shifted the focus of their organizations' leadership. Seventy-five percent of survey respondents agree or strongly agree that their company's board of directors has taken an active interest in cybersecurity issues.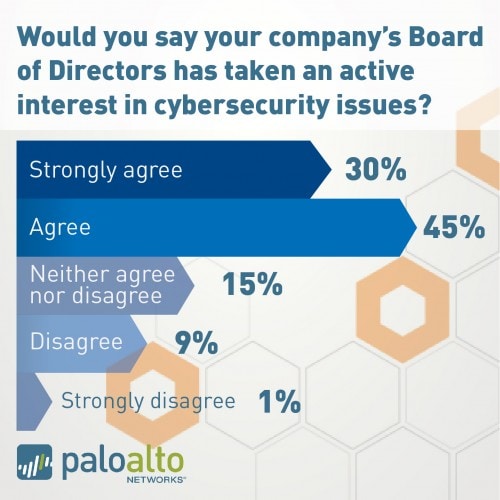 In fact, it's no longer just the IT department that's held responsible for network security; Target's CEO lost his job after their network was compromised last year. The data indicates that boards of directors are taking these threats seriously and placing a renewed emphasis on preventing attacks and protecting their enterprise networks.
Considering the very real risks that cybercriminals pose to organizations large and small – and the elevation of the topic to boards of directors level – detection and remediation are not sufficient strategies. At Ignite, we heard from our customers about the importance of preventing attacks before a malicious actor is able to exfiltrate valuable data.
As Palo Alto Networks emphasized at Ignite this year, we're taking on cyberattackers and aiming to make the cost of network infiltration higher than the potential rewards. We do this by combining network, cloud and endpoint security into a tightly integrated enterprise security platform that delivers automated prevention against known and unknown threats at every point in the kill chain.
Join the Conversation
How much of a priority is cybersecurity at your organization? Share your comments below.