This is the first in a three-part series highlighting the results from a Palo Alto Networks survey of 233 Ignite 2015 attendees at the end of March. The survey uncovered the cybersecurity pain points they face, what keeps them up at night, and what specific concerns they have for their organizations.
Malware, insider threats, ransomware – the ways in which cybercriminals can attack a company's network and exploit vulnerabilities are vast. But some attack factors are bigger risks than others, and some have the potential to wreak more havoc than others.
In our survey of Ignite attendees, the majority of respondents reported zero-day attacks and evasive malware represent the biggest risks. Social engineering attacks and insider threats are close behind.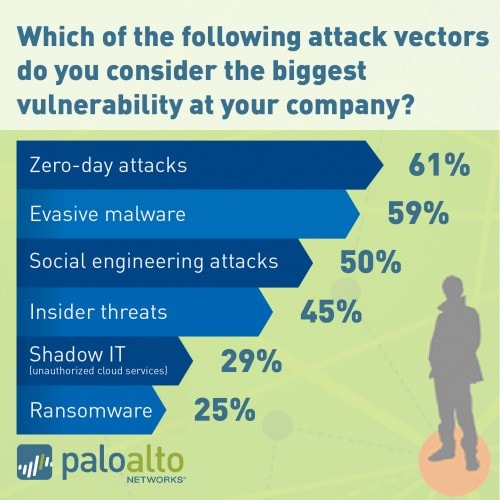 One customer told us:
"Evasive malware is certainly the biggest security concern any enterprise is faced with today. APTs are a reality that we all need to deal with and devise mechanisms to break the chain of action."
With so many attack factors looming day in and day out, detection and remediation are not sufficient strategies. We heard from our customers, time and time again, about the importance of preventing attacks before a malicious actor is able to use any of these methods to access and exfiltrate valuable data.
As Palo Alto Networks emphasized at Ignite this year, we're taking on cyberattackers and aiming to make the cost of network infiltration higher than the potential rewards. We do this by combining network, cloud and endpoint security into a tightly integrated enterprise security platform that delivers automated prevention against known and unknown threats at every point in the kill chain.