Here is all of the top Palo Alto Networks news from this past week.
Unit 42 analyzed Musical Chairs, a multi-year campaign, and unveiled a newly deployed variant of Gh0st malware, "Piano Gh0st."
Palo Alto Networks researchers discovered critical vulnerabilities in Internet Explorer and Adobe Shockwave Player.

Palo Alto Networks CEO Mark McLaughlin talked prevention, automation and cyber threat intelligence on CNBC.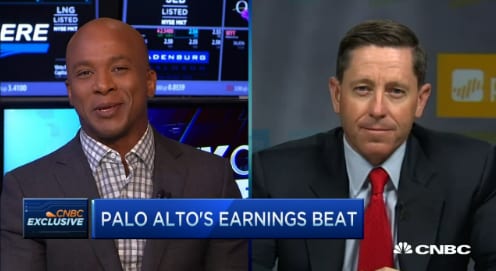 Palo Alto Networks broke ground this week on the site for its new headquarters in Santa Clara.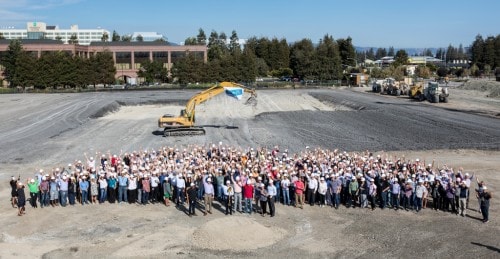 Palo Alto Networks was recognized by TSIA for outstanding commitment to customer support and success.

Palo Alto Networks joined the Information Technology Industry Council (ITI).
Find out why Ben Rothke nominated "Measuring and Managing Information Risk: A FAIR Approach" for the Cybersecurity Canon.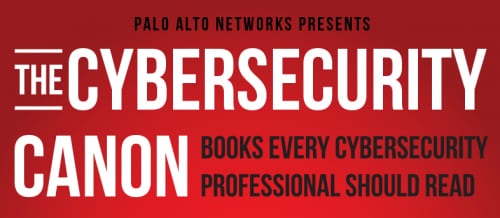 Palo Alto Networks has been nominated for three 2015 Computing Security Awards! Vote now.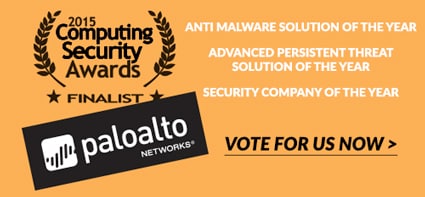 Ron Myers, VP Global Channels at Palo Alto Networks, called the VMware and Palo Alto Networks partnership a tremendous growth opportunity for our valued partners.
Fuel User Group's Spark User Summit Amsterdam agenda is live! Check it out & register today.
Here are upcoming events around the world that you should know about:
Technical Partner Bootcamp - Columbus, OH
When: September 14, 2015 9:00 AM - 5:00 PM EST
Where: Hilliard, OH
Uncovering a New Source of Underground Cyberthreats
When: September 15, 2015 12:00 PM - 2:00 PM EST
Where: Providence, RI
9月16日(水)製品導入・運用支援トレーニング [Japanese]
When: September 16, 2015 1:30 PM - 5:00 PM GMT+9:00
Where: 千代田区
Demo - näe mitä seuraavan sukupolven tietoturva tarkoittaa käytännössä [Finnish]
When: September 16, 2015 1:00 PM - 2:00 PM EET
Where: Online Event
When: September 16, 2015 9:00 AM - 10:00 AM PST
Where: Online Event
Threat Prevention Ultimate Test Drive
When: September 16, 2015 9:30 AM - 1:00 PM GMT
Where: London
When: September 17, 2015 11:30 AM - 1:30 PM EST
Where: McLean, VA
Invite-only Event: Crack the Code with Palo Alto Networks
When: September 17, 2015 11:30 AM - 3:30 PM CST
Where: Spring, TX
Technical Partner Bootcamp - Columbus, OH
When: September 17, 2015 9:00 AM - 5:00 PM EST
Where: Hilliard, OH
Ultimate Test Drive workshop Perth
When: September 17, 2015 9:00 AM - 12:30 PM GMT+8:00
Where: Perth, WA
Доверяй, но проверяй свои приложения в операционной системе [Russian]
When: September 17, 2015 12:00 PM - 1:00 PM EET
Where: Online Event
認定トレーニング (9/17~18) [Japanese]
When: September 17, 2015 10:00 AM - 6:00 PM GMT+9:00
Where: 千代田区
9月18日(金)製品体感セミナー(大阪) [Japanese]
When: September 18, 2015 1:30 PM - 5:00 PM GMT+9:00
Where: 大阪市北区
Forrester Analyst Talks Zero Trust in the Software Defined Data Center
When: September 19, 2015 9:00 AM - 10:00 AM PST
Where: Online Event
When: September 22, 2015 8:00 AM - 10:00 AM GMT+8:00
Where: Auckland
When: September 22, 2015 11:30 AM - 1:30 PM EST
Where: Philadelphia, PA
Industrial Control Systems Cybersecurity Workshop
When: September 22, 2015 9:00 AM - 1:30 PM PST
Where: Vancouver, BC
When: September 23, 2015 8:00 AM - 10:00 AM GMT+8:00
Where: Wellington
Industrial Control Systems Cybersecurity Workshop
When: September 23, 2015 9:00 AM - 1:30 PM MST
Where: Calgary, AB
Palo Alto Networks Ultimate Test Drive
When: September 23, 2015 7:00 AM - 11:00 AM PST
Where: Online Event
When: September 23, 2015 9:00 AM - 10:00 AM PST
Where: Online Event
When: September 24, 2015 5:30 PM - 7:30 PM EST
Where: New York, NY
Industrial Control Systems Cybersecurity Workshop
When: September 24, 2015 9:00 AM - 1:30 PM MST
Where: Edmonton, AB
9月25日(金)製品実感トレーニング [Japanese]
When: September 25, 2015 1:30 PM - 5:00 PM GMT+9:00
Where: 千代田区
エンドユーザー様向けセミナー「次世代ファイアウォールで効率的に組織を守る!」 [Japanese]
When: September 25, 2015 1:30 PM - 3:00 PM GMT+9:00
Where: 港区
エンドユーザー様向けセミナー「高度な脅威から組織を守るための手法をご紹介」 [Japanese]
When: September 25, 2015 4:00 PM - 6:00 PM GMT+9:00
Where: 港区