Check out the top Palo Alto Networks news from this past week, rounded up right here.
The updates from Unit 42 about XcodeGhost malware kept coming through this week. Interested in following along on this research? Check out these posts:
Unit 42 researchers reported Chinese actors used '3102' malware in attacks on US Government and EU media.

Greg Day, VP & CSO, EMEA at Palo Alto Networks, explained why he is passionate about prevention.
We offered insights into the integration of GlobalProtect with AirWatch, as well as our participation in the AirWatch Mobile Security Alliance.

Jon Oltsik recommended "Future Crimes: Everything Is Connected, Everyone Is Vulnerable and What We Can Do About It" for inclusion in the Cybersecurity Canon.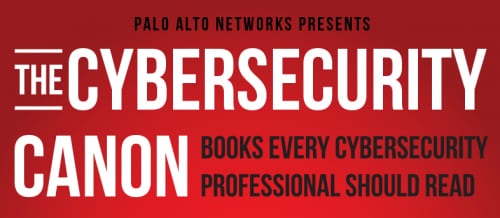 We featured a guest post from Lars Meyer of Consigas: When There is No Magic Box, Try the Magic Sauce for Near 100 Percent Security.
NextWave Partners: Were you unable to attend our first NextWave Huddle webcast? Find out what you missed.

Will you be at DerbyCon this year? Don't miss senior malware researcher Richard Wartell's speaking session.

We've been nominated for three 2015 Computing Security Awards, and we want your vote!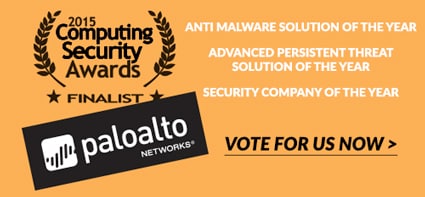 Here are upcoming events around the world that you should know about:
Healthcare Cybersecurity Seminar (Kansas City)
When: September 28, 2015 10:30 AM - 1:30 PM CST
Where: Kansas City, MO
When: September 29, 2015 10:00 AM - 1:00 PM EST
Where: Columbia, MD
When: September 29, 2015 9:30 AM - 1:30 PM PST
Where: San Francisco, CA
Ultimate Test Drive workshop Auckland
When: September 29, 2015 9:00 AM - 12:30 PM GMT+12:00
Where: Auckland
10 Things your Cybersecurity Solution Must Do
When: September 30, 2015 12:30 PM - 2:00 PM GMT+10:00
Where: Melbourne, VIC
Complete application visibility and actionable security intelligence
When: September 30, 2015 2:00 PM - 3:00 PM EST
Where: Online Event
Les Assises de la sécurité et des systèms d'information [French]
When: September 30, 2015 9:00 AM - 6:00 PM CET
Where: 10, avenue Princesse Grace
When: September 30, 2015 9:00 AM - 10:00 AM PST
Where: Online Event
Extending ZeroTrust to the Endpoint - Partner Edition
When: October 1, 2015 9:00 AM - 10:30 AM EST
Where: Online Event
Mobile Threat Workshop – Chicago
When: October 1, 2015 11:30 AM - 1:30 PM CST
Where: Chicago, IL
Security Summit - Clusit (Verona) [Italian]
When: October 1, 2015 9:00 AM - 6:00 PM CET
Where: Verona, Veneto
Ultimate Test Drive workshop Hamilton
When: October 1, 2015 9:00 AM - 12:30 PM GMT+12:00
Where: Hamilton
10月2日(金)製品実感トレーニング [Japanese]
When: October 2, 2015 1:30 PM - 5:00 PM GMT+9:00
Where: 千代田区
Die Zwei um Zwölf: Do's and Don'ts beim Proxy Replacement [German]
When: October 2, 2015 12:00 PM - 1:00 PM MEZ
Where: Online Event
Customer Product Council October 6, 2015
When: October 6, 2015 8:30 AM - 8:00 PM CET
Where: Amsterdam
Exclusive Data Center Event with Palo Alto Networks
When: October 6, 2015 12:00 PM - 3:00 PM EST
Where: Louisville, KY
Extending ZeroTrust to the Endpoint - Southeast Edition
When: October 6, 2015 10:00 AM - 11:30 AM EST
Where: Online Event
認定トレーニング (10/6~8) [Japanese]
When: October 6, 2015 10:00 AM - 6:00 PM GMT+9:00
Where: 千代田区
10 Things your Cybersecurity Solution Must Do
When: October 7, 2015 12:30 PM - 2:00 PM GMT+10:00
Where: Melbourne, VIC
When: October 7, 2015 9:00 AM - 10:00 AM PST
Where: Online Event
Threat Prevention Ultimate Test Drive
When: October 7, 2015 8:30 AM - 12:00 PM EST
Where: New York, NY
When: October 8, 2015 12:00 PM - 3:30 PM EST
Where: Cincinnati, OH
When: October 8, 2015 9:00 AM - 1:00 PM PST
Where: Meridian, ID
10月9日(金)製品体感セミナー [Japanese]
When: October 9, 2015 1:30 PM - 5:00 PM GMT+9:00
Where: 千代田区