We're pleased to announce our headlining speakers for Ignite Conference 2016!
Our April 5 general session will welcome professionals who have studied cyber criminal and hacker movements closely, and who will share deep insights into the cyber threat landscape, from the types of attacks threatening organizations to how we can not only detect, but actually prevent known and unknown threats.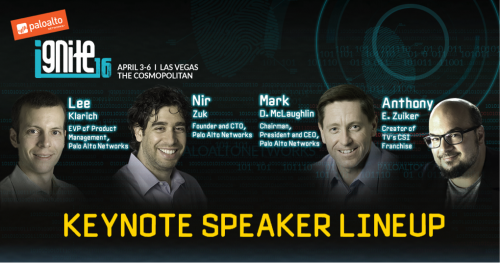 Learn more about our speakers and moderator
Anthony E. Zuiker
Guest Speaker
Creator of the "CSI" franchise
Kal Penn
Moderator
Actor
Nir Zuk
Founder and CTO
Palo Alto Networks
Mark McLaughlin
Chairman, President and CEO
Palo Alto Networks
Lee Klarich
Executive VP of Product Management
Palo Alto Networks
As you start to plan out your days at the conference using the Agenda Builder, be sure to schedule time to attend our general session on Tuesday, April 5 from 9:00 a.m. to 12:00 p.m. Pacific.

April 3-6, 2016 at The Cosmopolitan Hotel Las Vegas
Ignite is a live, four-day conference designed for today's security professionals. Hear from innovators and experts, gain real-world skills through hands-on sessions and interactive workshops, and find out how breach prevention is changing the security industry. Visit the Ignite 2016 website for more on tracks, workshops and marquee sessions, and register today.
Follow us: @Ignite_Conf | #igniteconf16