Check out all of the top Palo Alto Networks news from the past week right here.
Unit 42 found that Banload malware affecting Brazil exhibits unusually complex infection process, and observed PowerSniff malware being used in macro-based attacks.
A Palo Alto Networks researcher discovered critical IE vulnerability.

More from RSA Conference 2016: Palo Alto Networks CSOs Rick Howard, Greg Day and Sean Duca talk takeaways from this year's conference, and find out why Palo Alto Networks is partnering with the Commonwealth of Virginia. Check out our Day 1 recap and highlights from the week, as well.
Federal CSO John Davis shared imperative number 2 in his series: Four Imperatives for Cybersecurity Success in the Digital Age.
Scott Ciccone discussed why it's important to maintain trust between the customer and security provider when minutes matter.
People of Palo Alto Networks: Emily Chiu discussed the opportunities she has received through her work at Palo Alto Networks.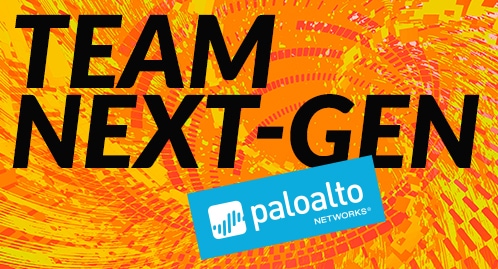 Register today for Ignite 2016! Are you an Ignite Conference alumni? Get a free t-shirt when you register.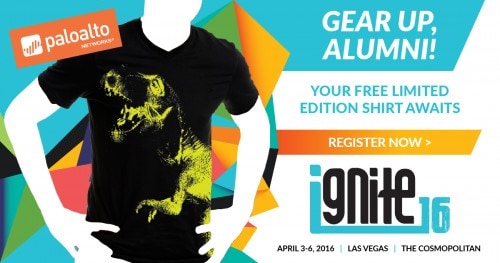 Find out what's new at Ignite this year, check out our special guests, personalize your learning with the Agenda Builder, and watch this video to find out why you don't want miss Ignite 2016:
Read this week's NextWave Partner Channel Scoop.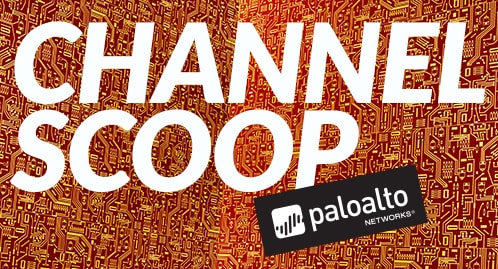 Here are upcoming events around the world that you should know about:
"Architecture Matters" de Palo Alto Networks, con Infosecurity
March 13, 2016 8:00 AM - 11:00 AM CST
Guadalajara, Jalisco
Palo Alto Networks - Virtual Ultimate Test Drive NGFW Mar 14, 2016
March 14, 2016 11:00 AM - 1:00 PM GMT+8:00
Online Event
Ultimate Test Drive de Palo Alto Networks, NGFW
March 14, 2016 10:00 AM - 2:30 PM CST
Tlalnepantla, DF
Virtual Ultimate Test Drive NGFW March 14, 2016
March 14, 2016 11:00 AM - 2:00 PM EST
Online Event
Virtual Ultimate Test Drive: Next Generation Firewall - Mar 14, 2016
March 14, 2016 1:00 PM - 4:00 PM CET
Online Event
March 15, 2016 8:30 AM - 11:30 AM CST
Maryland Heights, MO
Virtual Ultimate Test Drive TP March 15, 2016
March 15, 2016 11:00 AM - 2:00 PM PST
Online Event
Advanced Endpoint Protection, A Traps Tutorial
March 16, 2016 11:00 AM - 12:00 PM PST
Online Event
Palo Alto Networks - Virtual Ultimate Test Drive VDC Mar 16, 2016
March 16, 2016 1:00 PM - 3:00 PM GMT+8:00
Online Event
March 16, 2016 9:00 AM - 10:00 AM PST
Online Event
March 16, 2016 9:30 AM - 1:00 PM GMT
London
Virtual Ultimate Test Drive VDC March 16, 2016
March 16, 2016 11:00 AM - 2:00 PM EST
Online Event
Virtual Ultimate Test Drive: Threat Prevention - Mar 16, 2016
March 16, 2016 1:00 PM - 4:00 PM CET
Online Event
Advanced Endpoint Protection, Live Demo
March 17, 2016 11:00 AM - 12:00 PM MEZ
Online Event
March 17, 2016 1:00 PM - 2:00 PM EET
Online Event
Attack Life Cycle Demo - Webinaria: Czwartek z Prewencją
March 17, 2016 11:00 AM - 12:00 PM CET
Online Event
Invitación: Cena exclusiva en Texas de Brazil - 17 marzo
March 17, 2016 6:30 PM - 9:30 PM GMT-4:00
San Juan, PR
March 17, 2016 1:30 PM - 6:30 PM CET
Dilbeek
Ultimate Test Drive de Palo Alto Networks, Threat Prevention
March 17, 2016 9:00 AM - 1:00 PM GMT-4:00
Valle Tolima Caguas, PR
Virtual Ultimate Test Drive NGFW March 17, 2016
March 17, 2016 11:00 AM - 2:00 PM PST
Online Event
Virtual Ultimate Test Drive TP March 18, 2016
March 18, 2016 11:00 AM - 2:00 PM EST
Online Event