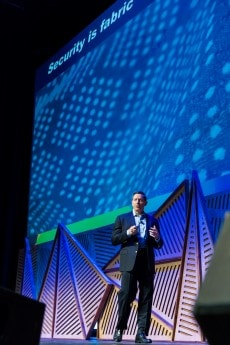 You all knew we were just getting warmed up, right?
Tuesday at Ignite 2016 kicked into high gear with dazzling performances of dance and rap – complete with high-energy choreography and glow-in-the-dark lights. In between came the all-star succession of general session headliners, including our own Mark McLaughlin and Lee Klarich.
Following their presentations came a fireside chat between CSI TV franchise creator Anthony Zuiker and actor and former White House official Kal Penn. There were plenty of laughs and a few lighter moments when it came to how cybersecurity gets the "Hollywood treatment," but Zuiker and Penn also took a few minutes to highlight the importance of cybersecurity education for children – paramount for a generation that grew up with the Internet as a given. They were all followed by the inimitable Nir Zuk, keying in on the importance of prevention and the power of the Next-Generation Security Platform.
Check out the video recap of today's Ignite action, including highlights from the general session, what resonated with members of our live audience of more than 3,000 security professionals and partners, and the winners of the first of our Cyber Range exercise. And read on for details of the general session and the day's announcements.
What We Mean By Prevention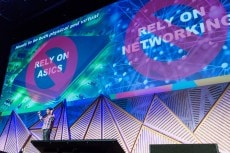 As Mark, Lee and Nir noted, a cybersecurity mindset of detection and remediation is futile in the face of advanced attackers who get ever more creative in the ways they can successfully breach networks and steal critical information. As Mark noted, preventing breaches is in many ways a math problem: figuring out how to interdict the attack lifecycle at each of its stages.
What that means for the industry, as Lee explained, is a true platform that can provide complete visibility, reduce the attack surface area, prevent all known threats, and prevent new threats. And not only do those four things, but in such a way that capabilities are natively integrated to work together, are applied consistently to all users, applications and locations, and offer automated discovery and reprogramming of both the network and endpoint to prevent known and unknown threats.
Hence: the Palo Alto Networks Next-Generation Security Platform – updates to which we announced today in the form of PAN-OS 7.1 and which Lee described in detail. (Watch this space for a lot more on PAN-OS 7.1 in the coming days.)
Today's Announcements
Coming Up Tomorrow
Our second Cyber Range exercise, sponsored by The Economist. Join us in the exhibit hall for all the action or follow along at #IgniteRanger!
A final day of training and breakout sessions, including our track intended for CISOs and C-level executives managing cyber risk
PCNSE6, PCNSE7 and PSE: Platform Professional exams in Brera 3, 4 and 5
Stay Social!
Follow @Ignite_Conf and use #igniteconf16 for the latest from today's sessions and to get a look ahead to our final day. Keep an eye on our Facebook gallery for new photos. And have a look at what people here at Ignite 2016 are saying about their experiences:
#igniteconf16 great presentation from @nirzuk pic.twitter.com/QJl5cg4bWu

— Albert Cohen (@netsecer) April 5, 2016
Nice security conference from Palo Alto Networks. Well done! #igniteconf16 pic.twitter.com/cmwTOtZe9U

— Leon Gubbels (@L3onCP) April 5, 2016
@NextWavePartner mark your calendars for #Ignite17 #igniteconf16 pic.twitter.com/4BfaQEPZJc

— PaloAltoNtwksPartner (@NextWavePartner) April 5, 2016
#igniteconf16 Now that is one hell of a Cyber Range. #unit42 @PaloAltoNtwks pic.twitter.com/9DHAG3NhYK

— Brian Kelly (@BKinCT) April 5, 2016