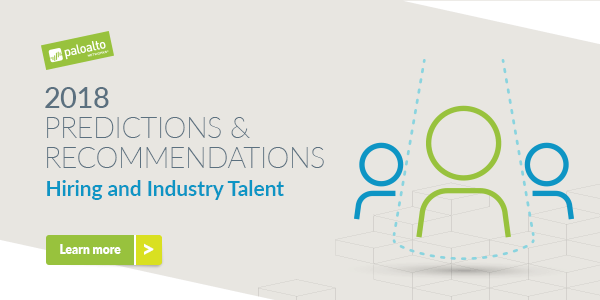 This post originally appeared in Data Center Knowledge and is part of an ongoing blog series examining predictions and recommendations for cybersecurity in 2018.
Public, private and hybrid cloud environments are more accessible than ever, allowing organizations to scale more quickly and efficiently. With more companies migrating to the cloud, concerns for data protection also increase. From safely enabling SaaS applications to securing physical data centers, the adoption of cloud technologies will, in large part, depend on the perception of the cloud as being "safe."
Because of this, we predict that hiring elite cloud talent will continue to drive cybersecurity advancements and innovation, as use of cloud technologies will require a security platform that matches the requirements of cloud products and services themselves.
With cloud talent being a relatively new area of expertise, we recommend breaking up cloud security into three interworking components and hiring for each category based on its unique needs and skill sets:
Securing cloud technologies and products
Enterprise security companies will need candidates with strong SaaS development experience. Aside from strong technical proficiencies in common programming languages, such as Python, Java and C, ideal candidates will have experience in developing micro-services, an architectural style of a single application comprising independent services, commonly found in consumer-facing web applications.
Securing the physical infrastructure of the cloud
The increasing popularity of public, private and hybrid cloud services will create a need for candidates with significant public cloud experience (Azure, Google Cloud and especially AWS), virtualization expertise, and tool development skills in the areas of securing public and private cloud environments.
Using cloud technology itself to enhance cybersecurity
Candidates with backgrounds in big data engineering, cloud architecture, machine learning, data science and DevOps can bring added value to developing network security technologies, even if their backgrounds do not include "traditional" cybersecurity experience.
Ultimately, increased focus on hiring cloud talent will encourage many organizations to search for candidates outside of the security industry, including those experienced in developing successful consumer-facing technologies. The industry as a whole will be challenged to attract these highly sought-after candidates by offering compelling roles and exciting, highly technical projects, as well as educating them on the importance of cybersecurity in protecting our way of life in the digital age.