This post is also available in: 日本語 (Japanese)
Climate change is an existential threat. We must all do our part to address it – and at Palo Alto Networks, we're all-in.
Today we're declaring that we will be carbon neutral by 2030. To accomplish this, we will:
Rely 100% on renewable energy for our global offices. 

Reduce our emissions in alignment with science-based targets. 

Invest in high-quality carbon offsets for any remaining emissions. 
We'll work across sectors to advance climate action, and we'll be transparent about our progress along the way. 
Our Existing Environmental Initiatives
Environmental stewardship is not new to Palo Alto Networks. 
That's why our major offices are environmentally certified (levels of LEED certification, or equivalent, vary by location), and our employees lead site-based actions from recycling and waste reduction to roundtables and volunteerism. 
While we're proud of what we've done so far, we can't stop here. 
We Commit Today to Measurable, Transparent Results
This year, during the World Economic Forum's Davos Agenda, we committed to increasing overall environmental, social and governance (ESG) reporting, according to the Stakeholder Capitalism metrics established by the International Business Council.
Our other transparency efforts will follow framework standards that include:
Ongoing participation in the Carbon Disclosure Project (CDP).

Sharing plans and progress using the Task Force on Climate-Related Financial Disclosures (TCFD) framework.
These efforts will allow us – and our stakeholders – to keep track of how we're doing as we work toward our goal.
A Bold Target: Carbon Neutral by 2030
The Paris Agreement calls for us as an international community to limit global warming well below 2 degrees Celsius by 2050. We've set ourselves the target of doing our part to reach that goal 20 years early.
Climate change is a complex issue. Addressing it – like solving the world's greatest cybersecurity challenges – isn't something any one company can do alone. The effort will require creativity, collaboration and visionary thinking. 
In building our strategy, I've talked with leaders I respect and admire, and our company has assessed the important work many companies, governments and industry coalitions are doing to reduce their impacts on climate change and establish standards and frameworks. We're ready to benefit from the insights of others and make our own unique contribution to the cause. 
Going forward, in addition to the use of renewables, reducing emissions and investing in offsets we will: 
Partner with organizations to advocate environmental stewardship.

Influence global public policy.

Mobilize our workforce to adopt personal habits that have long-term impact at home and in our office locations.
If you're a partner or supplier of Palo Alto Networks, your engagement will be critical. Whatever your approach may be, I urge that you consider aligning to the Paris Agreement to bring emissions down and do all you can to respect our planet.
Our Climate Commitments are below. If you haven't already made your own climate commitment, we hope you'll join us on this crucial journey.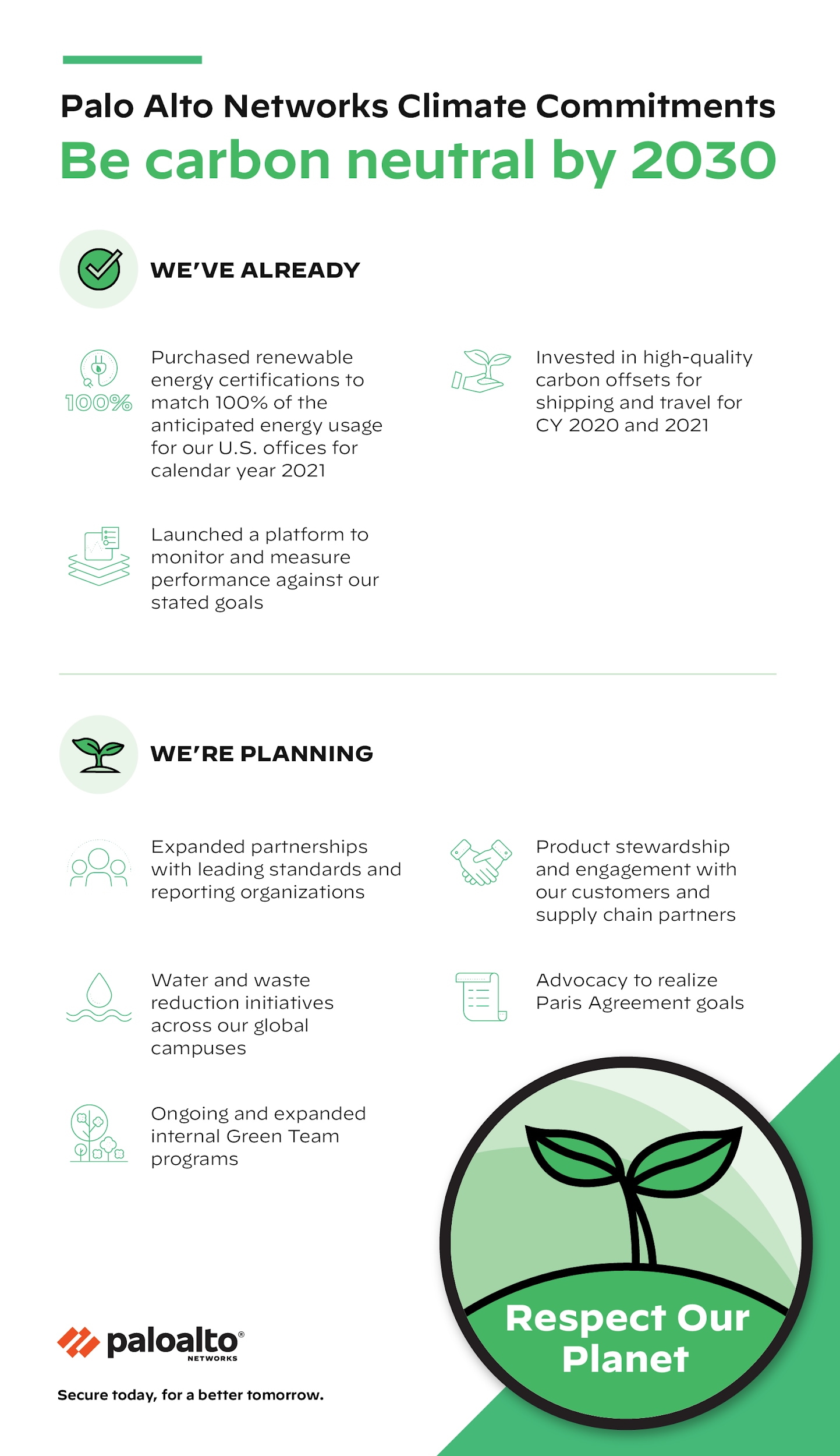 Visit our website for more information about our Corporate Responsibility efforts.