Regardless of what cybersecurity technology your organization uses, you can only maximize return on investment if the technology is fully deployed and managed effectively by your technology team. Many security breaches come about due to misconfigurations, not zero-day vulnerabilities. Because of this, it is critical your staff is well-trained and certified to properly configure your cybersecurity technology.
As the cybersecurity partner of choice for many of the Fortune 100 companies, Palo Alto Networks knows we must constantly evolve our technology to help organizations around the world stay ahead of the next threat. This means we must also constantly evolve our training and credentials to give everyone who works with our technology the resources to learn, grow and demonstrate expertise.
How Certifications and Micro-Credentials Help Maximize Your Security ROI
Cybersecurity credentials and certifications help organizations get more value out of security investments. Benefits include:
Experts who can deploy, implement and manage security reduce time-to-value.
Having a clear understanding of how to use advanced features and functionality to improve security and protection.
Encouraging a more educated workforce helps advance careers and increases retention of employees.
The Education Services Team at Palo Alto Networks takes our responsibility to bridge the cybersecurity knowledge gap through innovative learning programs very seriously. By partnering frequently with Subject Matter Experts (SMEs), we naturally discover where we must develop and update technical education programs as our technology portfolio grows.
Ensure Your Palo Alto Networks Resources Are Managed Well
How can organizations ensure that Palo Alto Networks resources are managed well? The answer is simple: Require the people who work with your cybersecurity technologies to earn one or more of the established or new certifications or specialized micro-credentials offered by Palo Alto Networks.
Certifications and micro-credentials take formal learning opportunities to the next level by assessing individual knowledge, skills, and abilities against an objective standard: a formal examination. Each certification or micro-credential exam is based on an exam blueprint developed using a structured process which involves SMEs at every stage. This process is based on education measurement industry standards to ensure that exams are valid, reliable and legally defensible.
Our newest micro-credentials focus on supporting Secure Access Service Edge (SASE) skills.
Our certifications are designed for a variety of learners, including those who need entry-level cybersecurity skills, security administrators and security engineers.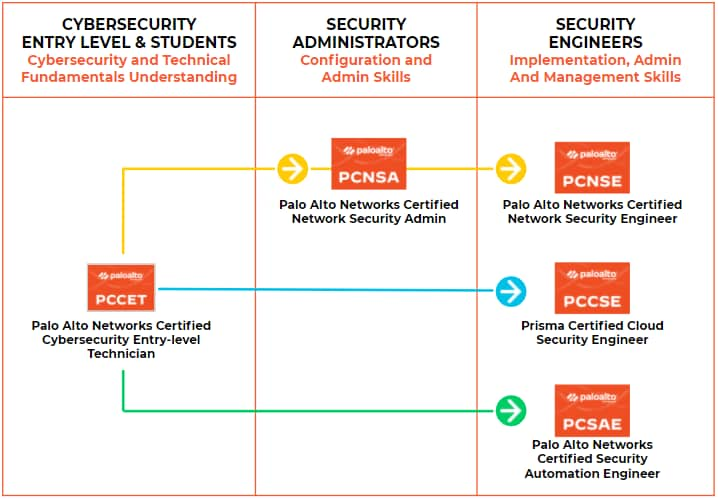 At the end of the day, your organization entrusts you and your team with protecting your company's digital assets. It is imperative that your team is highly trained on your cybersecurity investments. Finally, the smarter your team is about how Palo Alto Networks technology operates and protects your organization, the better return on your security investment will be.
This post is part of an ongoing series highlighting the cybersecurity learning resources offered by Palo Alto Networks.