In 2020, the pandemic sent shockwaves around the world that were felt unevenly by people and businesses. Some industries, like videoconferencing and delivery services, saw unimaginable surges in demand. Others, like hospitality and entertainment, struggled to stay afloat. To varying degrees, all organizations that I've spoken with quickly discovered that they needed to reimagine their businesses by embracing digital technologies to adapt to their new environment.
While the initial shock of the pandemic is now in our rearview mirror, the digital "genie" is out of the bottle, and business leaders are looking to equip themselves with the tools they need to prepare for tomorrow, fueling the next wave of growth.
Most organizations are planning to support a secure hybrid workforce model, where the majority of employees can work fluidly between corporate offices, branch offices, home offices and on the road. Cloud adoption and digital initiatives are driving additional investment in SaaS and other public cloud services. Organizations are even using digital to reimagine their physical spaces with traditional branch offices turning into collaboration hubs and retailers transforming the ways they engage in-store with customers.
There is a growing acceptance that the network and network security architectures of the past no longer meet the needs of today's cloud-enabled world. It is more clear than ever that security and networking must converge in the cloud with secure access service edge (SASE). Most SASE solutions available today are disjointed and incomplete, requiring customers to make unacceptable trade-offs with security effectiveness or network functionality when moving to a cloud-delivered SASE model. The legacy challenges of stitching together a multivendor environment remain, and troubleshooting is a nightmare.
Prisma SASE Is Convergence Without Compromise
At Palo Alto Networks, we believe that an effective SASE solution must converge SD-WAN and security into a single, integrated offering that delivers consistent protection with a high-performance experience for all users, without compromising security effectiveness or network functionality.
Prisma SASE is the industry's most complete SASE solution, converging security, SD-WAN and Autonomous Digital Experience Management into a single cloud-delivered service. Only Prisma SASE uniquely provides:
Convergence Without Compromise: Best-of-breed security and SD-WAN, natively integrated without trade-offs.
Complete, Best-In-Class Security: Consistently secures all apps used by your hybrid workforce, regardless of location.
Exceptional User Experience: Integrated Autonomous Digital Experience Management, backed by industry-leading SLAs.
Prisma SASE represents the combined functionality of Prisma Access and Prisma SD-WAN with robust capabilities across Zero Trust Network Access (ZTNA), Cloud Secure Web Gateway (SWG), Cloud Access Security Broker (CASB), Firewall-as-a-Service (FWaaS) and SD-WAN. This will make it easy for customers to purchase and deploy SASE from a single offering.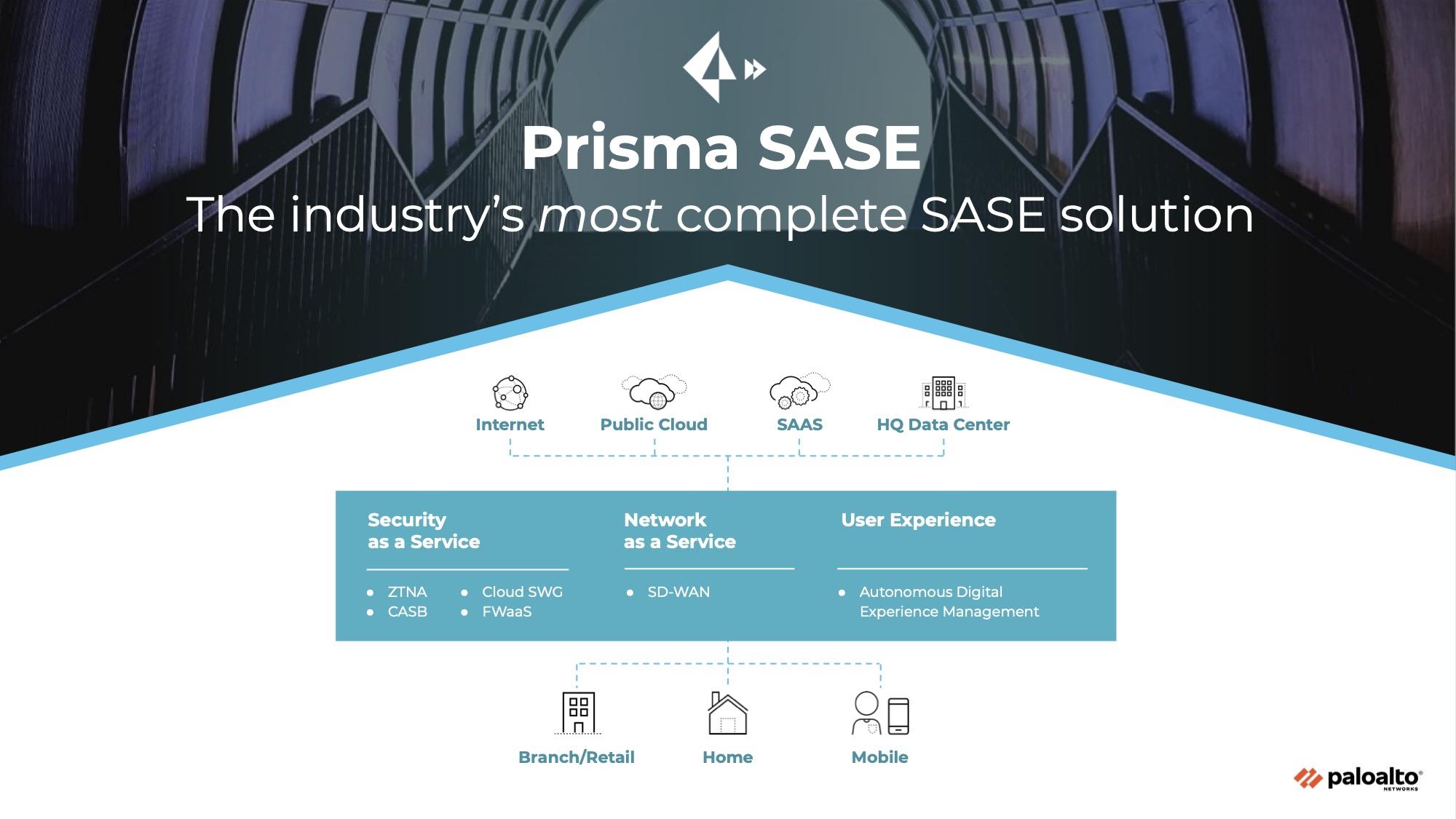 In addition to Prisma SASE, I'm excited to announce several other SASE innovations that we're bringing to market.
ION 1200: Integrated 5G SD-WAN Appliance
Businesses have been replacing MPLS with broadband using SD-WAN for many years. Now, with the rollout of 5G at scale around the world, cellular WAN has become a viable primary WAN connection for branches, ATMs and kiosks, or as a backup connection to improve branch resilience. When implementing cellular WAN, however, customers have had to deploy multiple appliances at their branches, which increases cost and complexity.
Palo Alto Networks Prisma SD-WAN is expanding its appliance portfolio to include the ION 1200 with integrated 5G. With the ION 1200, organizations can accelerate their SASE deployment to branch offices by leveraging 5G connectivity without the hassle of installing additional 5G hardware in the branch. Organizations can use 5G as the primary WAN connectivity to enable the rapid deployment of ATMs or kiosk systems or as a secondary backup link to improve the resilience of the branch WAN.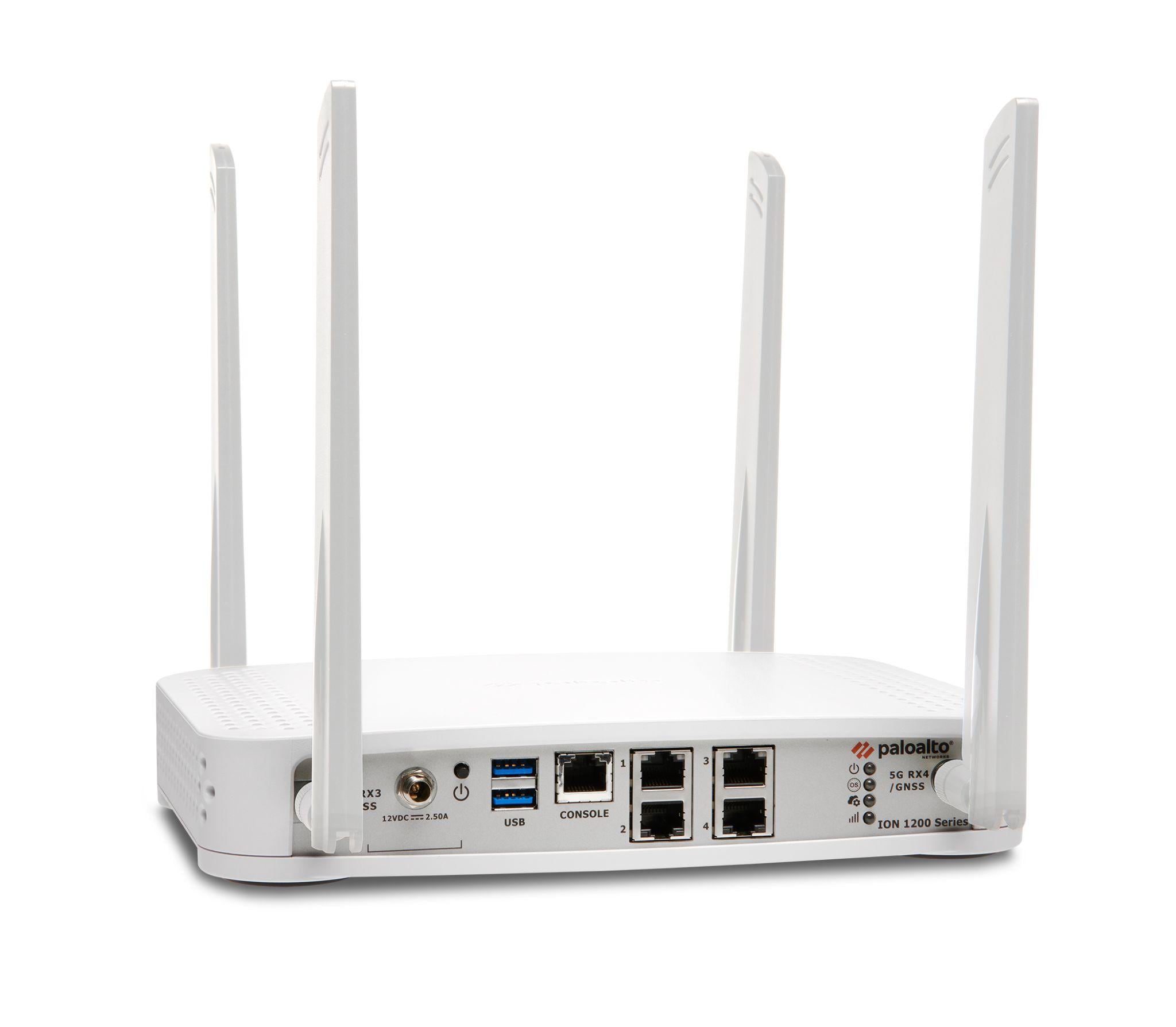 ADEM for All Users and Branch Offices
IT teams are challenged to ensure an exceptional user experience for branch and mobile users. Current monitoring tools lack visibility into every network segment in the service delivery path and require additional agents or appliances to be deployed in the infrastructure. Additionally, responding to digital experience problems requires operations teams to manually troubleshoot and remediate, increasing support efforts and cost.
Palo Alto Networks Autonomous Digital Experience Management (ADEM) was introduced earlier this year to manage the digital experience for mobile users. We have now integrated ADEM directly into all Prisma SD-WAN appliances, extending ADEM to all users, including those in the branch. This enables organizations to gain end-to-end visibility from a single management console without the need to deploy additional agents or appliances. ADEM with Prisma SD-WAN ensures the best digital experience for branch users by providing observability in the cloud and across the entire service delivery path, including all WAN links. In addition, you can leverage real and synthetic traffic analysis for both user endpoints and IoT devices to pinpoint issues easily.
New CloudBlades
The Palo Alto Networks CloudBlades platform enables the seamless integration of branch services into the SASE fabric without needing to update your branch appliances or controllers, thus eliminating service disruptions and complexity. This unique cloud-based API architecture automates deployments of third-party services, enabling organizations to simplify network operations and multicloud connectivity, as well as expedite deployments.
In addition to the existing security, multicloud and operations CloudBlades, Palo Alto Networks is now introducing a CloudBlade for Zoom to improve video conferencing performance, for Microsoft Teams to enable ChatOps, and ServiceNow to improve AIOps.
Integrated Cloud SWG with Reimagined Configuration Workflows
As apps continue to move to the cloud and users work from anywhere, security administrators find it difficult to enforce consistent policies for their users regardless of their location. Often, SWGs are managed separately from other security controls, creating complexity, policy inconsistency and leading to security gaps that put enterprises at risk.
Prisma Access provides a natively integrated cloud SWG with a completely reimagined, user-centric workflow that is built from the ground up to offer very simple and easy-to-define web security rules. With predefined recommendations and continuous assessments based on best practices, customers get optimal security for their organization, regardless of whether their users are mobile or at branch offices. Now, businesses can go beyond the traditional allow or block rules to enable more granular action controls to accommodate the emerging needs of their hybrid workforces.
Join Us at SASE Converge 2021
From September 28-29, I'll be hosting SASE Converge 2021 — the premier summit for what's next in SASE. Leading voices from the networking and security industries will converge virtually to discuss the learnings from adopting SASE technologies and describe what the future of these technologies will make possible. We will dive deeper into these new product innovations on day two of the event. I hope to see you there, virtually.