This post is also available in: 简体中文 (Chinese (Simplified)) 日本語 (Japanese) 한국어 (Korean)
Organizations want to get more out of their existing security investments, but they are challenged today. Network security operations largely remain manual, laborious and reactive. Many businesses are unaware of their network security posture or have limited insight into misconfigurations, which can lead to gaps in their security posture and put them at a greater risk of a breach. Organizations facing skill shortages may not have the product expertise to fully maximize firewall functionality, resulting in security investments that don't yield proportional returns. Finally, organizations lack the visibility and product knowledge to prevent business-disrupting incidents from firewall-related errors. Once impacted, they spend immense time and resources reacting to the situation, trying to determine the root cause while under tremendous pressure to bring the business back online.
Existing solutions in the market are not enough for several reasons:
It is impossible to see an organization's current security posture and how to improve it.
They are reactive, which depend on a rearview mirror, and cannot predict and prevent disruptions.
There is no way to confidently assess the impact of future deployment options.
So what can network security architects and practitioners do to proactively reduce firewall disruptions and improve firewall health and performance?
Continuing our six-part Tech Deep Dive Miniseries, Episode 5 covers how our new AIOps for NGFW solution can reduce time to detect network security gaps by up to 99%, and use machine learning to predict up to 51% of disruptions to NGFWs before they impact the firewalls. If you missed our previous episodes, you can check them out now:
Introducing AIOps for NGFW
With Nebula (PAN-OS 10.2), the latest upgrade of our industry-leading PAN-OS software, we address these gaps with Artificial Intelligence for IT Operations (AIOps). We're proud to introduce the industry's first domain-centric AIOps for Next-Generation Firewall (NGFW). AIOps for NGFW redefines firewall operational experience by interpreting, predicting and resolving problems before they become business impacting. Register for Episode 5 of our Tech Deep Dive Miniseries to learn how AIOps for NGFW can help you:
Proactively Strengthen Security Posture: Reduce the attack surface and strengthen security posture with built-in best practices, combined with policy recommendations customized to the organization's unique deployment. Best practice recommendations are powered by machine learning (ML) based on industry standards, security policy context and advanced telemetry data collected from all Palo Alto Networks firewalls. Proactive Best Practice Assessment (BPA) capability enables you to assess best practices on a policy before changes are committed on Panorama instead of remediating after the change has been pushed to the firewalls, saving time and preventing threats by improving security posture.
Proactively Resolve Firewall Disruptions: Gain insights across your deployment and reduce NGFW downtime with proactive insights to maintain optimal firewall health and performance, and keep your NGFWs running smoothly. AIOps can intelligently predict firewall health, performance and capacity problems up to seven days in advance and provide actionable insights to resolve the predicted disruptions.
Get Unprecedented Visibility Across Palo Alto Networks Security Services: Get a unified view into the activity seen in your organization across applications, threats, networks, users and cloud-delivered security subscriptions like DNS Security, Advanced URL Filtering and WildFire.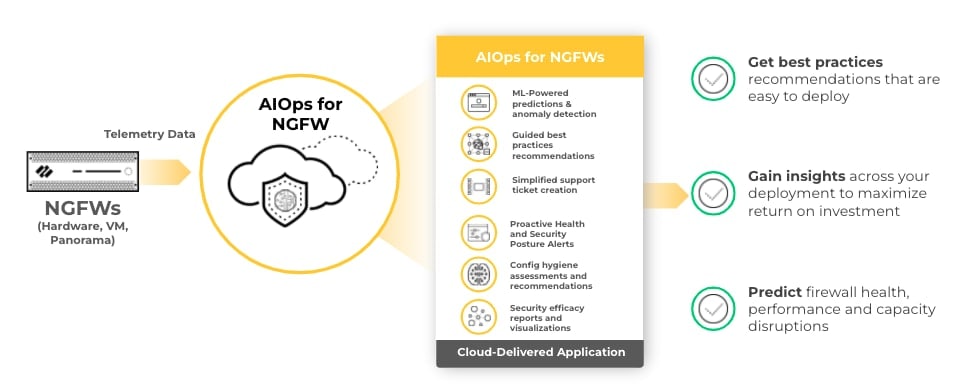 With AIOps for NGFW, you can proactively address the top operational challenges of today, like misconfigurations, human errors, compliance with best practices, resource usage, hardware and software failures, manual, repetitive and time-consuming processes.
AIOps for NGFW is a cloud-based module and relies on telemetry data from hardware firewalls (PA-Series), software firewalls (VM-Series and CN-Series), and our management platform (Panorama™). The data moves to our AIOps cloud, where we apply machine learning algorithms to produce recommendations and detect anomalies. AIOps for NGFW is fully powered by PAN-OS® telemetry. It is effortless to deploy and requires no additional hardware or software to install. All you need to do is turn on telemetry on your NGFWs.
To learn more about AIOps for NGFW, be sure to register for Episode 5 in our Tech Deep Dive Miniseries, What is AIOps, Optimizing Your NGFW in a Snap or download our AIOps for NGFW Solution Brief.
If you missed our previous blogs, check out what's new with our NGFWs and security infrastructure; learn about the latest in Intrusion Prevention; learn how our Advanced URL Filtering and DNS Security solutions can protect customers in real time; and learn how you can reduce the unseen and unmitigated 30% of risk across your enterprise by implementing Zero Trust for IoT devices.