In a world of economic uncertainty and growing sophisticated threats, businesses need the confidence that comes from securely developing and deploying cloud applications. That's why we'd like you to join us on Thursday, October 6 at 10 a.m. PDT for a timely webinar and workshop tackling ways to efficiently, and cost-effectively, protect against known and unknown exploits, malware, ransomware and more. By attending the Design and Deploy Zero Trust for Enterprise Public Cloud event, you'll gain a better understanding of what Zero Trust is, why you need it, and how to deploy it to help your organization become more secure.
See what Palo Alto Networks founder, Nir Zuk, had to say about the event.
Full Agenda Takes on Pressing Public Cloud Needs
Protecting your core business and cloud-native applications in the cloud requires both simple and comprehensive security platforms. As you'll learn, this is where a strategic Zero Trust architecture comes in. This event will feature best practices and hands-on labs where you'll learn from experts, see our solutions in action, and hear how financial services leader, Jefferies Group LLC, delivers consistent cloud security that drives business value. You'll learn a lot during this hands-on, information-packed, three-hour session:
Why Zero Trust principles deliver on the promise to secure your cloud applications that are the life-blood of your business.
Why businesses are adopting platforms for their Zero Trust architecture for the cloud.
How Zero Trust Enterprise architecture can protect your cloud applications.
How to easily use the right NGFWs along with the Prisma Cloud platform to extend best-in-class security to core business and cloud-native applications in the cloud.
What's more, you'll experience live, instructor-guided, hands-on cloud security for virtual machines, container application deployments and cloud-native applications.
Learn Vital Zero Trust Approach Details
At its essence, Zero Trust is a strategic and principled approach to cybersecurity that eliminates implicit trust and continuously validates every stage of a digital interaction. As you'll learn, Zero Trust also represents a fundamental shift in security strategy and security platforms that support this shift.
Legacy security is based on the concept of the attack surface, which is composed of the sum total of the devices and connections hackers can potentially use to penetrate network defenses. Zero Trust turns that notion on its head by shifting the emphasis from the attack surface to the protect surface, which consists of the data, applications, assets, services and infrastructure that must be protected. Why? Consider how the protect surface is much smaller than the attack surface and far easier to determine.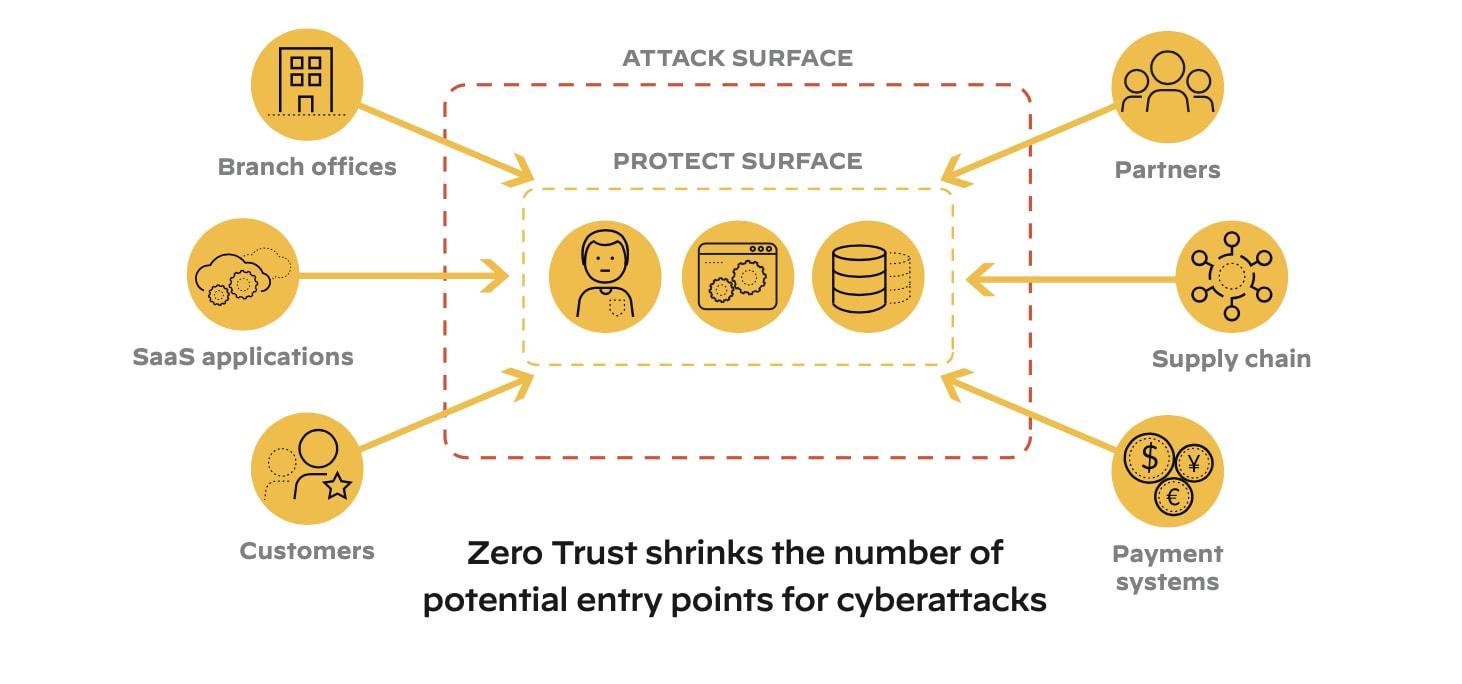 This approach has been designed to dovetail with your migration of valuable information and applications to the public cloud or direct cloud-native application development. Both present new security challenges these strategic initiatives introduce. Migration and direct development of applications in the public cloud involve risk. Implementing a Zero Trust architecture aims to reduce that risk and secure your critical business needs while meeting regulatory and compliance requirements.
Fortunately, there are platform solutions at hand. At the event, you'll gain an understanding of why our VM-Series virtual firewalls are the essential building blocks for creating a multitiered Zero Trust architecture. We'll explain how these virtualized NGFWs defend against zero-day attacks and other threats, and demonstrate how they improve the user experience, deliver impressive ROI of up to 115%, and significantly reduce user downtime by as much as 67%.
So get ready for this event, its insights and its hands-on training. You'll get a head start on beating back growing public cloud threats. And for a taste of what you can expect, take a look at this in-depth eBook, Bringing Zero Trust Security to the Public Cloud. It will provide you with even more background about the essentials of what you need in a network security platform, vital for Zero-Trust-driven public cloud security. We look forward to seeing you at the Design and Deploy Zero Trust for Enterprise Public Cloud webinar. The event's just around the corner, so be sure to sign up today.