Highest Scores for Enterprise Edge and Distributed Enterprise Use Cases
In December 2022, for the eleventh consecutive time, Palo Alto Networks was named a Leader in the Gartner® Magic Quadrant™ for Network Firewalls. And on May 16th, Gartner published its Critical Capabilities for Network Firewalls report. As an essential companion to the Gartner Magic Quadrant, this methodology provides deeper insight into providers' product and service offerings by extending the Magic Quadrant analysis.
We received the highest scores out of all vendors in the Enterprise Edge and Distributed Enterprise use cases, and second highest scores in the Enterprise Data Center and SMB use cases. For more than a decade, we've partnered with our customers to understand their environments, anticipate new, unknown threats and develop industry-first solutions that extend security to all users and all applications across the enterprise.
Public Cloud
Palo Alto Networks continues to innovate in critical public cloud security with its Network Security Platform family of software firewalls. The recent launch announcement of Cloud NGFW for Azure brings the Cloud Firewall category to the forefront with cloud-native ease of use and best-in-class next-generation firewall security. This covers deep ISV partnerships with AWS and Azure, as well as OEM solutions with Google Cloud IDS (GCP) and Oracle OCI Network Firewall, which are all powered by our VM-Series Virtual Next-Generation Firewall.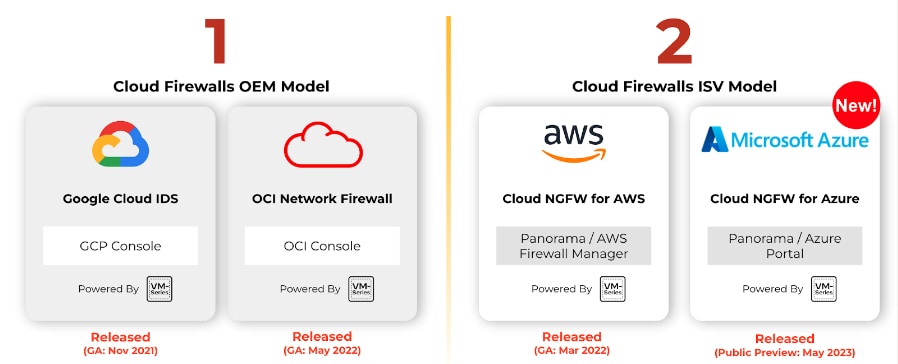 We also
just announced Panorama™
, a centralized single-pane-of-glass security management. It provides complete visibility across public multicloud environments for both
Cloud NGFW for AWS
and the latest platform product
Cloud NGFW for Azure
. Industry analysts estimate that Palo Alto Networks leads competitors by at least 18 months.
When paired with our industry-first
VM-Series Virtual Next-Generation Firewall
and
CN-Series Container Next-Generation Firewalls (NGFW)
, our cloud firewalls deliver a wide array of next-generation firewall options.
Integrated with
Cloud-Delivered Security Services
, they cover all cloud service providers: Alibaba, AWS, Azure, GCP, IBM Cloud and Oracle Cloud. With these recent announcements, public clouds can be centrally managed across all of our software firewalls, Virtual, Container and Cloud NGFWs for multicloud consistent security. This allows organizations to get complete infrastructure visibility, no matter where cloud applications run in the public cloud with
Panorama™
or Panorama Virtual.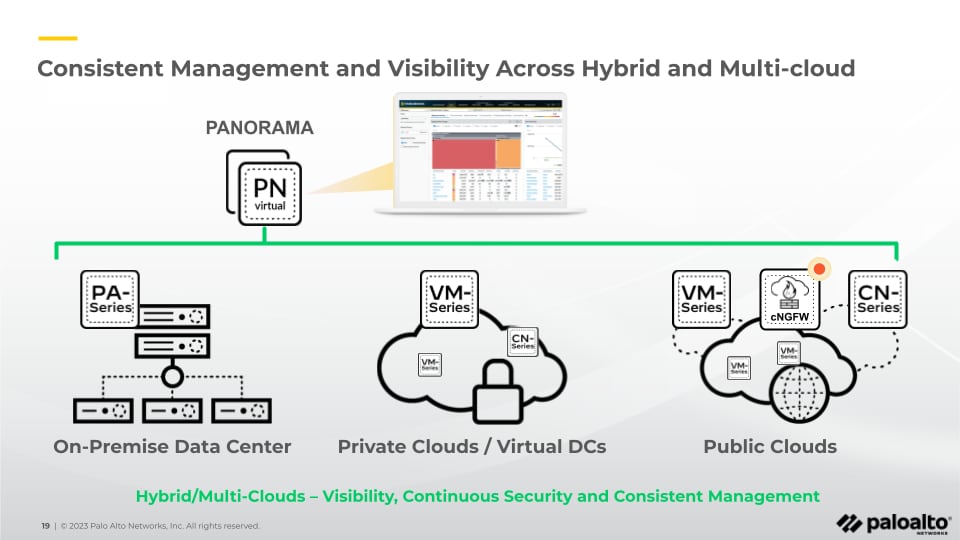 Customers now drive Zero Trust unified policies and management across public, multicloud, and hybrid cloud environments wherever their applications run and their critical data reside in the clouds. Organizations can be secured with the right software firewall in achieving Zero Trust security postures with the ease and agility required of cloud businesses.
Enterprise Data Center
Enterprise data centers host critical applications and data are continuously targeted by adversaries and require flexible security solutions that can meet today's threats and grow to meet tomorrow's challenges. We recently delivered the new PA-5400 Series ML-Powered NGFW in a sleek 2RU form-factor. This is specifically targeted for the Enterprise Data Center, with up to 2x the performance of the previous generation PA-5200 Series.
Palo Alto Networks received Customers' Choice recognition in the 2022 Gartner Peer Insights™ "Voice of the Customer": Network Firewalls report, and achieved a AAA rating – the highest possible rating in the CyberRatings Enterprise Firewall evaluation. Our solutions provide deep visibility and consistent, best-in-class security controls across physical, virtualized, containerized and cloud environments. All security tools and capabilities are integrated into the platform via our Cloud-Delivered Security Services, allowing administrators to eliminate point products and seamlessly add security capabilities as their needs evolve. Customers deploying our Cloud-Delivered Security Services have been able to attain a proper security posture 30% faster than when using point products. They reduced the risk of a security breach by 45%. Data center administrators manage policy across their hybrid environments from a single, centralized management console.
As more than 87% of enterprises are taking a hybrid cloud infrastructure strategy, virtualizing enterprise data centers continues to be an area of innovation for Palo Alto Networks software firewalls for the virtual data center. Securing Nutanix workloads, using Flow Virtual Networking (VPCs) and the VM-Series virtual firewalls with Policy-Based Routing (PBR), has been a recent addition to an in-depth Nutanix and Palo Alto Networks solution across VPC from virtual data center to the public cloud. Customers gain more abilities:
Apply current security tool sets and investments to secure your networks, data and applications.
Remove complexity and the need for additional resources to accelerate security operations and provide actionable insights.
Extend and create multi-tenant networks that simplify and ensure segmentation of workloads across clouds.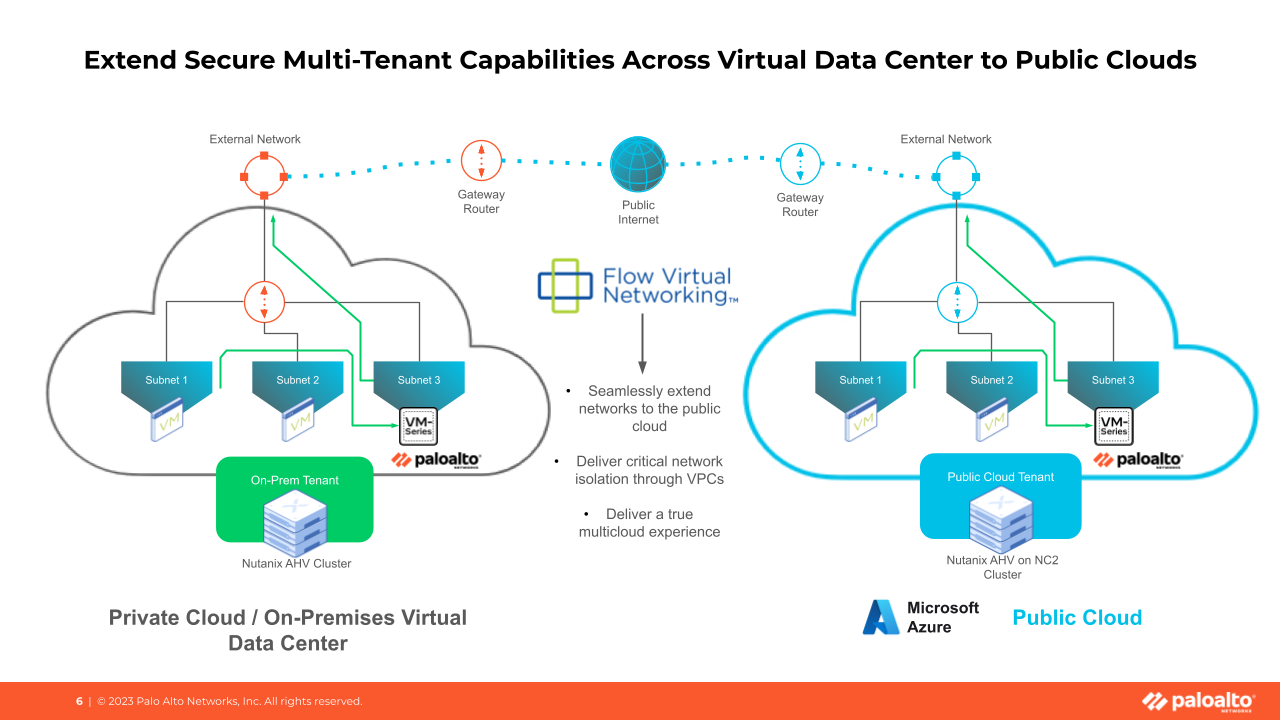 Providing a cloud network solution with multi-tenant VPC capabilities, customers can have total control of where and how applications and data will communicate, even across clouds. This holistic approach removes the complexity of multiple competing products and aligns cloud strategies. Defined by software and backed by a policy engine that delivers just-in-time routing decisions, organizations can refocus critical network and security resources without increased security risks to more strategic business initiatives.
Enterprise Edge
In the Critical Capabilities report, Palo Alto Networks received the highest score on the Enterprise Edge use case. We believe this is a testament to our best-in-class, integrated, Cloud-Delivered Security Services layered on top of our ML-Powered NGFWs and SASE solution, including Advanced Threat Prevention, DNS Security, Advanced URL Filtering, Advanced WildFire, Next-Generation CASB and IoT Security. Our solutions all work together to provide comprehensive coverage of an entire network, and stop zero-day threats. Cloud Identity Engine (CIE) simplifies user identification and authentication to help security professionals deploy Zero Trust easily. With CIE, security teams can consistently enforce user-based policies across the organization, regardless of where users or their identity-stores live, which allows safe access to applications and data everywhere.
Our AIOps for NGFW solution is designed to proactively improve security posture and health by continuously recommending best practices to help identify areas of improvement and close security gaps. AIOps uses machine learning to analyze telemetry data from NGFWs to intelligently predict firewall health, performance and capacity problems, preventing up to 51% of disruptions on firewalls. AIOps for NGFW redefines firewall operational experience by interpreting, predicting and resolving problems before they become business impacting.
Distributed Enterprise
We're proud to have also received the highest score on the Distributed Enterprise use case. Branch locations and remote workers need secure access to applications that may be hosted in the data center, in the cloud or available through SaaS providers. Prisma SASE is purpose-built to connect and secure modern, distributed enterprises. Prisma SASE converges security, SD-WAN and Autonomous Digital Experience Management (ADEM) into a single, cloud-delivered service.
We're proud to be the only company named a Leader in both the Gartner® Magic Quadrant™ for Security Service Edge (SSE) and the Gartner® Magic Quadrant™ for SD-WAN. We are committed to driving the industry forward, and we recently debuted new AI-powered SASE innovations to automate IT operations, improve security, and unlock better ROI at our SASE Signature Event.
Small and Midsize Businesses (SMBs)
Small and midsize businesses want true enterprise-grade security in an affordable, easy-to-deploy package. In practice, too many of them have deployed NGFWs without enabling key security services or features due to concerns about performance, cost, limited security skills or all three. Since its launch in June 2021, our PA-400 Series has been transforming security strategies and outcomes for SMBs. These affordable, high-performance firewalls enable customers to fully implement critical security features and services. In 2023, we introduced additional hardware appliances with the PA-1400 Series and the PA-400 Series. These firewalls include Power over Ethernet (PoE) and fiber optic ports to provide flexibility and network consolidation to support additional use cases and meet evolving requirements. High-value bundles of our Cloud-Delivered Security Services simplify the buying process. Zero Touch Provisioning and integrated, single-console management makes it easy to deploy and use.
We're proud to deliver industry-leading innovations to our customers. Read a complimentary copy of the Gartner Magic Quadrant for Network Firewalls.
Gartner, Magic Quadrant for Network Firewalls, Rajpreet Kaur, Adam Hils, Thomas Lintemuth, 19 December 2022.
Gartner, Critical Capabilities for Network Firewalls, By Adam Hils, Rajpreet Kaur, Thomas Lintemuth, 16 May 2023
GARTNER is a registered trademark and service mark of Gartner, Inc. and/or its affiliates in the U.S. and internationally, Magic Quadrant and PEER INSIGHTS are registered trademarks of Gartner, Inc. and/or its affiliates and are used herein with permission. All rights reserved.
Gartner does not endorse any vendor, product or service depicted in its research publications, and does not advise technology users to select only those vendors with the highest ratings or other designation. Gartner research publications consist of the opinions of Gartner's research organization and should not be construed as statements of fact. Gartner disclaims all warranties, expressed or implied, with respect to this research, including any warranties of merchantability or fitness for a particular purpose.