Palo Alto Networks and IBM are excited to announce the availability of Palo Alto Networks Prisma® Cloud Compute Edition on IBM® Cloud Virtual Private Cloud (VPC). The two companies are now offering the ability to protect and future-proof workloads in the cloud with a bring-your-own-license (BYOL) version of Prisma Cloud Compute Edition.
Cloud Native Security Challenges
Traditional security tools and methodologies are not suited to protect the developer-driven, infrastructure-agnostic and multi-cloud patterns of cloud native applications. This is because developers and DevOps teams – vital in building and deploying cloud native applications – often operate outside the view of traditional security. This requires controls that integrate with developer-led infrastructure and tooling.
In addition, organizations are using more architecture options than ever, spanning hybrid and multi-cloud deployments and a combination of host virtual machines (VMs), containers, Kubernetes®, containers as a service (CaaS) and serverless functions.
Finally, cloud native are environments constantly changing, and at a tremendous scale. Security teams require automation to help secure the growing number of ever-changing microservices their organizations use.
Protecting Cloud Workloads Across Hosts, Containers and Serverless
Prisma Cloud Compute Edition delivers a cloud workload protection platform
(CWPP) for modern enterprises, providing holistic security across hosts, containers and serverless deployments in any cloud, throughout the software lifecycle.
Prisma Cloud Compute Edition is cloud native and API-enabled, protecting all your workloads regardless of their underlying compute technology or the cloud in which they run.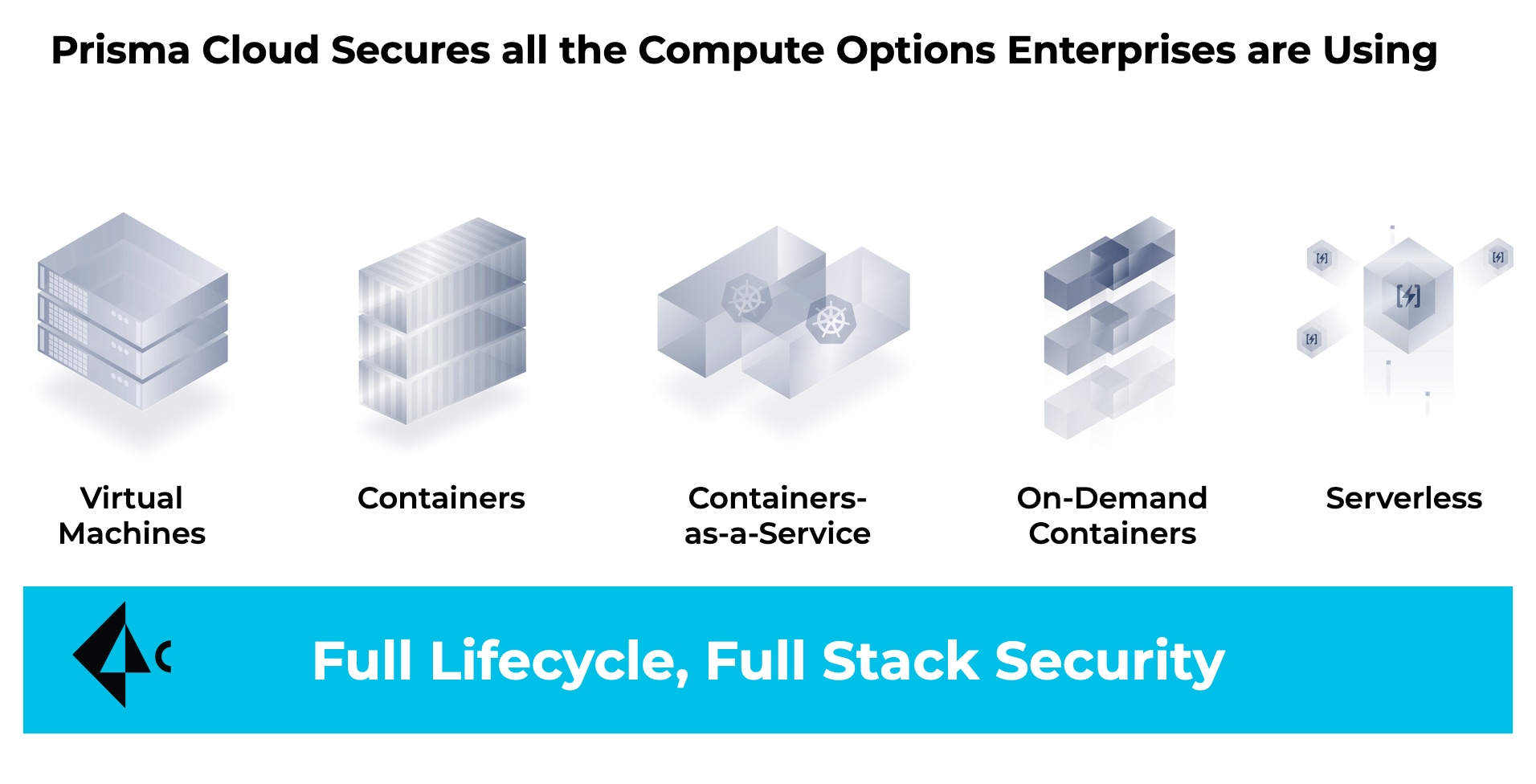 Use Cases for Prisma Cloud Compute Edition
Use cases for cloud native Prisma Cloud Compute Edition include:
Vulnerability Management
Enjoy security from development through production with unmatched vulnerability detection and prevention at every stage of the application lifecycle, while gaining deeper contextual information.
Compliance
Easily implement and maintain compliance checks for Docker, Kubernetes, and Linux CIS Benchmarks, in addition to external compliance regimes and custom requirements, including compliance checks for the Istio® service mesh.
CI/CD Security
Integrate security directly into the continuous integration (CI) process to find and fix problems before they ever make it into production.
Web Application and API Security
Protect against Layer 7 and OWASP Top 10 threats in any public or private cloud.
Access Control
Establish and monitor access control measures for cloud workloads and applications across underlying hosts, Docker, and Kubernetes. Integrate with identity and access management (IAM) and secrets management tools, along with other core technologies.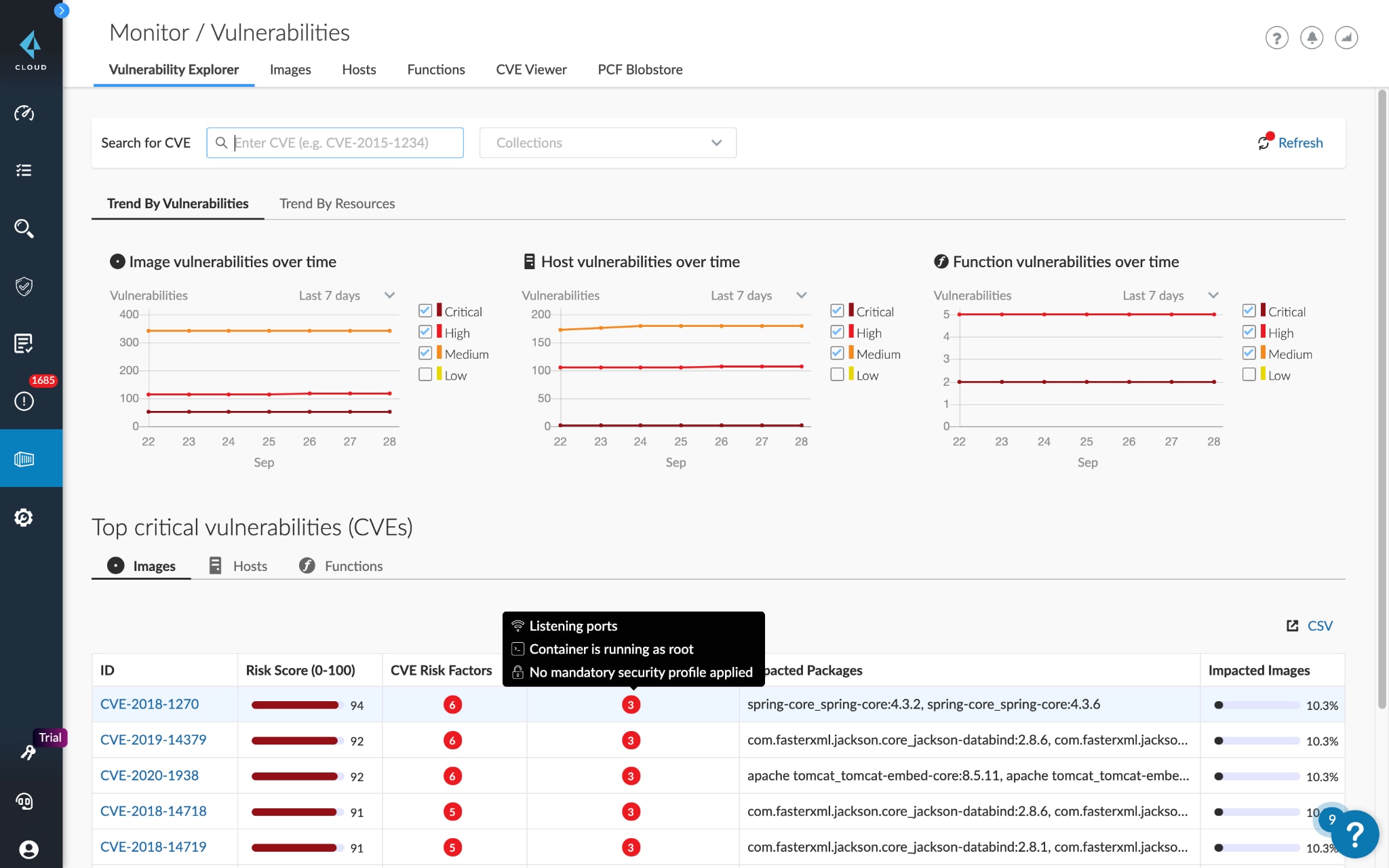 Benefits of Deploying Prisma Cloud Compute Edition on IBM Cloud VPC
Prisma Cloud Compute Edition on IBM Cloud offers many benefits, allowing users to:
Embrace any cloud native technology they prefer. IBM Cloud customers can choose the right workload for any given application component and know their security platform has them covered now and into the future.
Prioritize risks based on real-time context of cloud native environments. Users can leverage vulnerability intelligence that is continuously pulled from their cloud native infrastructure and throughout the software lifecycle, including real-time connectivity graphs with runtime threat data.
Automate security at DevOps speed. Customers can improve security outcomes while still empowering developers and DevOps teams to deploy as quickly as possible to deliver business value.
To learn more about Prisma Cloud Compute Edition on IBM Cloud VPC visit the product catalog at IBM.