As cloud architectures become increasingly complex, detecting and preventing the misconfigurations and threats that lead to data breaches and compliance violations grows more challenging.
The cybersecurity industry responded to these challenges with cloud security posture management (CSPM) tools to help companies reduce risk across multicloud environments by proactively identifying and remediating critical cloud misconfigurations. With numerous vendors and solutions on the market, organizations are now challenged with identifying the best CSPM partner for their business.
A 2022 Leader in Cloud Security Posture Management
In the 2022 GigaOM Radar Report for Cloud Security Posture Management, the analyst firm evaluated eight vendors, including diversified cloud security tools and pure-play security vendors for their ability to provide security visibility and remediation for cloud configurations, identities, and workloads. We're proud to have Prisma® Cloud by Palo Alto Networks be recognized as a Leader in the 2022 report. Palo Alto Networks was also recognized as an Outperformer in the report based on our ability to evolve and innovate over the coming 12-18 months.
Prisma Cloud received exceptional remarks across 12 categories: multicloud support, low/no-code configuration, AI-driven analysis, workload scanning, supply chain analysis, solution ecosystem, licensing, visibility, large enterprise market segment, and deployment models including API, agent, and side scanning deployments.
At Palo Alto Networks, we believe that our differentiated ML-powered threat detection, supply chain security, flexible agent and agentless deployments, and a clear vision for code-to-cloud security sets Prisma Cloud apart in this report.
"Palo Alto Networks' impressive cloud security solution delivers practical security improvements for the modern enterprise operating in the cloud," GigaOm announced. "Its focus on developing meaningful features with real impact and its ability to integrate with both PAN and other vendors' technologies outside of "cloud" scope earned it top scores in this report."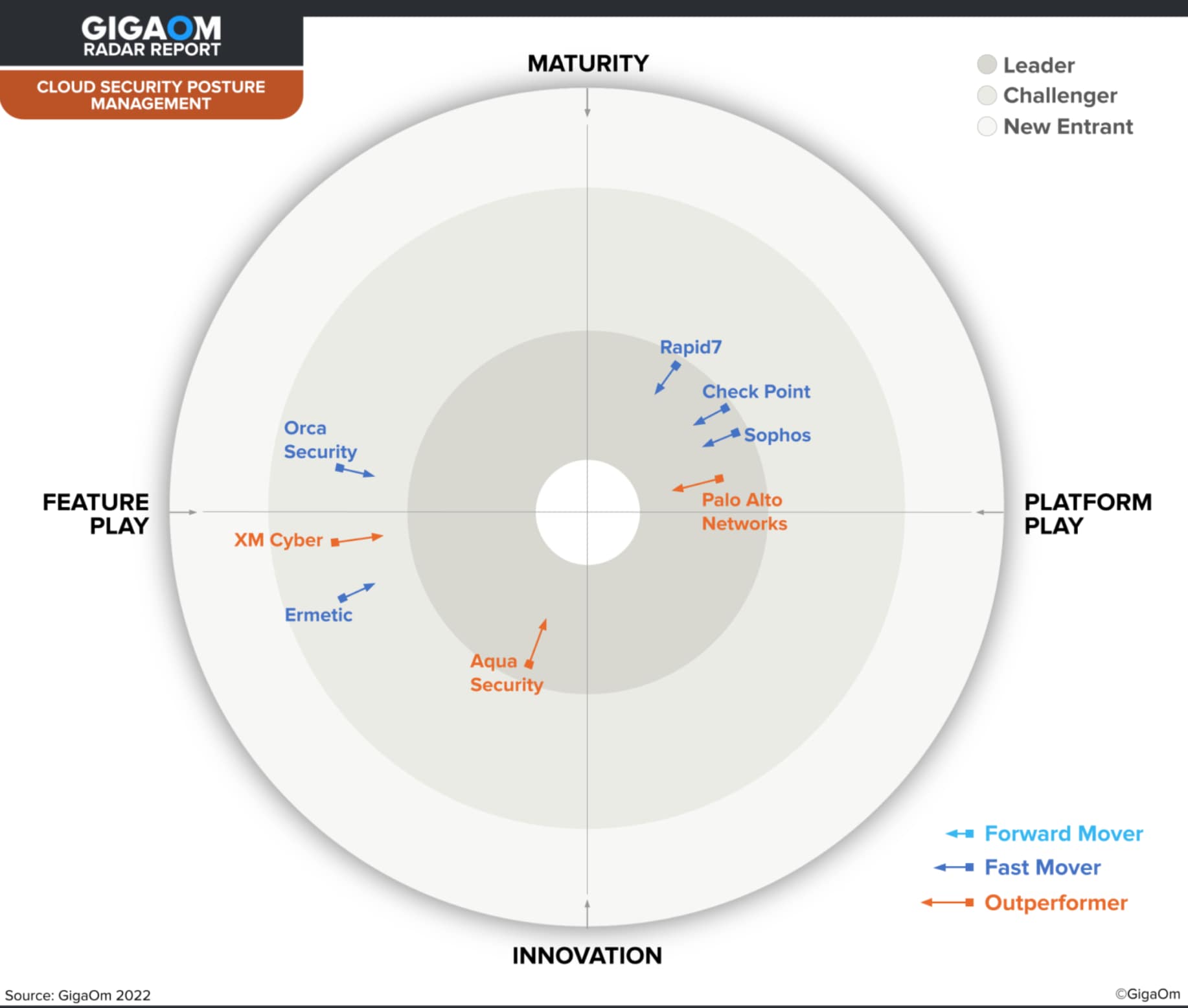 This leadership position is a recognition of the best-in-class Cloud Security Posture Management capabilities built into our Cloud-Native Application Protection Platform (CNAPP).
Prisma Cloud: The Code-to-Cloud CNAPP
Prisma Cloud secures applications from code to cloud and across multicloud environments. The platform delivers continuous visibility and threat prevention throughout the application lifecycle, including the prevention of zero-day threats. Prisma Cloud enables security and DevOps teams to effectively collaborate to accelerate secure cloud-native application development and deployment.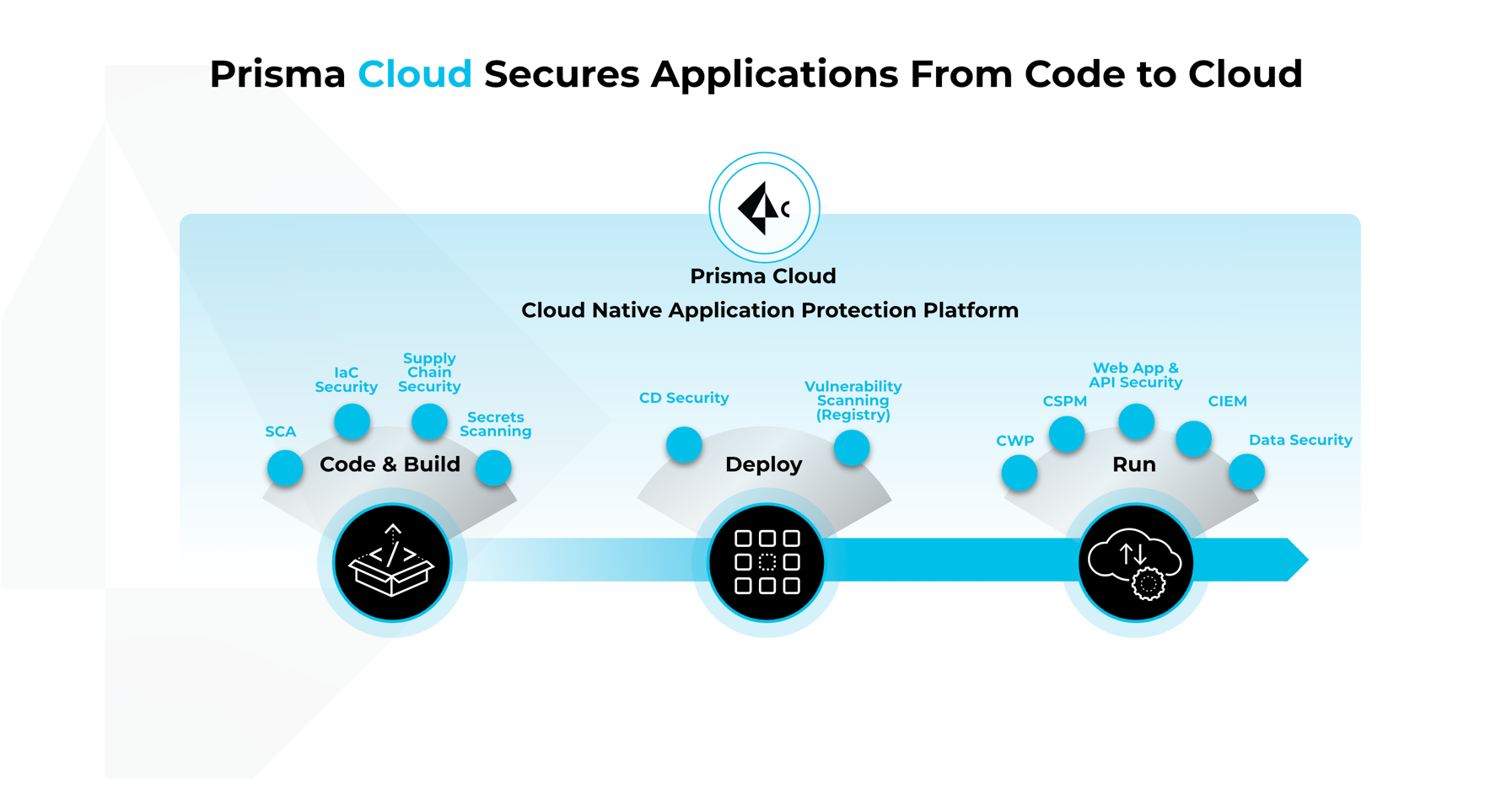 According to GigaOm, Prisma Cloud demonstrates the following strengths:
"Prisma Cloud enables shift left through code scanning capabilities like IaC review, scanning of Git repositories, and integrations with Visual Studio and most JetBrains IDEs, as well as CI tools that streamline the secure development of cloud resources. In addition to these integrations that simplify secure code development, Prisma Cloud keeps track of vulnerabilities found within Git repositories and can even proactively block pull requests if a predefined number of vulnerabilities are identified in code. Capabilities that take proactive steps like this will provide immediate value to overwhelmed security teams.
"Prisma Cloud's threat detection capability within its CSPM solution is a standout feature. Leveraging ML, Palo Alto Networks' Unit-42 threat feed, and UEBA, Prisma Cloud is able to identify anomalous events and malicious actions across the client's cloud. Specific use cases have been developed and tested to detect distributed denial of service (DDoS) attacks, botnets, ransomware, cryptomining, and other activities in cloud environments.
"The solution boasts broad public cloud support and powerful ML-based threat detection. It also provides deep integration with CI/CD tooling and IDEs. Finally, its simple purchasing model makes it easy to deploy new capabilities."
Download the Report
If you are interested in learning more, download a complimentary copy of the 2022 GigaOM Radar for Cloud Security Posture Management.