This post is also available in: 日本語 (Japanese)
What Cortex Xpanse does today
In late 2021, the U.S. Department of Homeland Security's Cybersecurity and Infrastructure Security Agency (DHS/CISA) issued Binding Operational Directive 22-01 (BOD 22-01), which introduced a list of Known Exploited Vulnerabilities (KEVs) that threat actors have exploited. Cortex Xpanse can help users to find potentially-impacted services for further investigation, patching, or decommissioning via the new Software Potentially Impacted by CISA Known Exploited Vulnerabilities (BOD 22-01) Issue category.
As of this writing, CISA's Known Exploited Vulnerabilities catalog accompanying BOD 22-01 contained 788 individual Common Vulnerabilities and Exposures (CVEs), impacting at least 322 unique products and services, approximately 57% of which face the public internet. These numbers continue to increase steadily as CISA adds new CVEs to the catalog.
Xpanse Issue Policies Aligning to CISA's Known Exploited Vulnerabilities (KEV) Catalog
(Updated: 8/1/2022)
This section includes all Xpanse Issue policies that enumerate potentially vulnerable products and services in the KEV catalog. We will continually update this list as our research and development teams add detection capabilities to our product.  
Expander shows systems that are exposed to the public internet, without the need to install agents or sensors of any kind. Some of the systems below do not advertise version information, or are otherwise restricted from doing so depending on the configuration of our customers' networks. Expander attempts to retrieve or derive version information and other metadata, but this is not possible in all cases. 
We are able to determine some devices/applications with a higher degree of confidence and thereby infer vulnerability to specific CVEs in the KEV catalog. The insecure versions of the following services fall into that category, and have been automatically enabled as Issue Policies in Cortex Xpanse:
Apache Druid

Apache Web Server

Atlassian Confluence Server

Atlassian Crowd Server

Cisco Small Business RV Series Router

Citrix Application Delivery Controller

Drupal Web Server

Exim Mail Transfer Agent

Hikvision Device

Microsoft Exchange Server

Mikrotik Router

MobileIron Sentry

PHP

SolarWinds Orion Platform

SolarWinds Serv-U

Sumavision Enhanced Multimedia Router

Telerik Web UI

Zoho ManageEngine ServiceDesk Plus
Other devices/applications do not provide this level of visibility, though Xpanse is still able to identify the presence of the active internet-facing service. These applications have Issue policies that can be enabled by your team in the Policies tab; we encourage our customers to toggle them to "On" as needed. 
Accellion FTA

Adobe ColdFusion

Adobe Commerce

Adobe Flash

Apache Active MQ

Apache Log4j* 

ApacheShiro

Apache Solr

Atlassian Jira Server

Cisco Adaptive Security Appliance

Cisco Duo SSO

Cisco Firepower Device

Cisco HyperFlex

Cisco IOS

Cisco IOS XE

Cisco IOS XR

Cisco Unified IP Phones

Citrix SD-WAN

Citrix ShareFile Server

Citrix Workspace

Citrix XenMobile Server

DrayTek Vigor Router

Elastic Kibana User Interface

Elasticsearch Server

EmbedThis GoAhead WebServer

F5 Advanced Web Application Firewall

F5 BIG-IP Access Policy Manager

F5 BIG-IP Platform

F5 BIG-IP TMUI

ForgeRock Access Management Server

Fortinet FortiOS

Fortinet Fortigate SSL Vpn

Hikvision Device

IBM Planning Analytics

IBM Websphere Application Server

Kaseya VSA

Liferay Portal

Log4Shell Vulnerable Apache Solr

Log4Shell Vulnerable IBM WebSphere Application Server

Log4Shell Vulnerable SonicWall Email Security

Log4Shell Vulnerable VMware Workspace ONE Access Server

Microsoft OWA Server

MikroTik Router

MongoDB Mongo-Express

Nagios

 Fusion

NetGear ProSafe

Netis Router

October CMS 

Oracle WebLogic Server

PAN-OS Device

Pulse Secure Pulse Connect Secure VPN

rConfig Network Configuration Management

RDP Server

Redis Server

Roundcube Webmail

SaltStack Server

SAP NetWeaver Application Server

SharePoint Server

SMB Server

SonicWall Email Security

SonicWall Secure Mobile Access VPN

SonicWall Secure Remote Access

Sophos SG Series Firewall

Sophos XG Series Firewall

Symantec Messaging Gateway

Synacor Zimbra Collaboration Suite

Tenda Routers

ThinkPHP Application

Tomcat Web Server

vBulletin Web Server

VMware ESXi

VMware Spring Framework

VMware vCenter Admin Page

VMware Workspace ONE Access Server

VMware Workspace One Administrative Configurator

Zabbix IT Monitoring Software

Zoho ManageEngine ADSelfService Plus

Zoho ManageEngine Desktop Central

Zyxel Firewall

vBulletinWebServer
Customers can leverage this basic enumeration for quick identification of active internet-facing services and export of an audit list for patching. For Cortex XSOAR customers, Xpanse integration leverages the outside-in perspective to automatically check for exposed software, and in some cases record the detected versions and queue other actions.
Surfacing KEV Exposures in Expander → Issues Module
Xpanse groups Issue types into categories or themes to make them easier to browse and filter. We've created a new Issue Category called Software Potentially Impacted by CISA Known Exploited Vulnerabilities (BOD 22-01) containing all existing policies covering software potentially affected by CVEs in the KEV catalog. This section offers a walk through of the user experience for enumerating assets that may be impacted by a KEV.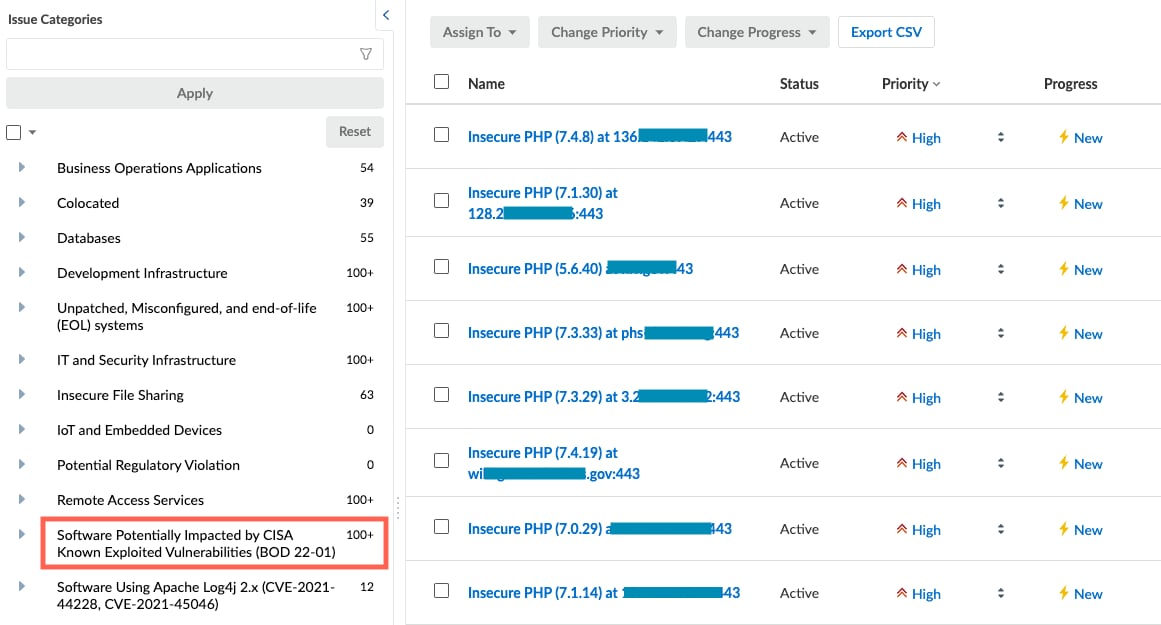 To find a particular Issue of interest, scroll through the list [1] or start typing the name of the Issue in the search field [2], select from the list that populates below, then click Apply [3].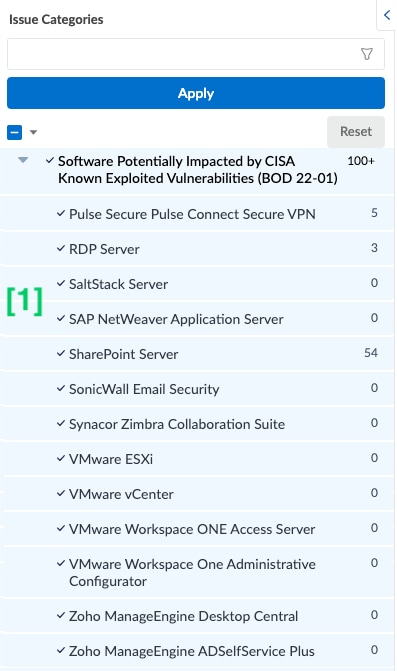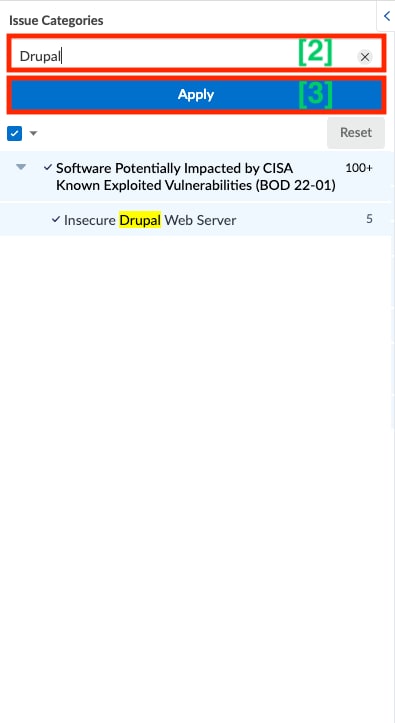 As you select individual Issues, Xpanse's cumulative findings will populate within the list view in the main part of the screen: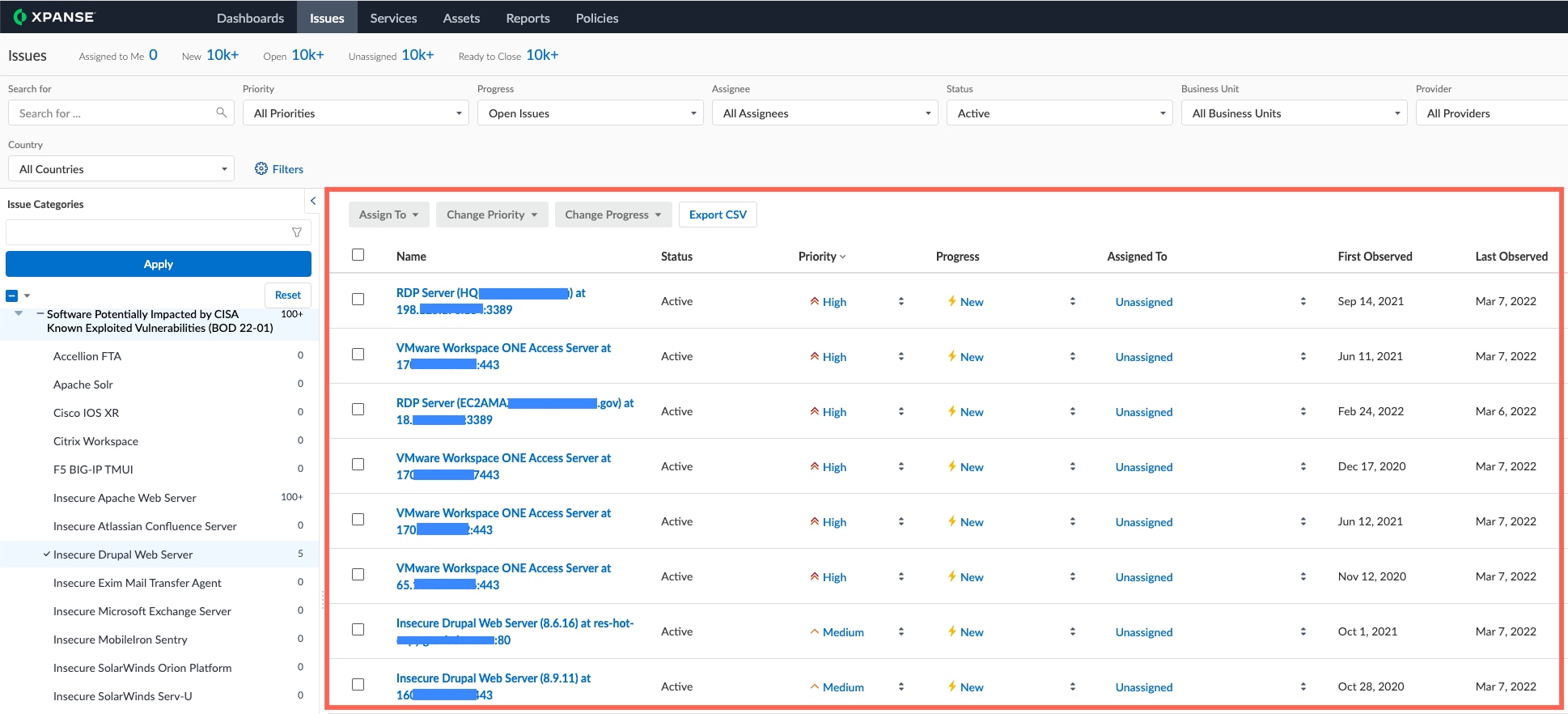 To export this list as a comma separated values (.csv) file, click the Export CSV button: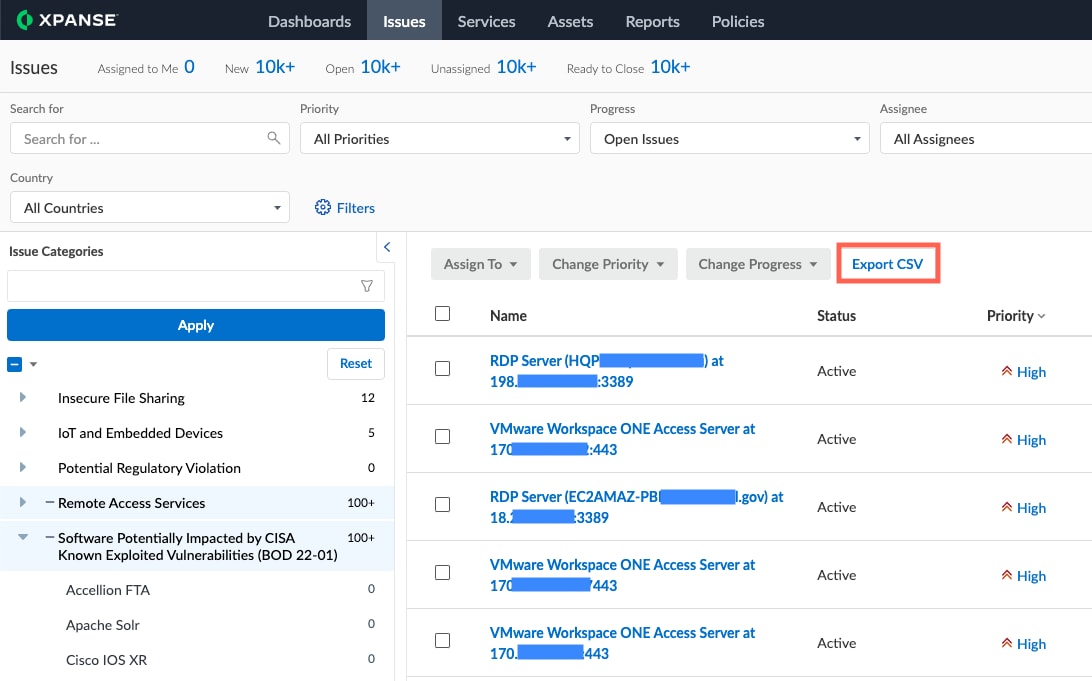 To get more information on an individual Issue on the list, click into it in the list view:  

This will open the Issues details view, with information on the specific exposure and why Xpanse flagged it, where it was found on your network, and any IP ranges, certificates, or domains associated with the observation: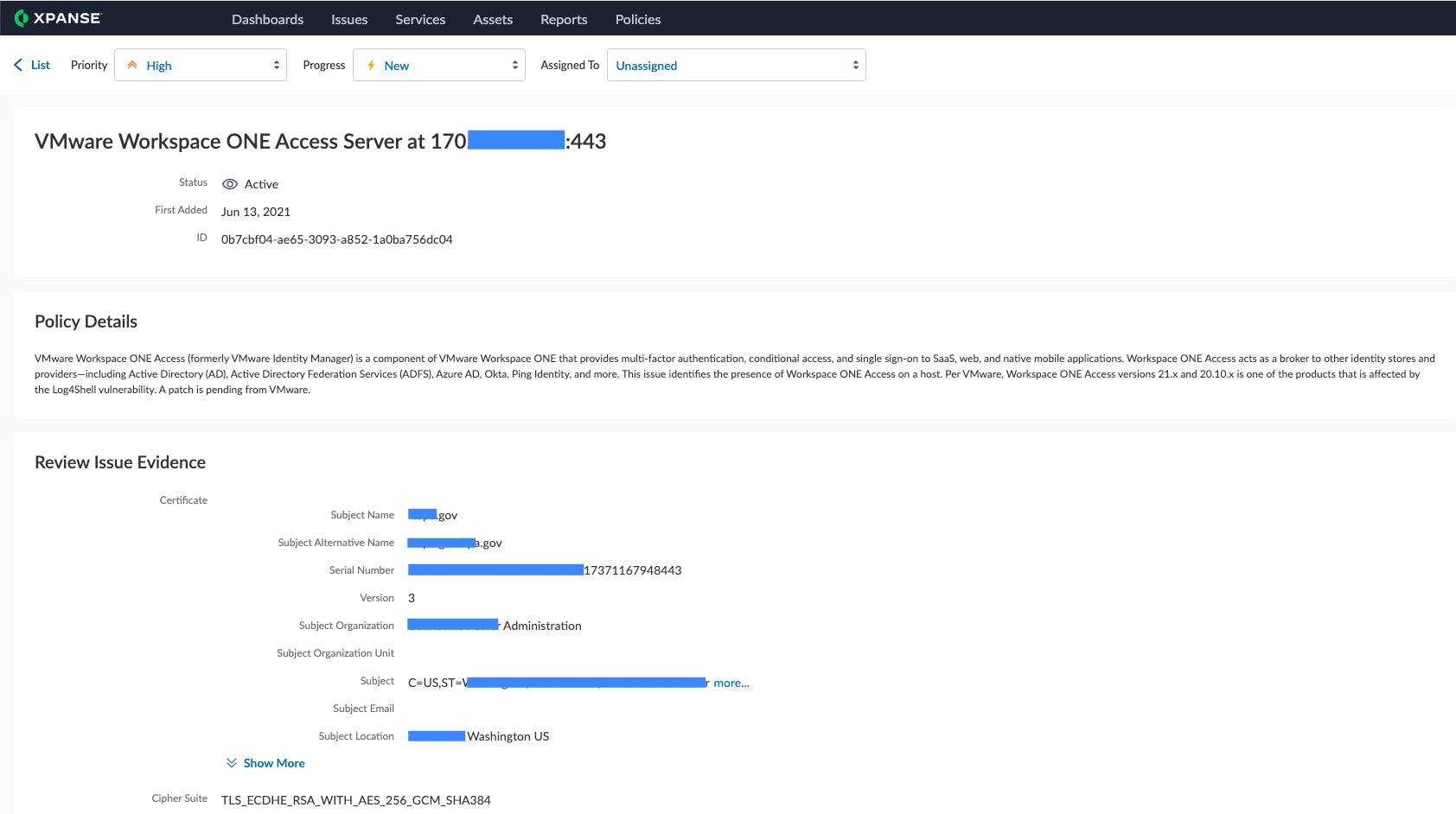 To created a detailed, shareable report on the selected Issue, use the Print to PDF button:  

This generates a .pdf summary of Issue details, including all the information for that Issue in Expander: