In a survey by the Ponemon Institute, human error is rated as the #1 threatening factor by CISOs. Human actions can unwittingly lead to security compromises through issues like weak passwords, phishing links, using public WiFi, and visiting risky applications or websites.
Most enterprises use cookie-cutter approaches, sending all employees the same phishing simulation or quarterly training. While it can be helpful and informative, this training doesn't occur often enough for employees to remember what exactly to do during a critical moment. This broadcast approach doesn't yield information beyond how many people participated in a 10 minute exercise, making it hard for CISOs to pinpoint the effectiveness of such training efforts or highlight at-risk users.
SecurityAdvisor's integrated content pack for Cortex XSOAR, now available in the Marketplace, provides users with the ability to automate security awareness in real-time. This integration with SecurityAdvisor's personalized security awareness platform delivers a measurable reduction in security incidents through personalized coaching for each employee, teaching them how to identify and remediate cyberattacks.
The Cortex XSOAR content pack is designed to enable security teams to automate real-time delivery of relevant security training modules to end-users when an exploit is discovered or an incident occurs. For example, when the SOC detects a user clicking on a link in a phishing email, Cortex XSOAR will automatically trigger an anti-phishing training module directly to the employee to prevent future incidents.
The training platform integrates seamlessly with an organization's existing security infrastructure including endpoint security, threat intelligence, and cyber attack response services. With a single click from the Cortex XSOAR Marketplace, businesses of all sizes can transform employees into the strong foundation of a sound security posture.
Benefits include:
Improvement to overall security posture by providing just-in-time coaching to end users about threats that are relevant to them
Reduction in the number of security events within an organization as employees become more aware of cyber risks
Access to an extensive library of cyber-security awareness micro modules and related reporting including executive dashboards and department trends
Phishing simulation engine with a robust template library and customizable pages
Case Study: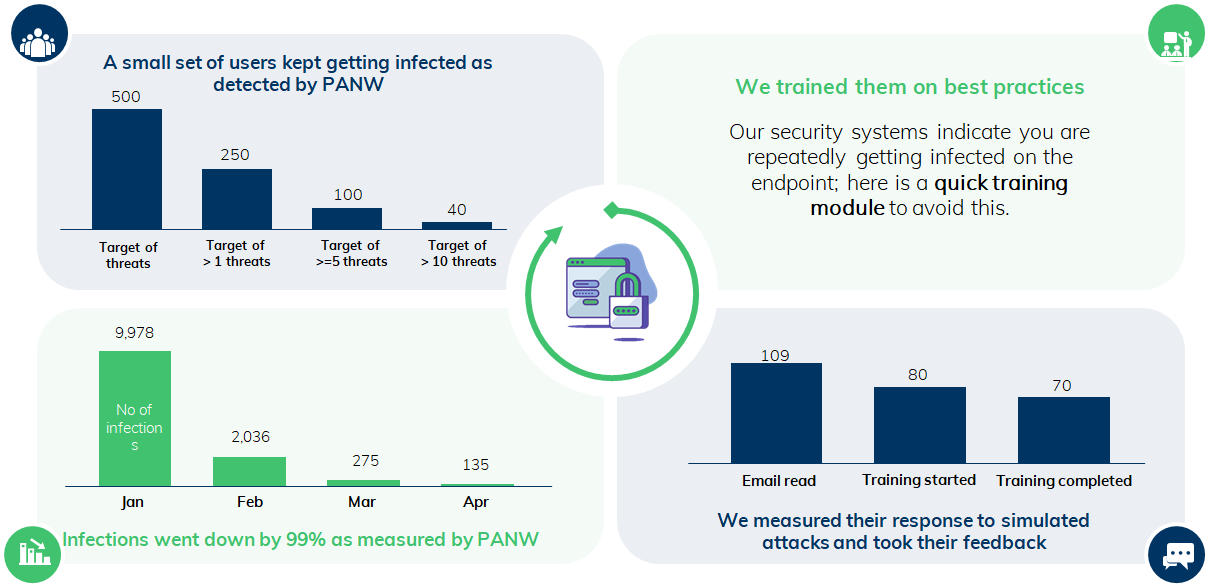 In addition to training employees, the integration between Cortex XSOAR and SecurityAdvisor yields measurable outcomes that CISO's can use to justify the investments made. The training delivered by SecurityAdvisor's platform is quick, relevant, and has shown to reduce incidents from targeted users by 90% due to better security awareness and hygiene. The integration between Palo Alto Networks' Cortex XSOAR and SecurityAdvisor delivers a unique automated and event triggered approach created for SOC teams to build cyber-immunity across an organization with less overhead.
Learn More
Join us on April 29 at 9:00 AM PST for the "Cortex® XSOAR Marketplace Top Use Cases Webinar," to discover how to leverage SecurityAdvisor with Cortex XSOAR to automate the delivery of real-time security awareness training to end users. We will discuss best practices and provide you a live demo of the pack. Save your seat today!