Cortex XSOAR 8 is Available Now!
Cybersecurity is now demanding true end-to-end automation. An extremely smart and efficient architecture is necessary to support a new generation of automated actions while fitting in seamlessly with the SOC workflow. XSOAR 8 delivers a solution to these needs with its new SaaS deployment.
XSOAR 8 offers the benefits of tight integration with the industry-leading Cortex Platform and its other cybersecurity products. In addition, XSOAR 8 delivers new capabilities and features designed to boost the effectiveness and efficiency of the Security Operations Center.
Uniting with the Cortex Platform
Bringing together best-in-class threat detection, prevention, attack surface management, and security automation capabilities into an integrated platform, Cortex enables the building of an adaptable and responsive SOC that's designed for a constantly evolving threat environment. XSOAR 8 integrates with the rest of the Cortex platform and its best-in-class products (XDR, Xpanse, XSIAM) to offer SOCs:
Unified UI and UX
Simplified deployment and onboarding
Consistent user management
Customers interested in growing their Cortex portfolio will especially appreciate the comfortable user experience and simplified flows shared across products.
Running Faster, Smoother and Doing More
Beyond Cortex integration, XSOAR 8 achieves the customer goals of improved performance, reliability, and scalability. It introduces a new cloud-native architecture built on top of GCP delivered from many regions around the globe, including US, Canada, UK, Netherlands, Singapore, and Japan. XSOAR 8 cloud users gain value from the scalability of data storage, the API layer, and more.
XSOAR 8 is already compliant with SOC 2, while FedRAMP Medium with High compliance on the way.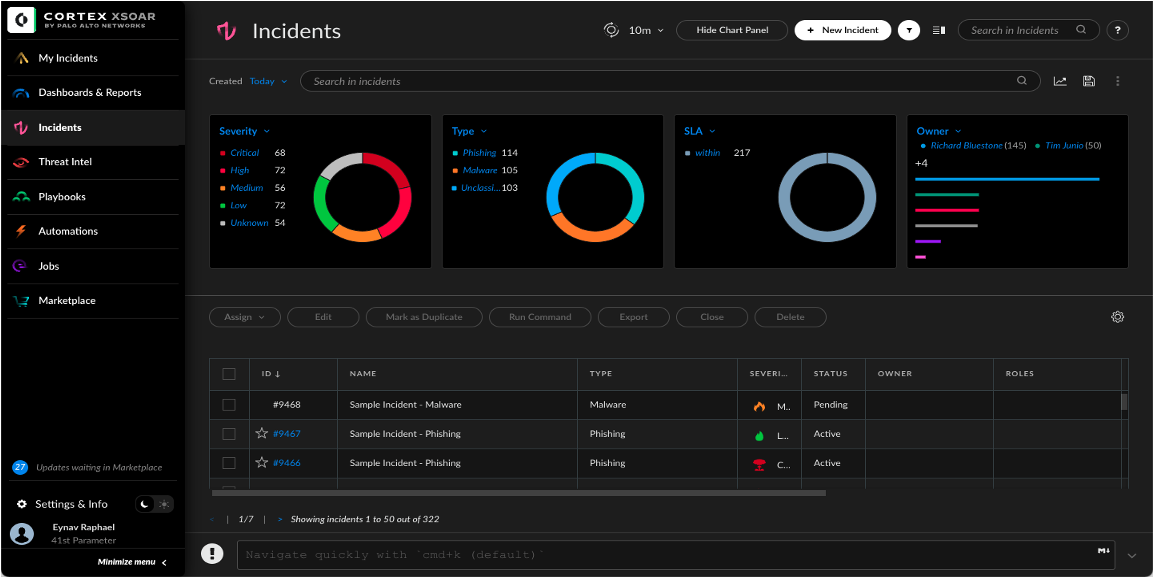 Availability
For new customers, XSOAR 8 for the cloud is available now.
Existing XSOAR hosted customers will be able to migrate to XSOAR 8 for the cloud from February to June 2023. We will coordinate the migration with each customer individually.
Likewise, existing XSOAR on-prem customers may migrate to XSOAR 8 for the cloud from February 2023.
XSOAR 8 for on-prem and MSSP deployments are scheduled for later in 2023.
Find Out More
More information can be found in the Cortex XSOAR 8 release notes and FAQ.
Current and new customers are invited to contact their Palo Alto Networks Sales and Support Reps to learn more and to arrange a demo.