Security Operations
EDR vs XDR
The number of endpoints continues to increase across organizations and no longer consists of just traditional end-user computing devices, such as laptops and workstations. The increase in remote work has also increased the need to secure and monitor various endpoints and endpoint-to-endpoint connections across the entire environment. With endpoints continuing to be a main entry point for cyberattacks, endpoint security strategies have become a critical need for businesses. Antivirus alone is no longer enough to protect against sophisticated cyberthreats.
Understanding EDR and XDR: What is the Difference?
Endpoint detection and response (EDR) and extended detection and response (XDR) security solutions provide the necessary endpoint protection as well as threat detection, investigation and response by using threat intelligence and data analytics to better automate security operations. There are many endpoint security products available in the market, but if you are considering EDR, you may want to first understand the added benefits that XDR solutions can bring to your security teams. Read on to understand the differences between EDR and XDR.
What Is Endpoint Detection and Response?
Endpoint detection and response (EDR) helped to advance endpoint security from being a reactive service to a more proactive solution. EDR tools help provide security teams with quick access to incident data, enriched information and indicators of compromise (IoCs), which are all essential elements in monitoring security on endpoints. Forrester defines EDR as "Detection, investigation, and response technology that collects security-relevant telemetry from endpoints, performs anomaly detection, enables analysts to investigate from collected telemetry, and facilitates response by analysts on affected endpoints."
What Is Extended Detection and Response?
While traditional EDR tools focus only on endpoint data, XDR solutions seek to unify siloed security tools to deliver protection, detection and response across all data sources. An XDR platform integrates endpoint, network, cloud and third-party data to extend protection, and uses user and entity behavior analytics (UEBA) as well as artificial intelligence (AI) to address some of the known shortcomings of SIEM tools in detecting zero-day attacks. The term XDR was first coined by Nir Zuk, Palo Alto Networks CTO, back in 2018. According to Forrester, "EDR is a stepping stone to better protection, detection and response," but they admit that EDR has evolved into more of a suite of tools, alluding to its eventual demise (only mostly dead) to be replaced by XDR functionality.
Comparing EDR and XDR Capabilities
XDR is not the same as EDR. It represents a new and more evolved security solution that takes endpoint security to the next level by providing more robust capabilities than traditional EDR solutions. While EDR provides necessary and effective protection against endpoint attacks, protection is limited to only what is analyzed from endpoint data. XDR is an evolution of EDR, extending protection beyond the endpoint by analyzing multiple sources of telemetry to protect and detect various attack techniques, combining the capabilities associated with seperate SIEM, UEBA, NDR, and EDR tools. XDR correlates and stitches together this rich data and groups together related alerts in one consolidated user interface in order to simplify investigation and response.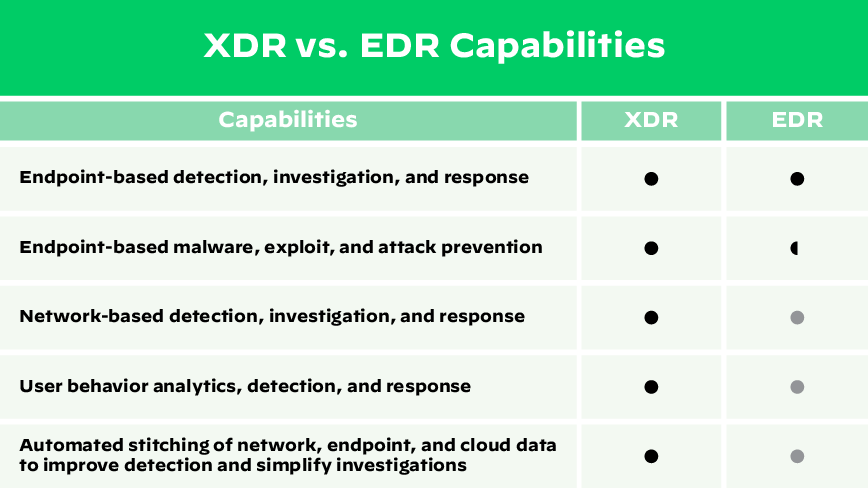 Relying only on endpoint data with an EDR tool provides limited visibility into threats and can result in missed detections, increased false positives and longer investigation times.
XDR solutions help to simplify security operations by extending protection beyond endpoint data to any data source. XDR serves to automate many of the functions that EDR requires manually, and XDR also provides out-of-the-box threat intelligence and analytics capabilities. This results in a single solution, versus siloed tools, that easily increases visibility and productivity, reducing the time it takes to identify, investigate and respond to threats.
Is XDR better than EDR?
EDR is a great solution to protect, detect, and respond to advanced attacks that target endpoints. But XDR takes endpoint protection to the next level to block more sophisticated threats that are able to bypass the endpoint.
For example, an attacker may use malware to infiltrate targeted networks by compromising an endpoint. Thanks to EDR, this malware was eventually detected and removed from the end-user device. However, what EDR solutions cannot see is that after the endpoint was initially compromised, the attacker was able to quietly move laterally through the network. If gone unnoticed, this stealthy type of attack provides adversaries with the ability to gain access to systems, user credentials, and sensitive data.
With XDR, these attack techniques can be quickly and accurately detected. XDR solutions ingest the broadest amount of data—including network, endpoint, cloud, and identity data—and stitch it together to build profiles of user and device behavior. If a normal user exhibits administrative behavior, such as managing remote machines or accessing systems normally not used, then the user's machine might be compromised. This helps SOC teams quickly detect behavioral anomalies for further investigation and response.
Move Beyond Traditional EDR with Cortex XDR
Organizations need to unify threat detection and response capabilities with XDR. Don't invest in older, last-generation technology. XDR extends the benefits of traditional EDR products by further stitching together telemetry from non-endpoint sources to provide better threat detection and a bigger picture of what's going on in your environment. XDR must have visibility and detection capabilities across your entire environment, integrating telemetry from endpoints, network and cloud environments. Moreover, it must be able to correlate these data sources to understand how various events are linked and when a certain behavior is, or isn't, suspicious based on context. The broader visibility and better contextual understanding that XDR provides is one of the main differences – and advantages – over siloed EDR products.
Learn more about how Cortex XDR natively integrates network, endpoint and cloud data to stop sophisticated attacks, detect potential threats and speed up investigations.