Security Operations
What is endpoint detection and response (EDR)?
EDR Definition
Endpoint detection and response platforms help security teams find suspicious endpoint activity to eliminate threats quickly and minimize the impact of an attack.
Endpoint detection and response refers to a category of tools used to detect and investigate threats on endpoints. EDR tools typically provide detection, investigation, threat hunting, and response capabilities. Endpoint detection and response has become a critical component of any endpoint security solution because there's simply no better way to detect an intrusion than by monitoring the target environment being attacked, and the telemetry collected by an EDR platform enables full triage and investigation.

How EDR Works
EDR security solutions analyze events from laptops, desktop PCs, mobile devices, servers, and even IoT and cloud workloads, to identify suspicious activity. They generate alerts to help security operations analysts uncover, investigate and remediate issues. EDR tools also collect telemetry data on suspicious activity and may enrich that data with other contextual information from correlated events. Through these functions, EDR is instrumental in shortening response times for incident response teams, and ideally, eliminating threats before damage is done.
Endpoint detection and response first emerged in 2013 to help forensic investigations that required very detailed endpoint telemetry to analyze malware and understand exactly what an attacker did to a compromised device. It evolved over time to incorporate a broader set of features and now typically also offers endpoint protection or antivirus capabilities.
Why Do We Need Endpoint Detection and Response?
Organizations today receive a continuous barrage of attacks. These attacks range from simple, opportunistic attacks, such as a threat actor sending an email attachment with known ransomware in hopes that the endpoint is still vulnerable to the attack. With slightly more advanced attacks, threat actors might take known exploits or attack methods and attempt to hide them using evasion techniques such as running malware in memory.

If they are well-resourced, they might develop a zero-day attack that takes advantage of unknown app or system vulnerabilities. Fortunately, effective threat prevention tools can stop over 99% of all attacks automatically. They can apply multiple analysis engines, from the reputation of the source and the signer of a file, to the byte code distribution to the functions in an executable to block the attack. Since many zero-day attacks use known techniques, the right security tools can stop these zero-day attacks even if they have never seen a specific attack before. However, the most sophisticated and potentially damaging attacks require detection and response. These attacks, such as insider threats, low and slow attacks, and advanced persistent threats, may require manual verification from a security analyst. Oftentimes, the only way to identify these attacks is by analyzing activity over time and across data sources with machine learning.
These advanced attacks rarely can be identified in real time. And oftentimes a security analyst must try to understand the intent of the activity to determine whether or not it's malicious. So, while few attacks require detection and response, these attacks can be extremely destructive. Security teams need EDR solutions to find, investigate and stop them.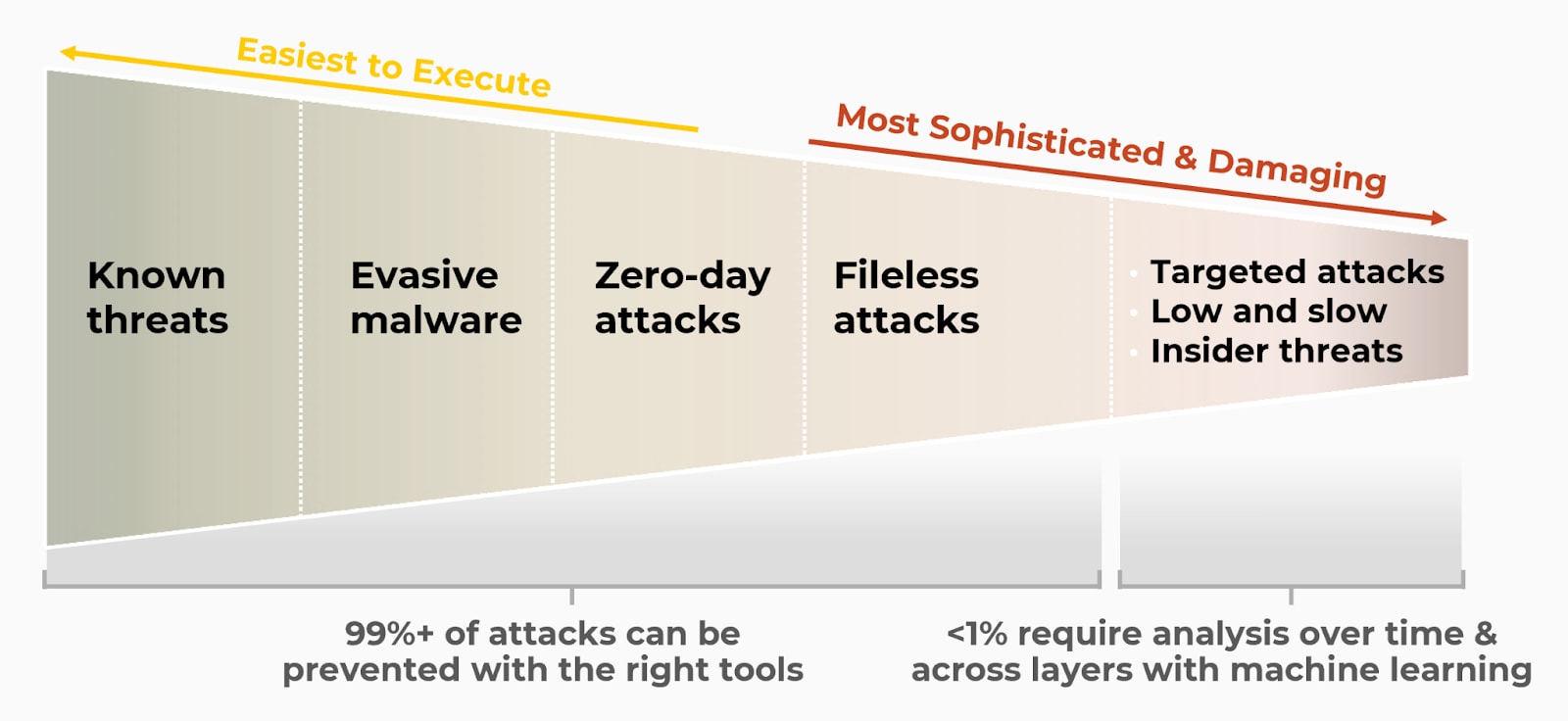 Key Detection and Response Capabilities
When evaluating an EDR solution, look for the following essential features:
Broad visibility and ML-based attack detection – The foundation for EDR is rich data. Look for detection and response tools that collect comprehensive data and provide enterprise-wide visibility. Ideal solutions offer a comprehensive set of machine learning and analytics techniques to detect advanced threats in real time. Check out independent tests such as the MITRE ATT&CK Evaluation to assess the breadth and accuracy of detection coverage.
Simplified investigations with root cause analysis, intelligent alert grouping and incident scoring – To reduce response times, choose security tools that provide a complete picture of incidents with rich investigative details. They should simplify investigations by automatically revealing the root cause, sequence of events, and threat intelligence details of alerts from any source. Customizable incident scoring allows you to focus on the events that matter most to you. By grouping alerts into security incidents, you can reduce the number of individual events to investigate by 98%, speeding incident response.
Coordinated response across enforcement points – Flexible response options such as script execution, direct access to endpoints, host restore, and "search and destroy" let you quickly eliminate threats and recover from attacks. Tight integration with security orchestration, automation, and response (SOAR) tools enables you to automate playbooks and extend response to hundreds of security and IT tools. EDR solutions can even restore damaged files and registry settings if ransomware encrypts endpoint data.
Ironclad endpoint threat prevention – The best EDR security also includes antivirus and endpoint security capabilities to block every stage of attack. Evaluate whether endpoint security solutions can block exploits by technique, block malware files using machine learning, and stop malicious behavior. With effective endpoint threat prevention, you can shut down the most evasive attacks, such as the SolarWinds supply-chain attack. Review third-party tests like the AV-Comparatives Endpoint Protection and Response (EPR) Test to validate that anti-malware solutions are effective.
Endpoint protection suite capabilities to reduce your attack surface – Besides blocking attacks and ransomware, ideal endpoint security tools should prevent data loss and unauthorized access with features such as host firewall, device control, and disk encryption. Look for EDR solutions that provide granular control over USB access and firewall policies.
A single, lightweight agent – Instead of installing bulky agents that continually scan your endpoints for attack signatures, opt for one, end-to-end agent for endpoint threat prevention and EDR.
Cloud-delivered security – Cloud-based management and deployment not only streamlines operations and eliminates burdensome on-premises servers, it also quickly scales to handle more users and more data.
Optional managed services - EDR solutions should offer managed threat hunting and managed detection and response (MDR) to provide 24x7 monitoring, threat hunting and triage. MDR services can be provided through managed detection and response partners.
The Evolution of EDR Is XDR
Traditional EDR tools focus only on endpoint data, providing limited visibility into suspected threats. This can result in missed detections, increased false positives and longer investigation times. These shortcomings compound the challenges many security teams already face, including event overload, skills shortages, narrowly focused tools, a lack of integration and too little time.
XDR, or extended detection and response, is a new approach to endpoint threat detection and response. The "X" stands for "extended," but it really represents any data source, such as network, cloud and endpoint data, recognizing that it's not effective to investigate threats in isolated silos. XDR systems use heuristics, analytics, modeling and automation to stitch together and derive insight from these sources, increasing security visibility and productivity compared to siloed security tools. The result is simplified investigations across security operations, reducing the time it takes to discover, hunt, investigate and respond to any form of threat.
Rewire security operations with Cortex XDR
Security teams are drowning in alerts, but still can't find threats quickly. Siloed tools and data sources lead to complex investigations and missed attacks.
Cortex XDR from Palo Alto Networks changes all of that. Cortex XDR is the industry's first extended detection and response platform that integrates network, endpoint, cloud, and third-party data to stop modern attacks. Cortex XDR has been designed from the ground up to protect your whole organization holistically while simplifying operations. It delivers best-in-class next-gen antivirus (NGAV) to stop exploits, malware, ransomware, and fileless attacks.
The cloud-native Cortex XDR service uses behavioral analytics to find unknown and highly evasive threats targeting your network. Machine learning and AI models uncover threats from any source, including managed and unmanaged devices.
Cortex XDR helps you accelerate investigations by providing a complete picture of each incident. It stitches different types of data together and reveals the root cause and timeline of alerts, allowing your analysts to easily triage alerts. Tight integration with enforcement points lets you contain threats across your entire infrastructure. You can even sweep across all your endpoints in real time to find and eliminate threats with a Search and Destroy feature. It delivers full EDR and endpoint security capabilities, threat intelligence, forensics, and so much more to stop advanced attacks, ransomware, insider threats and more.
Learn how Cortex XDR is rewiring security operations