Timely, expert assistance to keep you up and running safely
When minutes matter, count on fast, expert support from Palo Alto Networks®. Our global support organization and resources help you maximize uptime, mitigate risks and streamline operations.
Your protection is our priority
Our award-winning support organization gives you timely access to technical experts and online resources to ensure your business is protected.

We take our responsibility for your success seriously and continuously strive to deliver an exceptional customer experience. Our entire support organization and Authorized Support Centers are there to ensure maximum uptime and streamlined operations.
Comprehensive, flexible support options
We deliver world-class support through a range of options, including 24/7 availability, a global network of support centers and options for hardware replacement. Our support engineers deliver prompt, dependable assistance whenever and wherever needed.
As our top-tier support offering, Premium Plus Support delivers proactive, personalized support services that improve productivity, reduce costs and minimize risks. Additionally, Premium Plus Support provides you access to expertise from both a designated technical support engineer and a technical account manager.
Technical account manager
For our customers who require a more proactive level of support, our Technical Account Management Program provides a dedicated customer advocate to manage and prioritize all your cases, questions, recommendations and regularly scheduled account calls.

Your TAM will be familiar with your specific implementation and act as a bidirectional communications conduit between Palo Alto Networks and you to help improve your case resolution times and provide faster access to our top engineers.
Authorized Support Centers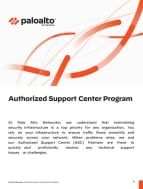 Authorized Support Center partners are trusted advisers of ours who have demonstrated a commitment to continuous improvement. When problems arise, our ASC partners are there to quickly and proficiently resolve every technical support issue and challenge that comes their way.

If you choose to work with one of our ASC partners, a trained expert will be equipped to provide you with a timely response and resolution to your issue while ensuring you receive the highest possible quality of service.
Industry recognition for support quality
In the face of an ever-expanding, quickly evolving threat landscape, Palo Alto Networks innovative support programs have helped customers prevent successful cyberattacks as well as cut costs and complexity of operations. We've also been recognized by J.D. Power, TSIA and others for exceptional Support service.

See recent awards
Services Spotlight datasheet