After yesterday's action-packed RSA 2014 kickoff, today's schedule was off and running right from the start.
We announced the next phase of our integration with VMware, including a new VM-Series model, the VM-1000-HV, specifically designed for use with VMware's NSX platform.
The RSA expo hall opened a few hours later and the Palo Alto Networks booth (#3433) was buzzing soon after. Check out the following video for a look at our bigger, better RSA booth:
Scott Simkin, our Senior Manager, Cybersecurity, discussed the Palo Alto Networks security platform story, the breakthrough visibility of unknown malware and zero-day exploits we provide in WildFire, and other hot topics during a tightly-packed, standing-room-only session in the RSA expo hall briefing center. We also caught up with Scott to get his take on Palo Alto Networks differentiation and the current threat landscape.
Check out photos in our RSA gallery on Facebook. And here's a look at some reaction to today's Palo Alto Networks activities on Twitter:
@biglemmy
Right now listening to @PaloAltoNtwks Blocking Known Threats #RSAC pic.twitter.com/8cUWFchU5t
@citrix
At #RSAC? Stop by @PaloAltoNtwks booth 3433 at 515PM to hear @Citrix Graham Melville discuss #PaloAltoNetworks VM-Series on @netscaler SDX
@NelsatAMAX
#PaloAltoNetworks at #RSAC. Reduce cyber risks with granular control. #AMAX pic.twitter.com/djtcI0nkau
We invite you to visit the Palo Alto Networks booth during expo hall hours this week to hear from our product and technical experts – as well as key Palo Alto Networks partners such as VMware and Citrix – about our latest innovations.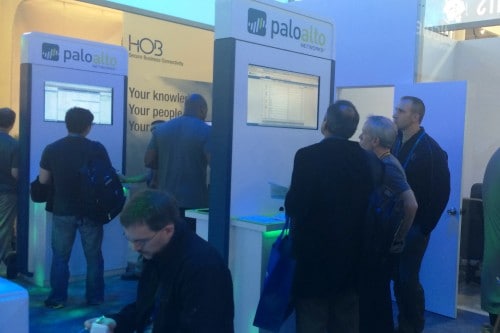 Here's a look at where you can find Palo Alto Networks at RSA tomorrow, Wednesday, February 26:
12:00pm: Forrester Research Principal Analyst John Kindervag will join Danelle Au, Director, Solutions Marketing, and our product experts for a luncheon on Zero Trust at the Four Seasons Hotel. (Read more on Zero Trust and how Palo Alto Networks is solving the challenges of the software-defined data center.)
10:00am-5:00pm: Visit Palo Alto Networks at Booth #3433 during expo hall hours, and also hear from our product and solution experts during the following in-booth presentations:

11:00am – Raising the Bar in the Battle Against Cyber Attacks, with Raj Shah
12:45pm – Raising the Bar in the Battle Against Cyber Attacks, with Brian Tokuyoshi
1:30pm – Palo Alto Networks and Splunk: How a Big Data SIEM Helps Defeat Advanced Threats, with experts from Palo Alto Networks and Splunk
3:00pm – Raising the Bar in the Battle Against Cyber Attacks, with Brian Tokuyoshi
4:00pm – Transform Network Security with VMware NSX and Palo Alto Networks, with Palo Alto Networks expert Danelle Au and VMware's Rod Stuhlmuller