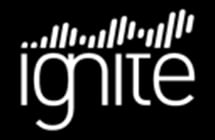 We hope you had a great time this week at Ignite, where we welcomed enterprise security experts from all over the world to discuss how today's biggest IT security challenges require a true next-generation platform approach.
Check out each of our daily recaps below, including takeaways and videos.
Also be sure to check out our Ignite 2014 photo album – with many more updates still to come – and keep the conversation going on all of our social media feeds, including our official Ignite Twitter handle (@Ignite_Conf).
We'll be sharing more Ignite content over the coming weeks and also sharing information on how to access archived, on-demand content from the conference. And last but not least, we hope to see you next year at Ignite 2015, scheduled for March 30-April 1 back in Las Vegas. Never too early to start planning!