Over the Labor Day holiday we saw a surge in visits to our GlobalProtect documentation. Previously, the GlobalProtect documentation suite included the Administrator's Guide, Mobile Security Manager Quick Start, and GP-100 Appliance Hardware Reference Guide. We hypothesized that the majority of visitors were not administrators hastily trying to deploy GlobalProtect infrastructure on a national holiday but were instead end users who were trying to work remotely and possibly troubleshoot or set up the GlobalProtect Agent.
Hence, we have created the new GlobalProtect Agent User Guide.
GlobalProtect Agent User Guide

The new documentation guides end users through the process of installing and using the GlobalProtect agent software on Mac and Windows platforms and is available in both HTML and PDF.
GlobalProtect Quick Configs
Now if you actually are an Administrator and were trying to deploy GlobalProtect, you might be happy to know that we also tested and updated our Global Protect Quick Configs including the configuration example for Remote Access VPN with Pre-Logon.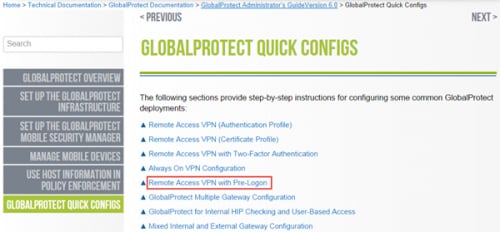 To browse to the quick configs from the Technical Documentation portal select GlobalProtect > GlobalProtect Administrator's Guide > GlobalProtect Quick Configs.
Search the GlobalProtect Documentation
You can also search for GlobalProtect content using the facets on the Document Search page.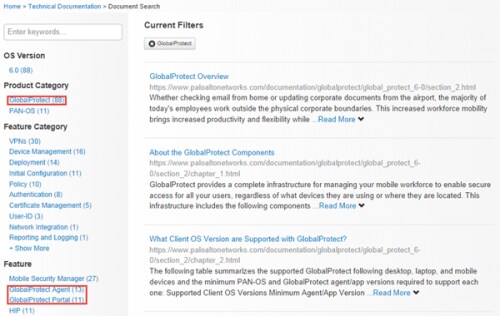 Keep in Touch!
We hope the new GlobalProtect documentation enables you to set up agents with ease and confidence. Let us know what you think by leaving a comment below or by emailing us at documentation@paloaltonetworks.com.
Happy reading,
Your friendly Palo Alto Networks documentation team