Check out all of the top Palo Alto Networks news from the past week right here.
The Palo Alto Networks threat intelligence team, Unit 42, observed Locky ransomware installed through nuclear exploit kits. Our researchers also examined the campaign evolution of Darkleech to pseudo-Darkleech which, in recent weeks, has led to Angler EK delivering a ransomware payload, especially TeslaCrypt. Continuing momentum this week, Unit 42 shared new details and insights into the evolution of the SamSa malware family and discovered new ransomware tactics in play.
Palo Alto Networks researchers Tongbo Luo and Hui Gao were credited with the discoveries of new critical Microsoft vulnerabilities affecting Internet Explorer (IE) versions 7, 8, 9, 10 and 11 on affected Windows clients.
Finally, Unit 42 is currently researching an attack campaign that targets government and military personnel of India. The group of tracked actors involved in this campaign has been dubbed 'ProjectM'.
Interested in keeping up with the latest Palo Alto Networks threat intelligence research? Subscribe to get updates here in the "Get Updates" box, and you'll be the first to receive the latest Unit 42 threat intelligence research.

Sai Balabhadrapatruni explains how you can achieve continuous protection with Palo Alto Networks highly available next-generation firewall deployments.
Palo Alto Networks joined the U.S. Department of Homeland Security (DHS) for Cyber Storm V, a national-level exercise designed to test the nation's Emergency Preparedness procedures. Rick Howard, Palo Alto Networks CSO, shares his top takeaways from the exercise.
Register today for Ignite Conference 2016! All Ignite Conference alumni get a free t-shirt when you register, while supplies last.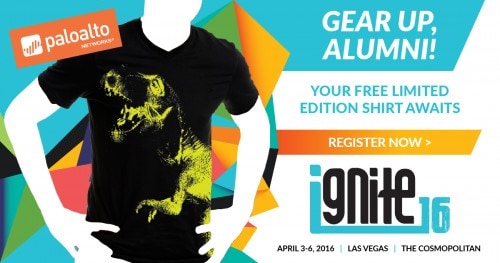 Another reason to attend Ignite Conference 2016? Attendees can take advantage of huge savings on the Palo Alto Networks Certified Network Security Engineer (PCNSE) exams while there. Find out what's new at Ignite this year, check out our special guests, personalize your learning with the Agenda Builder, and watch this video to find out why you don't want miss Ignite 2016:

Here are upcoming events around the world that you should know about:
Palo Alto Networks - Virtual Ultimate Test Drive NGFW Mar 28, 2016
March 28, 2016 11:00 AM - 1:00 PM GMT+8:00
Online Event
Virtual Ultimate Test Drive NGFW March 28, 2016
March 28, 2016 11:00 AM - 2:00 PM EST
Roma
Virtual Ultimate Test Drive: Next Generation Firewall - Mar 28, 2016
March 28, 2016 1:00 PM - 4:00 PM CET
Online Event
Convite para filme Batman Vs. Superman: A Origem da Justiça! BSB
March 29, 2016 7:30 PM - 10:30 PM GMT-3:00
Brasilia - DF
Convite para filme Batman Vs. Superman: A Origem da Justiça! RJ
March 29, 2016 7:30 PM - 10:30 PM GMT-3:00
Rio De Janeiro - RJ
Convite para filme Batman Vs. Superman: A Origem da Justiça! SP
March 29, 2016 7:30 PM - 10:30 PM GMT-3:00
Sao Paulo - SP
Palo Alto Networks l'Ultimate Test Drive Casablanca
March 29, 2016 9:00 AM - 12:00 PM WET
Casablanca
Russian Breach Prevention Webinar
March 29, 2016 10:00 AM - 11:00 AM GMT+3:00
Online Event
Ultimate Test Drive de Palo Alto Networks y Nortec
March 29, 2016 8:30 AM - 11:30 AM CST
San Pablo, Heredia
Virtual Ultimate Test Drive TP March 29, 2016
March 29, 2016 11:00 AM - 2:00 PM PST
Online Event
Advanced Endpoint Protection, A Traps Tutorial
March 30, 2016 11:00 AM - 12:00 PM PST
Online Event
March 30, 2016 10:00 AM - 3:30 PM WET
London
Palo Alto Networks - Virtual Ultimate Test Drive VDC Mar 30, 2016
March 30, 2016 1:00 PM - 3:00 PM GMT+8:00
Online Event
March 30, 2016 9:00 AM - 10:00 AM PST
Online Event
Virtual Ultimate Test Drive VDC March 30, 2016
March 30, 2016 11:00 AM - 2:00 PM EST
Online Event
Virtual Ultimate Test Drive: Threat Prevention - Mar 30, 2016
March 30, 2016 1:00 PM - 4:00 PM CET
Online Event
Migration Tool Demo - Webinaria: Czwartek z Prewencją
March 31, 2016 11:00 AM - 12:00 PM CET
Online Event
Virtual Ultimate Test Drive NGFW March 31, 2016
March 31, 2016 11:00 AM - 2:00 PM PST
Online Event
Ultimate Test Drive de Palo Alto Networks, NGFW
April 1, 2016 10:00 AM - 2:30 PM CST
Tlalnepantla, DF
Virtual Ultimate Test Drive TP April 1, 2016
April 1, 2016 11:00 AM - 2:00 PM EST
Online Event
April 3, 2016 6:00 PM - 8:00 PM PST
Las Vegas, NV