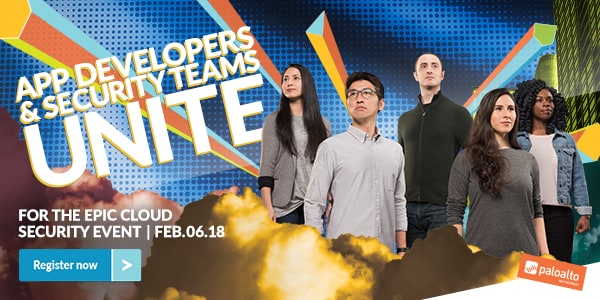 How do you get alignment across IT to achieve the perfect balance of agility and protection?
Join us on February 6, 2018 to learn firsthand from cloud pioneers and global organizations that dove into the cloud – and succeeded. Hear their real-world experiences in a candid, fast-paced and enlightening cloud conversation.
This epic event will cover:
Redefining roles and responsibilities in the cloud
Choosing the right cloud partners for your journey
How security must keep pace with the speed of the cloud
Native versus third-party cloud security – and why you need both
Learn how to consistently protect your public, private, hybrid or multi-cloud environment without slowing down DevOps. Walk away with ideas you can leverage immediately.
The Epic Cloud Security Event Details
Date: February 6, 2018
Time: 9 – 10 a.m. PST (5 – 6 p.m. GMT)
Location: Online
Register now to be part of this epic online cloud security event.