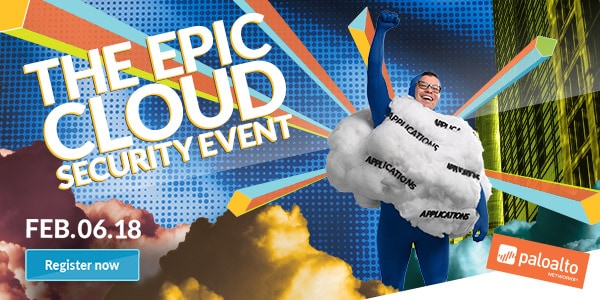 Cloud security takes a giant leap forward on February 6, 2018. Join Palo Alto Networks and best-selling author, futurist and entrepreneur Salim Ismail at our Epic Cloud Security Event for useful insights, actionable intelligence and practical advice from cloud luminaries, partners and customers.
Did you miss any of this week's Palo Alto Networks action? Don't worry – we've rounded up our top news and views right here: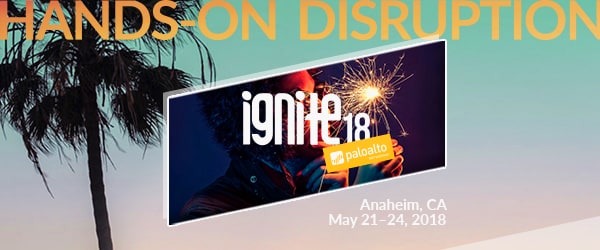 Secure your spot at the cybersecurity conference of the year. Register now for Ignite '18.
Want to share your cybersecurity knowledge with like-minded professionals at Ignite '18? The call for papers is open and accepting submissions. Get yours in before the February 12 deadline.
Take a look at upcoming events around the world that you should know about. Don't forget to register for our events calendar.
Looking to meet up with other Palo Alto Networks users? Check out Fuel, the Palo Alto Networks User Group, for opportunities to attend hands-on workshops, events and more!
Virtual Ultimate Test Drive With the VM-Series on Microsoft Azure
Virtual Ultimate Test Drive - Network Security Management
Live Demo: Preventing Security Breaches on the Endpoint
Virtual Ultimate Test Drive - Next Generation Firewall
Get hands-on with the VM-series on Microsoft Azure
January 18, 2018
Mississaugua, Canada
Ultimate Test Drive: Threat Prevention
January 18, 2018
New York, NY
Virtual Ultimate Test Drive - Threat Prevention
Virtual Ultimate Test Drive - Virtualized Data Center
Breach Prevention Week: 2018 Cybersecurity Predictions and Recommendations
Breach Prevention Week: Cloud will Accelerate Channel Partner Migration in 2018
Disrupting the Cybersecurity Status Quo
January 23, 2018
San Francisco, CA
Breach Prevention Week: The Year We Reject "Good Enough" Security in the Cloud
Breach Prevention Week: The Ransomware Epidemic Continues