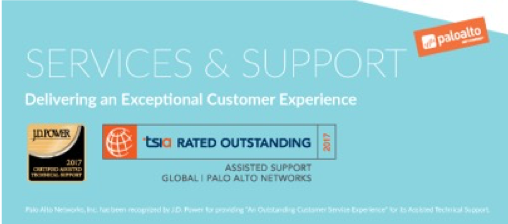 I'm very pleased to announce that J.D. Power and TSIA, the Technology Services Industry Association, have recognized Palo Alto Networks for providing our customers with an "Outstanding Customer Service Experience" for Assisted Technical Support for a third consecutive year.
"Earning this certification for the 3rd time in a row, is an accomplishment that truly demonstrates our commitment to serving our customers", Matthew Stauble, Senior Vice President of Global Services at Palo Alto Networks.
Achieving this high-level certification required Palo Alto Networks Services to undergo a rigorous evaluation process and audit and required customer satisfaction scores to be among the top 20 percent of companies globally that offer assisted technical support.
In addition to the team's commitment to providing exceptional/superior customer experience, the services organization has made a significant commitment to the people, process and technology required to keep pace with rising customer expectations.  We continuously strive for exceptional and maintaining the highest levels of service excellence is core to our culture.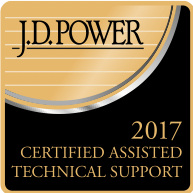 2015, 2016, 2017 J.D. Power Certified Assisted Technical Support Program – Palo Alto Networks, Inc. has been recognized by J.D. Power for three consecutive years for providing "An Outstanding Customer Service Experience" for its Assisted Technical Support.
J.D. Power 2017 Certified Assisted Technical Support Program, developed in conjunction with TSIA. Based on successful completion of an audit and exceeding a customer satisfaction benchmark for assisted support operations. For more information, visit www.jdpower.com or www.tsia.com.

2015, 2016 & 2017 TSIA Global Rated Outstanding Assisted Certification – TSIA certification recognizes that Palo Alto Networks has achieved Global Rated Outstanding Assisted Support for a third consecutive year.  Customers can purchase Palo Alto Networks products with confidence knowing that Palo Alto Networks meets the highest industry support standards.
"Palo Alto Networks continues to demonstrate world-class customer care and support operational excellence – and being recognized by TSIA for the third year in a row as Rated Outstanding is a testament to the strength of our global support organization," said Steve Blaz, Vice President, Global Customer Support at Palo Alto Networks.
To read more about these accolades, please visit the following links:
Despite an ever-changing threat landscape, one thing you can depend on is receiving the best possible support from Palo Alto Networks. We couldn't be more proud to receive recognition for a third consecutive year from both J.D. Power and TSIA.  We will continue our commitment to delivering an exceptional support experience for our customers.
Please let me know if you have any comments or questions, or contact me via Twitter anytime at @CicconeScott.