Ignite '18 USA starts next week! Here's what to know as you join us – and how to follow along, even if you won't be there in Anaheim. (Psst: It's not too late to register!)
Download the Ignite '18 App
The Ignite '18 USA mobile app is live and ready for download in the App Store and Google Play!
Download and login instructions:
Step 1: Go to https://live.eventbase.com/app-download?event=paignite2018.
Step 2: Install the app.
Step 3: Open the app and select "Click Here for Password."
Step 4: Input the email address you registered with, and you'll receive a link to create a password.
Step 5: After creating a password, reopen the app and input your login credentials.
Pay for Play
Participate in the Ignite '18 mobile app-exclusive game to earn Ignite Bucks. Earn points by navigating the Expo Hall, passing a PCNSE/PSE Exam and much more! One point in the game earns you one Ignite Buck you can use toward Ignite '18 swag from the company store in the Hall A lobby.
Select Your Breakout Sessions
Ignite '18 USA breakout session registration is still open! To view or select sessions, click here.
Meet Beacon Experts
If you're in the Expo Hall, be sure to stop by Beacon, a customer success zone at Ignite dedicated to sharing the tools and resources you need to be successful with Palo Alto Networks products. Chat with Beacon experts behind our technical publications, Prevention Architecture Methodology, advocacy groups, communities, award-winning Support organization and more!
Get Familiar With the "Birds of a Feather" Industry Icons
Using the industry icons on your badges, you'll be able to find your industry peers at a glance and take the opportunity to network anytime throughout the conference – during breakfasts, lunches, social activities and more.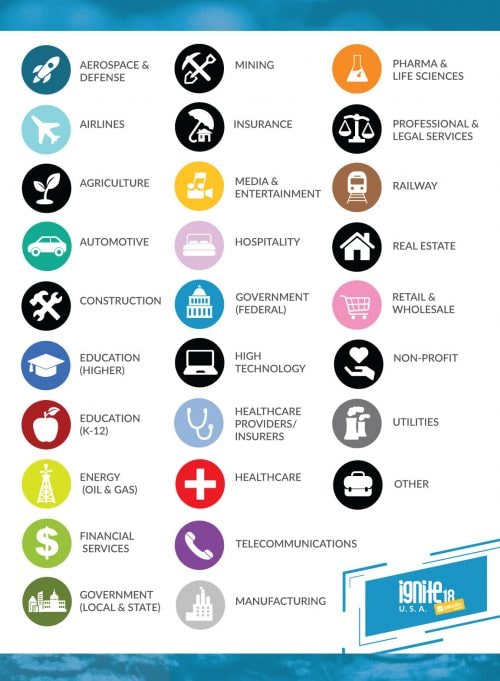 Follow Us on Social Media
We'll be sharing updates throughout the event. Follow along on social media so you don't miss a thing!