Get the industry's first threat hunting service that operates across integrated endpoint, network and cloud data
It's no secret that security teams rarely have the time to proactively hunt threats. Between triaging alerts, managing security policies and responding to fire drills, teams often lack the time or resources for threat hunting. Plus, threat hunting is complex; doing it well requires a unique combination of security expertise and deep understanding of data sources across the enterprise. Even fully mature security operations centers need help. We're happy to tell you that the help you need has arrived.
Palo Alto Networks is proud to announce the upcoming general availability of Cortex XDR Managed Threat Hunting, a round-the-clock threat hunting service powered by our internationally recognized Unit 42 threat research team. The service was originally made available in February as a limited-time Community Access offering, and has already delivered significant value by identifying real-world attacks for our customers and revealing adversary tactics in third-party testing. In the recent MITRE ATT&CK® APT29 evaluation, the Cortex XDR Managed Threat Hunting service boosted our overall attack coverage, allowing us to detect 90% of all attack techniques – a mark unsurpassed by any other vendor.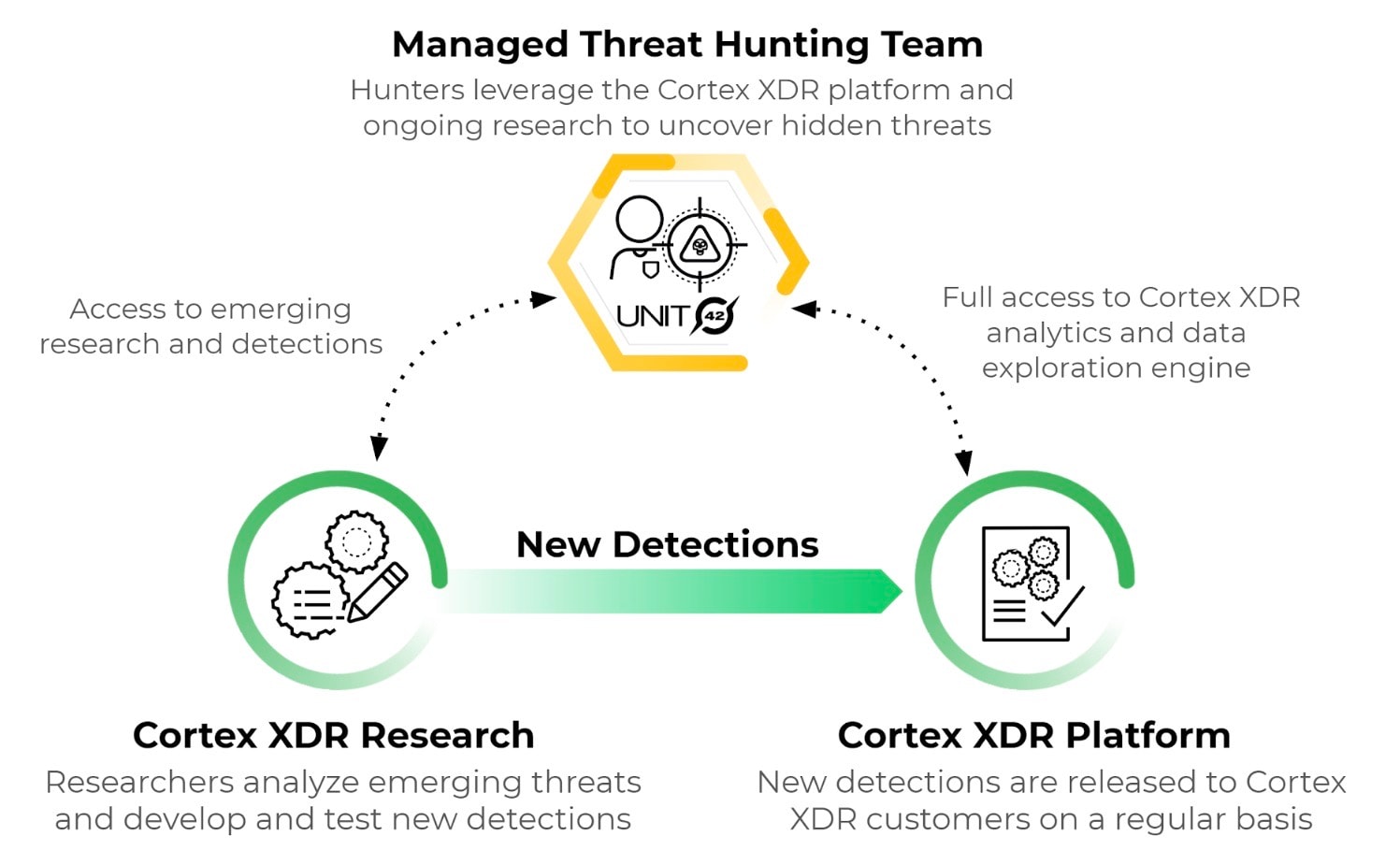 With their deeply-rooted expertise in threat hunting, Unit 42 analysts have been known for exposing inner workings of APTs such as Sofacy, OilRig and SilverTerrier, and have recently uncovered a number of threats specific to the COVID-19 pandemic. Cortex XDR Managed Threat Hunting combines their deep expertise with the unique data correlation and detection capabilities built natively into the Cortex XDR platform to help you find hidden attacks with incredible accuracy. 
Cortex XDR Managed Threat Hunting delivers:
Hunting across endpoint, network and cloud:

Experts watch your back around the clock with top-tier analysis of your critical security data sources across endpoint, network and cloud.

World-renowned threat hunters:

Unit 42 threat hunters leverage emerging threat research to stay ahead of the curve while using the Cortex XDR platform for industry-leading analytics and data exploration.

Actionable Threat Reports:

You will know about high-risk threats across your network, endpoint and cloud assets with Threat Reports that help drive actionable next steps.

Informative Impact Reports:

You can eliminate risks before they escalate with reports that let you stay ahead of emerging threats affecting multiple organizations.
Your organization can now leverage the best minds and best technology in the business to improve your security posture without additional overhead, gaining confidence that your organization is protected against stealthy attacks.
Cortex XDR Managed Threat Hunting is expected to be available for all customers in early June. 
Want to learn more about threat hunting?
Join us for our virtual "Inside the Hunt" summit on Tuesday, June 23. We're gathering industry experts and the world's preeminent threat hunters to share best practices on security strategies. You'll learn about the latest techniques and tools to hunt down the most advanced threats.
During the summit, you'll also hear directly from Unit 42 researchers who identify never-before-seen threats, verify attacks and reverse-engineer malware for the Cortex XDR Managed Threat Hunting service.
It's an entire conference packed into an hour.
Register for "Inside the Hunt" today!