Learn more about the Cortex XSOAR Marketplace at the Cortex XSOAR LinkedIn Live virtual event on Aug. 25!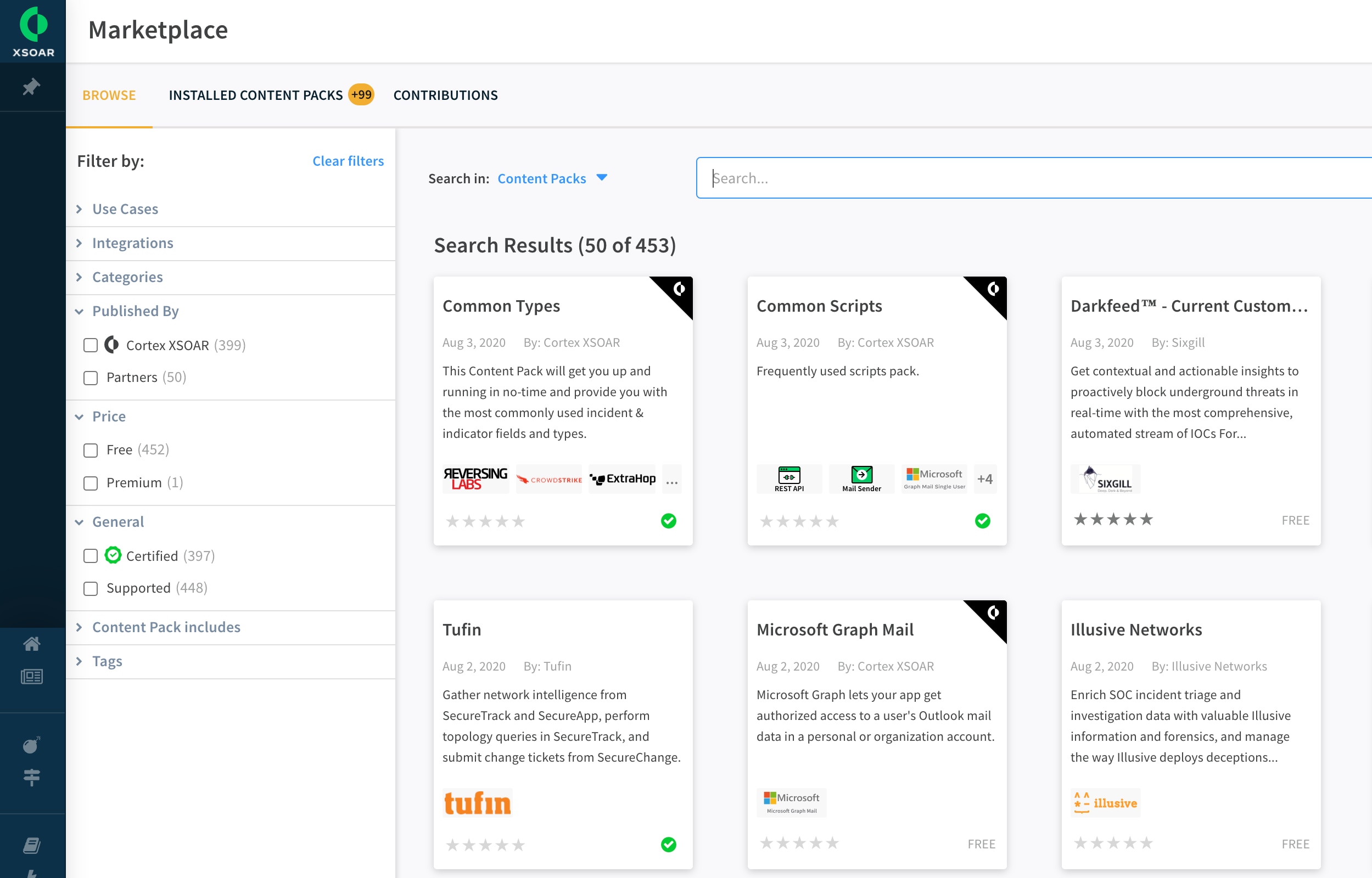 Today marks the official launch of the Cortex XSOAR Marketplace – the industry's most comprehensive marketplace dedicated to security orchestration, automation and response (SOAR). With Cortex XSOAR Marketplace, organizations can rapidly scale up security automation by discovering and sharing content packs contributed by vendors and security practitioners from the world's largest SOAR ecosystem.
Security teams know that they need more automation and integration of their tech stack for scalable, effective security operations. Cortex XSOAR delivers both, with API-driven orchestration and flexible playbooks that can automate a virtually limitless number of manual tasks. But playbook- and integration-building could be further streamlined to boost automation: our soon-to-be-released 2020 State of SOAR survey data shows that only 40% of SOAR users enjoy building playbooks themselves, whereas 78% desire a common framework and community for sharing playbooks and integrations. 
That community is available today with the Cortex XSOAR Marketplace, allowing security teams to expand and accelerate the usage of automation within their SOC. With the marketplace, your security team can:
Leverage industry experts to solve the toughest security use cases:

Deploy turnkey content packs that span integrations, playbooks, dashboards and reports with a single click.

Discover highly rated, validated content packs:

Identify SOAR content packs recommended by peers and reviewed by Palo Alto Networks, the global cybersecurity leader.

Stay up to date with innovations in security automation:

Continuously extend Cortex XSOAR with proven use cases contributed by SecOps users and the industry's largest SOAR ecosystem.
The marketplace is launching with powerful content packs from 12 leading cybersecurity providers and will expand with new content at a rapid rate. Content packs deliver single-click activation of complete security use cases, prebuilt by experts and certified by Palo Alto Networks. 

Would you like to contribute to the marketplace? We're also kickstarting the marketplace community with the Automation Rising SOAR Hackathon. The Hackathon is the ultimate playbook-building challenge, featuring a cumulative $60,000 in prizes for playbooks in different categories spanning security, product integration and business use cases. Playbooks generated through the Hackathon will add to a foundation of valuable content for the marketplace. Are you up for the challenge? Learn more about how to participate in the Hackathon!
Join us at the Cortex XSOAR LinkedIn Live virtual event on Aug. 25 for more details on the Cortex XSOAR Marketplace.