Securely Enabling Today's Remote Workforces with the Most Complete Cloud-Delivered Security Platform
It should come as no surprise that the networking and security approaches of the past are no longer meeting the needs of today's businesses. Digital transformation and work-from-anywhere requirements are fueling a massive shift in enterprise architectures. Quite simply, users and apps are now everywhere. To address these changing requirements, we believe the future of network security is in the cloud, and today we are extending that vision even further with Prisma Access 2.0.
Web Security Shortcomings
Cloud-based web security offerings that rely on proxy-based Secure Web Gateway (SWG) or Cloud Access Security Broker (CASB) technology have failed to deliver a consistent work-from-anywhere experience for organizations. While many apps have moved to software-as-a-service (SaaS) or web-based architectures, our analysis of threat data from more than 500 customers shows that 53% of all remote workforce threats are related to non-web apps. Thus it's not surprising that customers are struggling with current web security tools due to several critical limitations:
Limited app coverage: Web security approaches cannot see and protect everything, leaving organizations vulnerable, or requiring additional tools to be bolted-on.
Incomplete security: Existing solutions do not provide complete, enterprise-grade, machine-learning (ML) powered security, exposing organizations to advanced threats and increasing the risk of data breach.
Poor user experience: Remote workers receive inconsistent access levels and performance depending on where they are located, frustrating users and increasing the support burden for IT.
We've taken a fundamentally different approach and purpose-built our flagship Prisma Access solution to overcome these limitations. Our cloud-native solution delivered from over 100 locations in 76 countries consolidates multiple point-products (including web security!) into a single converged platform that includes Firewall as a Service (FWaaS), Zero Trust Network Access (ZTNA), Cloud Access Security Broker (CASB), Secure Web Gateway (SWG), and more, all managed through a single console.
Changing the Game With Prisma Access 2.0
The 2.0 release of Prisma Access resets the bar by introducing key performance, management and security enhancements.
New cloud management experience: Our cloud management platform was built from the ground up to make day-to-day operations and management of Prisma Access painless. Now, with 2.0, we've simplified workflows, added out-of-the-box templatized configurations and provided automated assessments with recommendations based on industry best practices to streamline configuration and improve security postures.
Autonomous Digital Experience Management: The new Autonomous Digital Experience Management (ADEM) for Prisma Access provides native end-to-end visibility and insights for SASE, as well as autonomous remediation of digital experience problems when they arise. With ADEM, customers gain segment-wise insights across their entire service delivery path, with real and synthetic traffic analysis.
The industry's first ML-powered cloud-delivered security: Prisma Access now leverages machine learning for proactive realtime and inline zero-day protection, introducing multiple industry firsts including: 1) instantly stop new threats with embedded ML to provide realtime signatureless attack prevention; 2) the ability to extend visibility and security to all devices, including never-seen-before IoT devices; 3) utilized cloud-based ML processing to detect even the most sophisticated attacks in near real-time; and 4) the ability to automate policy recommendations that save time and reduce the chance of human error.
Cloud SWG with Explicit Proxy: Prisma Access now supports explicit proxy as a connection and onboarding choice for organizations (in addition to agent and agentless options), while continuing to support all the advanced web security protections such as Threat Prevention, WildFire, URL Filtering, DNS Security, Prisma SaaS and Enterprise DLP. This enables customers to easily migrate from legacy proxy-based solutions to a complete cloud-delivered security platform, without the need for network architecture changes. Over time, customers can completely transition to a more secure connection method in Prisma Access.
CloudBlades API-based platform support: Customers have enjoyed the flexibility of the CloudBlades platform from CloudGenix as an easy way to integrate additional third party cloud services into their SD-WAN ecosystems. With the Prisma Access 2.0 release, we've extended the extensibility of the CloudBlade platform to now enable seamless third party services integration with the Prisma Access platform. The first integrations supported are Remote Browser Isolation services from several leading vendors.
And if that wasn't enough, Prisma Access 2.0 also adds powerful IoT security capabilities to help organizations protect against IoT threats without the need to deploy additional sensors or appliances. It also delivers encrypted tunnel performance that is 10 times greater than competing solutions for faster remote access to meet the needs of even the most demanding enterprises.
I am really proud of the team for delivering so many amazing capabilities. This release clearly demonstrates why Prisma Access is the only cloud-delivered security platform that enables organizations to embrace a cloud-first approach by providing:
Access to all apps and protection against all threat vectors, not just web-based apps and threats, helping organizations reduce the risk of data breach by up to 45% according to Forrester Consulting.
Complete best-in-class security that provides more security coverage than any other solution, receiving more than 4.3 million unique security updates per day, 24.5 times our nearest competitor.
High-performance access with optimized user experience, supporting 10 times more total encrypted tunnel throughput than the nearest competitor, with performance SLAs that are 10 times better than any other cloud-delivered service.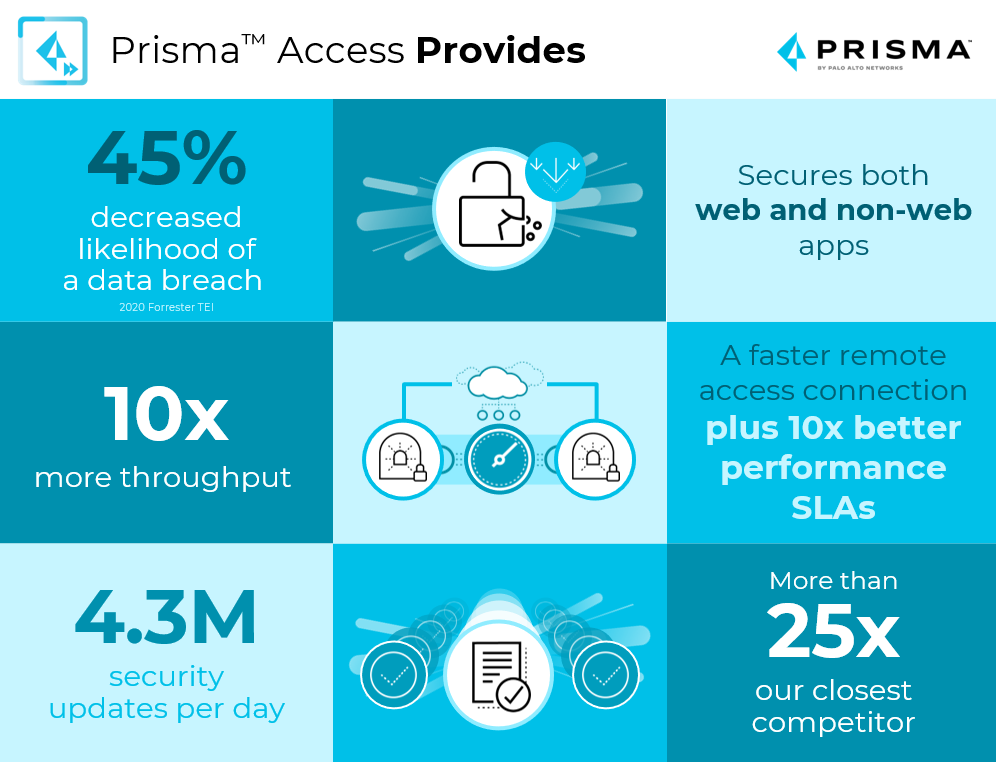 Get SASE for Complete Transformation
When Prisma Access is combined with CloudGenix SD-WAN, the industry's first next-generation SD-WAN solution, the result is the most complete SASE offering available, enabling you to transform your networking and security infrastructure while realizing a market-leading return on investment (ROI). Our SASE solution combines a global high-performance network with next-gen SD-WAN to simplify the delivery of consistent security at scale while ensuring an optimal work-from-anywhere experience.
To learn more, join us on March 17 and 18 for the Prisma Access 2.0 Virtual Launch Event.