There is no better way to kick off 2021 than to be recognized in the February Gartner Peer Insights 'Voice of the Customer': WAN Edge Infrastructure 2021 as the highest ranked vendor with a Customers' Choice Distinction. I am elated to share that not only did Palo Alto Networks receive Gartner's Customers' Choice distinction, but we also received the highest overall rating of any vendor, with an overall score of 5.0/5.0.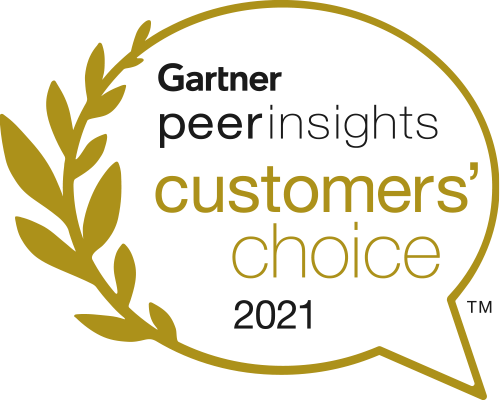 Gartner Peer Insights is a platform for ratings and reviews of enterprise technology solutions by end-user professionals for end-user professionals. Reviews are rigorously vetted by Gartner – no vendor bias, no hidden agendas, just the real voices of enterprise users.
You can get free access to your peers' insight and real-world experience with CloudGenix SD-WAN. Palo Alto Networks received the highest number of responses for any vendor, with a new record for us of 149 reviews from our beloved customers. What's more, 99% of these customer reviews say they are "willing to recommend" our solution to other businesses. This goes to show how our Next-Generation SD-WAN solution and our mentality of incessantly focusing on delivering customer delight continue to be recognized by our customers.
Customers rated our product 4.9/5.0 for "Product Capabilities, Evaluation and Contracting, Integration and Deployment, Service and Support." In addition to this, we were also the only vendor to receive the Customers' Choice distinction for Large Enterprise, Manufacturing, and in every sub-category. We believe, in no small part, this recognition is because of our innovation engine, which is laser-focused on solving customer problems.
We launched the industry's first next-generation SD-WAN solution four months ago, further advancing CloudGenix SD-WAN beyond legacy SD-WAN. With CloudGenix SD-WAN, customers gain 243% ROI on average within three years (Forrester TEI Report: SD-WAN Spotlight). In addition to that, they also receive the following SD-WAN capabilities:
Application Defined: Providing application layer visibility, enabling network teams to create app-based policies and delivering SLAs for all apps – enabling exceptional end-user experiences.
Autonomous: Automated operations and problem avoidance using machine learning and data science, eliminating up to 99% of WAN and application access trouble tickets.
Cloud-delivered: Enabling all branch services to be delivered from the cloud, including networking and security, simplifying WAN management and enabling branches to be rolled out in minutes instead of months.
We also launched the industry's most comprehensive SASE solution, integrating CloudGenix SD-WAN and Prisma Access, our cloud-delivered security platform. With the Palo Alto Networks SASE solution, customers gain security and app-SLAs for all applications, best-of-breed networking and security, and the power of data science-based automation of IT operations.
As customers dealt with COVID-19 and reorganized for a work-from-anywhere model, we delivered a Zero-Trust Network Access (ZTNA) solution. In addition, we launched the ION 1000, a small form factor SD-WAN appliance designed for retail and small offices/home offices (SOHO) to help customers deliver security and application SLAs to the home office too!
We are truly grateful to our customers for trusting Palo Alto Networks as their security and network provider of choice! To all of our customers out there, I want to thank you for taking the time to provide feedback as you transform your business and IT to take on the next decade.
Download the Gartner Peer Insights 'Voice of the Customer': WAN Edge Infrastructure report
The GARTNER PEER INSIGHTS CUSTOMERS' CHOICE badge is a trademark and service mark of Gartner, Inc. and/or its affiliates and is used herein with permission. All rights reserved. Gartner Peer Insights Customers' Choice constitute the subjective opinions of individual end-user reviews, ratings, and data applied against a documented methodology; they neither represent the views of, nor constitute an endorsement by, Gartner or its affiliates.