The big challenges that Managed Service Providers (MSPs) face in delivering managed services to remote offices include:
Offering a rich suite of services vs. basic managed connectivity especially as MPLS revenues decline

High costs of NFV CPE where the customer only wants to start with a single service

Addressing customer demand for best-of-breed services vs. cross-vendor integration challenges

Minimizing time-lag between vendor feature releases and MSP qualification

Lowering Opex of service delivery while improving service SLAs and quality
At the same time, the market opportunity for delivering rich services to the remote office is at an all-time high. Across every vertical, initiatives around Digital, Cloud, AI, IoT and Collaboration are unleashing new business applications to the remote office. "IDC has found that digital transformation (DX) drives a need for WAN and branch transformation," said Brad Casemore, VP Research at IDC. "In fact, any organization that wants to achieve greater agility, flexibility, operational efficiency, and better business outcomes will be compelled to pursue WAN and branch transformation as part of their DX strategy." To enable the modern remote office, MSPs have an opportunity to deliver the following infrastructure services:
WANs – Unconstrained performance using any WAN type

Security – Consistent across multi-cloud, SaaS and data centers

Collaboration – Highly reliable UCaaS, voice and video

Multi-cloud – High-speed access from any location

IT Operations – Proactive and automated
CloudGenix CloudBlades provides a platform for delivering best-of-breed infrastructure in each of these areas in a pre-integrated, zero-touch manner directly from the cloud. With the CloudBlades platform, MSPs can deliver network, security, voice, multi-cloud access, and operational capabilities to the remote office with no additional hardware or software, while gaining cloud-scale economics and agility.
Before CloudBlades, MSPs faced an impossible dilemma. They could use the old "integrated functions router" from legacy vendors which limits their clients to barely-good-enough services from a single vendor. This "hardware-blades in a router" model is severely handicapped by hardware refresh cycles and the lack of a thriving ecosystem of services. Or they could use NFV, which can be complex for many providers – there are a lot of VMs/VNFs to be managed and the high costs of a CPE powerful enough to run a variety of VNFs reduces market opportunities.
CloudBlades eliminates these compromises! The CloudBlades platform enables the seamless delivery of best-of-breed infrastructure from the cloud to the branch — no additional hardware or software is required, no complex integration requirements for the MSP, and no limitations on how many services can be delivered! "CloudGenix's CloudBlades platform provides enterprises and service providers with a cloud-delivered branch that offers increased agility and flexibility through one-click provisioning of an array of best-of-breed network and security services," added Casemore.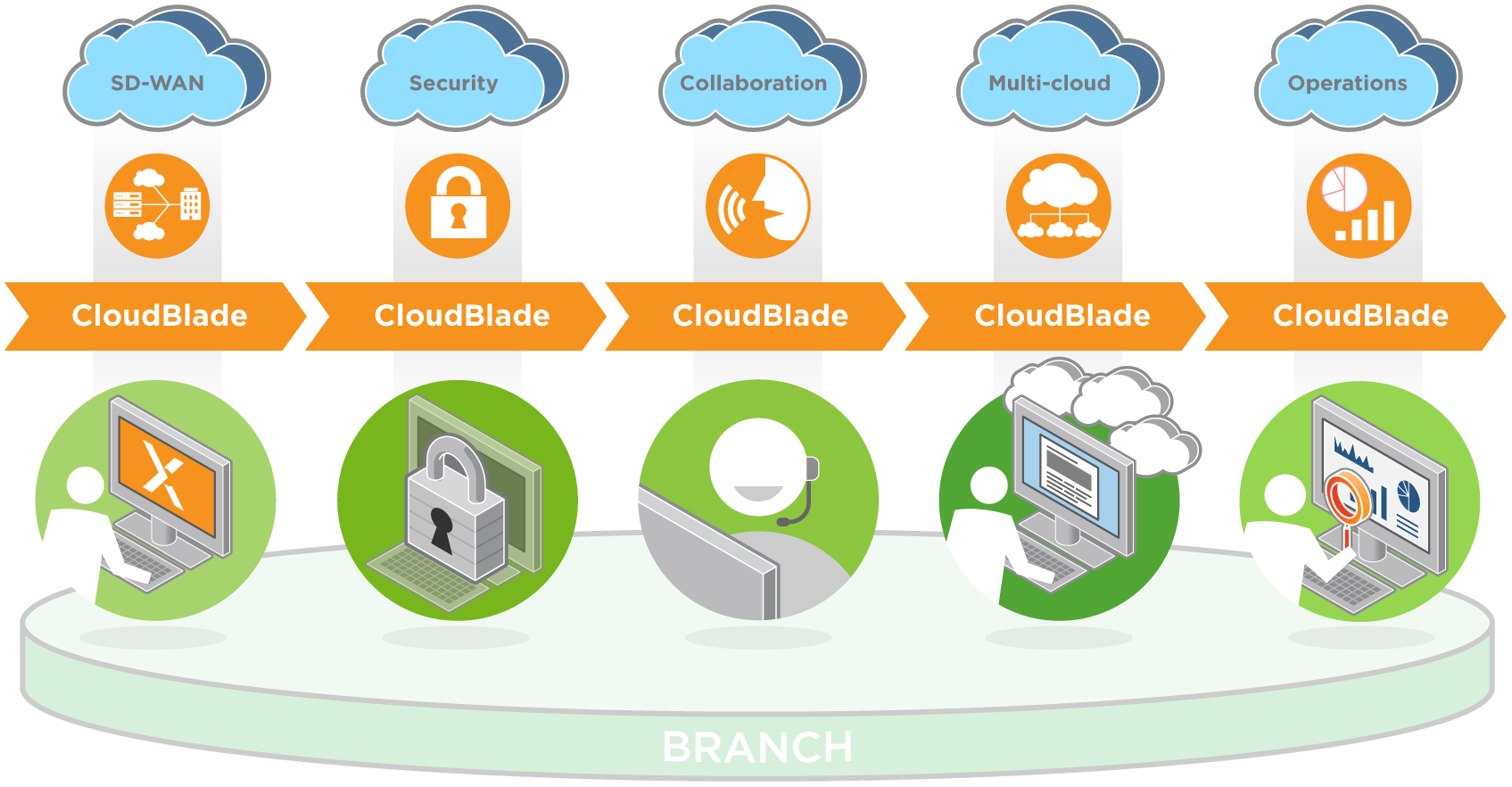 CloudBlades Platform Capabilities
At the heart of CloudBlades is the programmable L3-L7 (Network through Application) capabilities of the low-footprint branch CPE software. The CloudBlades Platform hosted in the cloud programs this powerful application-flow based CPE software. The CloudBlades Platform enables API based integration of the branch CPE directly with various cloud infrastructure services.
Individual CloudBlades provide pre-integrated delivery of various best-of-breed cloud services to the branch CPE, eliminating the need for complex integration by customers. Individual CloudBlades are created by CloudGenix as well as by partners, customers and other developers including MSPs.
CloudGenix has developed a comprehensive set of CloudBlades across various infrastructure services, including with Palo Alto Networks, Microsoft, Equinix, Amazon, RingCentral, ServiceNow, PagerDuty, Slack etc. Customers and partners have the freedom to build their own custom CloudBlades through the company's CloudBlade Developer Program.
The CloudBlades platform provides the following capabilities across all the areas of branch infrastructure:
One-Click deployment
To enable branch services, you no longer need complex configurations. For instance, without CloudBlades, to deploy cloud-delivered security, MSPs have to setup tunnels from each remote office to the closest security nodes in the cloud, setup tunnel monitoring, setup policies to redirect traffic to the security service and repeat this across the thousands of remote offices they manage for their clients. CloudBlades automatically connects each branch to the closest security nodes in the cloud, and automatically sets up monitoring of all the tunnels. When new cloud nodes appear or are decommissioned, the system automatically adjusts itself.
Performance SLAs 
CloudBlades sets up all connectivity to cloud-infrastructure services with active-active connections unlike alternatives that downgrade connectivity to active-backup. Additionally, based on the desired performance, CloudGenix uses its L3-L7 intelligence to ensure that access to these services is prioritized. For instance, CloudGenix monitors UCaaS services at both the network level and at the application level and delivers the best user experience.
Centralized policy, local enforcement
CloudGenix L3-L7 Application Flow engines enable the model where even though the policy resides in the cloud, enforcement happens at the branch. For instance, for security services, CloudGenix L7 engine ensures that block-listed flows or allow-listed flows are enforced at the branch without needing to be sent to the cloud-security service. Performance policies for collaboration are enforced right at the branch too.
Consistent data contexts
When customers migrate to cloud-infrastructure services, they lose consistency of context across all domains. CloudBlades captures meta data related to network performance, application behavior, application-flow and makes this information available to various monitoring and alerting tools. Hence if the MSP wants to combine security information from on-premise to the cloud, they can do so in an easy manner.
The Cloud-delivered Branch MSP Opportunity
CloudBlades enables Service Providers to dramatically increase the speed and richness of managed services delivered while substantially reducing their operational costs. With CloudBlades, managed providers are able to accomplish the following:
Dramatically lower CPE cost compared to NFV CPE or Hardware appliances

: NFV CPE is expensive because it needs to host all the VMs for each service in addition to the orchestration, virtualization, and NFV management systems. With CloudBlades – the CPE itself is very lightweight and does not need any additional VMs or other appliances.

Speed of Service Creation

: Best-of-breed services can be made available to customers without integration work required on the part of the MSP. Instead of taking 12-18 months to turn on a managed service, providers can enable a wide array of best of breed network and security capabilities for their customers near instantly from the CloudBlades stable of services.

Elastic Service Expansion

: Delivering new managed services for security, collaboration, multi-cloud or operations requires no additional hardware truck rolls, no additional software truck rolls and can be enabled at the click of a button.

Faster Feature Upgrades

: Today it takes 12-18 months for service providers to qualify a new software release from a vendor. This results in customer frustration because managed features lag vendor releases. With CloudBlades, because the integration points are based off published APIs, customers are able to consume new features almost instantly.

Lower Opex of Service Delivery

: CloudBlades not only takes care of cross-service integration requirements, but also delivers the advantages of cloud-scale economics for the remote office.

Best-of-breed vs. "barely good enough"

: With CloudBlades, Service Providers are able to offer best-of-breed services to their customers and are not limited by what was available on the "multi-function hardware router." This enables much greater competitiveness for the Service Providers and their customers.
MSPs, learn more about how you can offer Cloud-delivered services to your customers here.