For many of us in security, staying abreast of new technologies is practically a part-time job. So, to help with deciphering one of the newer, and dare we say "cooler" solutions to hit the market (yes, we're somewhat biased), we decided to author a helpful guide on Extended Detection and Response, or XDR.
We're confident our e-book will answer a good majority of the questions surrounding XDR, equipping the reader with a broader understanding, especially with numerous security companies adding their own version of XDR to their offerings. Besides, navigating the many nuanced features and capabilities can be a daunting task, even to a seasoned SOC analyst or architect.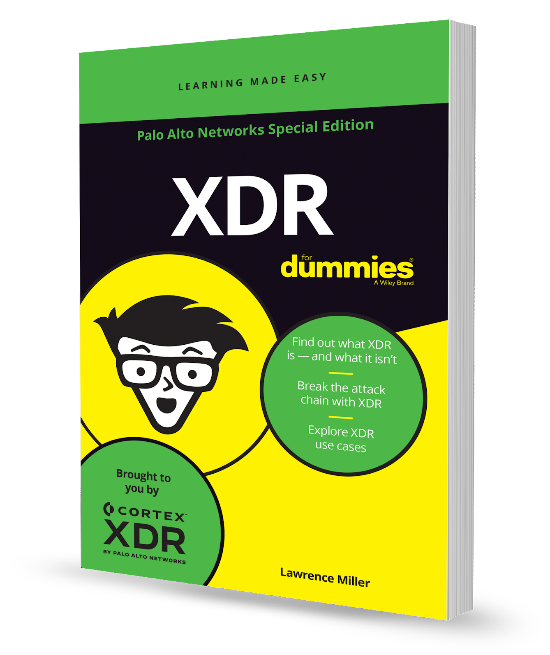 One objective we had for creating this guide is to provide the reader with a vendor-agnostic primer that could function as an intro to XDR, as well as a means to inform purchase criteria when evaluating multiple solutions.
As the creators of the XDR category, it was only prudent to develop this guide to help folks get up to speed on understanding the basic tenets of XDR: what it is, and what it isn't, some use cases, and how organizations can use XDR to break the attack chain. Our newest release of Cortex XDR 3.0 continues our category-leading innovation by adding features such as identity analytics, forensics, and XDR for cloud.
Although not exhaustive, "XDR for Dummies" will provide the reader with a solid overview of the subject matter. You can also visit our Cyberpedia page, "What is XDR?" for a quick take on the subject matter.
5 Chapters in About 50 Minutes
As with other Dummies guides, each chapter can be read as a standalone segment. Whether you have five minutes or fifty, the e-book is designed to provide readers with a good overview of XDR, easily completed over lunch, or with a nice glass of Pinot if one chooses. Or, for those who prefer a more apt reading material/food/drink pairing, may we recommend a light charcuterie and Aperol Spritz. I mean, what goes better with a nutty Edam cheese and tangy prosciutto than reading about how XDR breaks the traditional silos of detection and response?
The e-book includes the following chapters that explore the following:
Chapter 1: The current state of detection and response, including threats, limitations, and challenges
Chapter 2: What XDR is and what it isn't
Chapter 3: How XDR breaks the attack life cycle to stop attacks
Chapter 4: Different XDR use cases
Chapter 5: Must-have XDR capabilities and features
One area we chose to focus on in this e-book is understanding what XDR is and isn't. Because numerous vendors are starting to offer XDR solutions, we felt it was critical to provide a checklist of capabilities from which to compare. In addition to examining what a true XDR solution provides, we also discuss if a solution:
Takes a prevention-first approach
Has native investigation and response capabilities
Bases detections only on the endpoint
We're confident our XDR for Dummies guide will help answer a good majority of the questions surrounding XDR, equipping the reader with a broader understanding of this category. So, find a nice comfortable spot, grab a pint or pumpkin-spice something or other, and read "XDR for Dummies" today. It's perfect fall reading!