VMware NSX® SD-WAN by VeloCloud™ and Palo Alto Networks provides the performance and security needed for enterprise and cloud applications utilizing over-the-internet and hybrid WAN while simplifying deployments and reducing costs.
Protect your VMware NSX SD-WAN deployment using GlobalProtect cloud service
GlobalProtect™ cloud service extends and operationalizes Palo Alto Networks® Security Operating Platform, bringing protection to your remote networks and mobile users through a cloud-based security infrastructure managed by Palo Alto Networks. GlobalProtect cloud service helps customers create and deploy consistent security policies across their organizations. One-click service insertion capabilities provided by the NSX SD-WAN business policy framework reduce complexity and align business policies with application needs. Forward traffic from the branch to GlobalProtect cloud service, and route through one of the NSX SD-WAN Gateways

---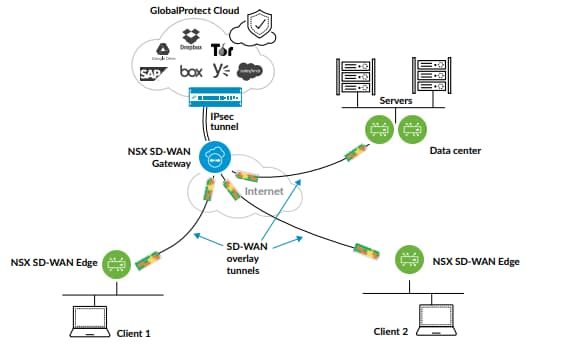 Protect your NSX SD-WAN deployment using the VM-Series

Service providers and large enterprise customers can easily deploy VM-Series virtualized next-generation firewalls on the NSX SD-WAN Edge and manage them from Panorama. The VM-Series can be inserted on the NSX SD-WAN Edge at the branch with the click of a button, using zero-touch operations from the NSX SD-WAN Orchestrator. NSX SD-WAN service-chains traffic from the branch to both cloud-based and enterprise regional hub services, providing robust performance, optimized security and expert manageability. Customers can eliminate additional devices deployed at branch locations, reducing their footprint. NSX SD-WAN Orchestrator simplifies operations by enabling bootstrapping of the VM-Series.
PARTNER TOPICS
Product Links: