Sit back and relax while we bring you this week's Channel Scoop.
Add Ignite to Every Deal: There are 9 days left in Q3 FY17, don't forget to encourage your customers to register for Ignite '17 Security Conference in Vancouver from June 12-15. To help you promote the security industry's premier event to your customers we have an email template you can download and send to customers. And if you include your unique URL using the Igniter Tool you will automatically get credit for the Sell 10 Get 1 Free promotion.
What Are Customers Saying About Palo Alto Networks? If you need a customer reference to push that deal over the line, we have an entire web page of Palo Alto Networks customer quotes. And if you still need more, encourage your customer to visit Gartner's Peer Insights, where they can type in Palo Alto Networks and access verified software ratings and reviews from enterprise IT peers. Currently Palo Alto Networks has a 4.6 out of 5 rating.
Best Practices, Uses Cases and Expert Advice on Managing Cybersecurity Risks: In the age of the empowered customer, the consumption of content prior to purchase has increased dramatically. The Security Roundtable, powered by Palo Alto Networks is a great resource to share with your customers and just might contain that thought leadership content you needed to sell the CxO on your security solution.
Attention All CYBERFORCE Members: Don't miss out on the opportunity to win $500 and be crowned our Q3 FY17 Ultimate Innovator. To learn more, go to the CYBERFORCE page or simply submit your Ultimate Innovator customer win.
NEW Dedicated State, Local & Education Page: Americas NextWave Partners - are you looking for a proposal template that will help you build a presentation for that critical State, Local or Education meeting? Visit our new dedicated SLED page.
*To access content on the Partner Portal you must be a Palo Alto Networks NextWave channel partner and have a valid user name and password. Email NextWave@paloaltonetworks.com to request Partner Portal access.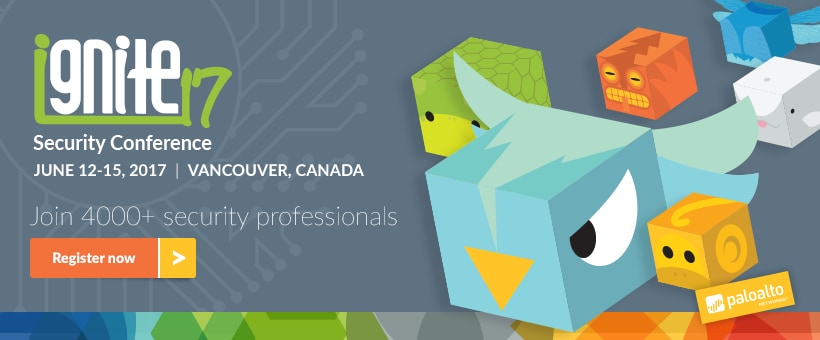 Ignite '17 Security Conference: Vancouver, BC June 12–15, 2017
Ignite '17 Security Conference is a live, four-day conference designed for today's security professionals. Hear from innovators and experts, gain real-world skills through hands-on sessions and interactive workshops, and find out how breach prevention is changing the security industry. Visit the Ignite website for more information on tracks, workshops and marquee sessions.