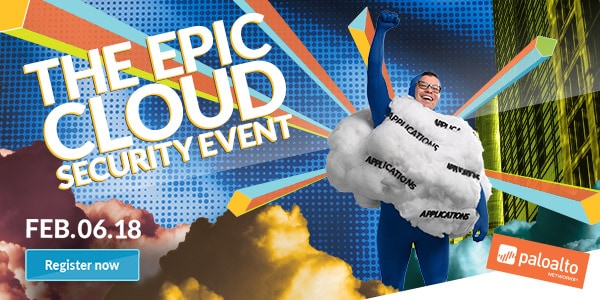 Join us for the biggest cloud security event of the year! Hosted by Salim Ismail, best-selling author, futurist and technology entrepreneur, THE EPIC CLOUD SECURITY EVENT will feature A-list cloud experts and our own chief product officer, Lee Klarich.
We'll be rebooting the future of cloud security, and we want you and your cloud team to experience this historic event. Register now for The Epic Cloud Security Event.
Did you miss any of this week's Palo Alto Networks action? Don't worry – we've rounded up our top news and views right here: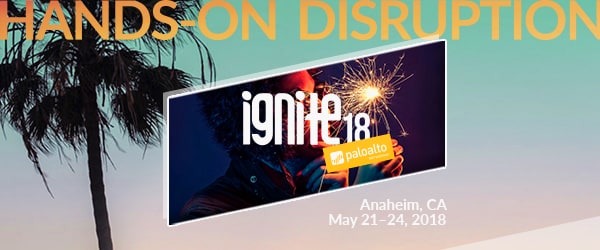 Secure your spot at the cybersecurity conference of the year. Register now for Ignite '18.
Want to share your cybersecurity knowledge with like-minded professionals at Ignite '18? The call for papers is open and accepting submissions. Get yours in before the February 12 deadline.
Take a look at upcoming events around the world that you should know about. Don't forget to register for our events calendar.
Looking to meet up with other Palo Alto Networks users? Check out Fuel, the Palo Alto Networks User Group, for opportunities to attend hands-on workshops, events and more!
Breach Prevention Week: 2018 Cybersecurity Predictions and Recommendations
Breach Prevention Week: Cloud will Accelerate Channel Partner Migration in 2018
Disrupting the Cybersecurity Status Quo
January 23, 2018
San Francisco, CA
Breach Prevention Week: The Year We Reject "Good Enough" Security in the Cloud
Breach Prevention Week: The Ransomware Epidemic Continues
Virtual Ultimate Test Drive – Amazon Web Services
University of Central Florida Migration UTD
January 26, 2018
Orlando, Florida
Virtual Ultimate Test Drive - Advanced Endpoint Protection