Did you miss any of this week's Palo Alto Networks action? Don't worry – we've rounded up our top news and views right here:
Upcoming Events
Take a look at upcoming events around the world that you should know about. Don't forget to register for our events calendar.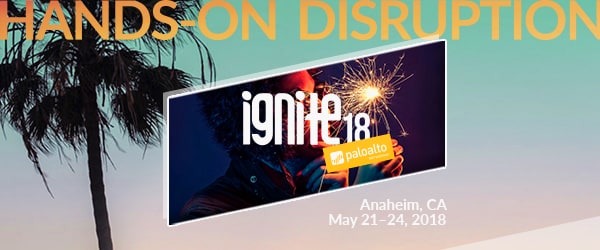 We're kicking off Ignite '18 USA in Anaheim on Monday. Here's everything you need to know before you go!
Accelerating Security Operations with Splunk>Phantom and Palo Alto Networks Security Operating Platform
Centrify and the Application Framework
ServiceNow and the Application Framework
Microsegmentation  with the AlgoSec App for Palo Alto Networks Application Framework
ProofPoint and the Application Framework
Securing the Digital Transformation of Critical Infrastructure Without Affecting Reliability
Accelerate Your Move to Microsoft Azure
Disrupting the Cybersecurity Status Quo: Washington DC
June 5, 2018
Washington, DC
Looking to meet up with other Palo Alto Networks users? Check out Fuel, the Palo Alto Networks User Group, for opportunities to attend hands-on workshops, events and more!